Topics in this Issue:
F35 Environmental Impact Statement Draft (EIS)
I am opening a little differently this week. I know many midtown residents care a great deal about quality of life and the impacts being in the DM flight path create. For the past 8-10 years I've been sharing updates on the F35 and possible bed down at DM. My objections to assigning that aircraft to Tucson are based on several factors – every one of which have been validated by the Air Force's own Draft EIS. It was released last week and is now available for public review. It's well over 700 pages and can be found at www.afrc-f35a-beddown.com. There's an executive summary for those who don't want to wade through the full document.
This chart shows the 4 bases that are being considered for the F35: 

I'm not so much concerned about the impacts on the other 3, so I'll focus on what the EIS says about Tucson – with one caveat. The entire F35 project is so grossly overpriced that even a staunch military guy like former Senator John McCain called the cost escalation "a disgrace." It is billions of dollars being spent on an aircraft that is still struggling with design flaws, even down to the high-tech helmets the pilots will wear. The EIS speaks to environmental impacts, but cost is a factor at each location being considered.
The assignment is scheduled to take place in 2024. But to be ready, whichever site is selected will need to begin construction work to get hangars and other infrastructure ready. That work is estimated to take 2 years. Factor that into the 2024 planned deployment date.
The EIS speaks to the projected increase in air traffic at each location. You right now hear A10's and F16's flying overhead – and the occasional large transport planes.  If DM is selected for the F35, there will be a slight increase in the amount of aircraft traffic flying over midtown.
One of the factors many of us have been citing for years is the noise impact on midtown, several parks, including the Reid Park Zoo animals, the Julia Keen area and schools if the F35 is assigned to DM. This is what the Air Force EIS says about noise and Tucson:
Take them at their word. The noise impacts will be 'significant' and they have no way to mitigate that.
Another area many of us have been pointing to is how the impacts would be spread across socioeconomic groups. The EIS affirmed the concerns:
And this:
Included in every deployment scenario they considered for DM are impacts on not only income levels, and minorities, but also children and seniors. DM fails in each option the USAF tried. And the EIS confirmed a decrease in property values for homes that lay in the impacted areas.
There will be a public hearing held at the TCC beginning at 5pm on Tuesday, March10th. The public comment period will run from February 14th through the end of March. 
Millions of dollars have been spent extending the life of the A10. Millions have been invested in DM's part in an intensive Air Operations Center. The Boneyard is its own unique asset. And the F16 missions are used for international training purposes. The base has a lot going for it. I don't believe the F35 should be added to that list. What I'd like to see is the military stepping up and owning the PFAS water contamination problem they've caused before we talk about any more local environmentally 'significant' impacts coming from the base.
Fellow early-morning-runner Ronni reports of seeing one of the 'random acts of Kindness' that make us the community we are. It seems the owner of the Dive Shop spotted one of our senior's stopped on the side of the road with a flat tire. The guy stopped and went out of his way to change her tire. A great example of helping another in distress, and in this case 'a senior assisting a senior.' Millenials, take note.
I'm sure you didn't miss that last week was Super Bowl week. Whether you care about the game or not, Kansas City Chief defensive back Derrick Nnadi sponsored adoptions for every dog who was at a Missouri shelter on Super Bowl Sunday. Nnadi paid the adoption fees for all the pooches who were at the KC Pet Project – a Missouri-based shelter. They've rescued over 10,000 dogs, cats and other critters. Because of Derrick's Kindness, they had a line of adoption applicants on Monday morning. Many of them were wearing Chiefs apparel. 
And this Be Kind is for a collaboration of over 10 Tucson non-profits who are joined together to reach the needs of the underserved in our City. The Safe-Healthy-Green Sustainable Housing Collaboration provides a range of services to children, women, veterans – everyone who's in need may contact them. Their focus is on how to maintain shelter facilities, keeping the people who benefit safe and healthy in their housing unit. Both the City and County help support the work through Housing and Urban Development funds. But the personal touch comes from the peer to peer sharing. They work on insulation upgrades, plumbing system repairs, security fencing, adding energy saving windows and a bunch more. One of the lead agencies in the coalition is Habitat for Humanity. Others include Emerge, Catholic Community Services, Our Family Services - You can find out about the program and see all of the collaboration members through https://www.habitattucson.org/safe-healthy-green-shg/. 
Alitas Shelter
And this quick note related to the work of Catholic Community Services and the Alitas Center. I've written plenty about the inhumane Remain in Mexico policy that's being imposed on asylum seekers by the Trump administration. Instead of using the resources this community established over the past 6 years to address the needs of the people transitioning through Tucson, volunteer work by hundreds of you, involving thousands of hours, donations of all sorts including medical assistance, we're sending people who are fleeing unspeakable conditions back into Mexico where their lives continue to be placed in jeopardy. The news media largely paints the picture of the number of people coming to the Alitas Center as being significantly down from those we saw at the Benedictine. That's true – and it tells only part of the story. The conditions in Central America that are the root cause of the problem have not been addressed. People are losing their lives as a result of the Remain in Mexico policy.
Border Patrol and ICE are still dropping guests off at the Alitas Center. Consequently, we are still taking donations of cold weather clothing, food, toys – the same stuff we've been taking all along. It's still going to a good use, and some is finding its way into the 'camps' housing people south of the border. Please keep the needs in mind. Because 'we're' forcing people to stay in Mexico does not mean the problems are resolved. Your humanitarian donations are still getting to the people who need them.
In 2018, RAICES (the Refugee And Immigrant Center for Education and legal Services) donated millions of dollars in the family reunification effort. During last week's Iowa caucuses, they had some reminders scattered around Des Moines of the more than 60,000 people sent back to Mexico  - 
 Keep the donations coming our way.
Housing and Community Development
Throughout the time we've been working with the migrant folks at the Benedictine, and now at the Alitas Center, I get the occasional question about 'what are you doing about the homeless who live in the City?' It's a valid question – the two efforts are not mutually exclusive. Last week we had an update on how our Housing and Community Development (HCD) department is touching the lives of the underserved in Tucson.
Before I describe what HCD is doing, take a brief moment and form in your mind what you think of when someone says 'homeless' to you. Is it the veteran with PTSD who's out on the street? How about the seriously mentally ill person who can't find housing? Or the single mom with a couple of kids, living in her car while working 2 jobs and avoiding a domestic violence relationship. Or the elderly couple who worked hard all their lives but lost everything due to a catastrophic medical emergency. Or the kid who bounced from foster home to foster home? It's all of these, and more. There is no single descriptor of how a person came to being homeless, and there is no single approach that touches all of the conditions.
Our Housing Department manages federal funds to help address some of the regional homeless needs. Much of that comes in the form of housing vouchers. We have over 5,500 vouchers managed by HCD to help with tenant based low income rent assistance. In addition, the City owns over 1,500 units of public housing that we manage according to HUD rules. And there are about 500 units of affordable housing we run that's outside of the federal programs. With all of that, there are over 8,500 people on the voucher wait list, and nearly 20,000 people on the public housing wait list. Clearly there is not enough housing stock to fill the needs.
For those programs, our HCD budget is roughly $42M annually. That's broken down to about $25M in the Section 8 voucher program, $5M in the public housing fund, the County has some Section 8 low income funding we share, and there's money set aside for capital improvements on public housing. That's a lot of money going into helping people with housing – and it's not enough.
HUD brings some rules to the table that people must comply with in order to qualify for the federal assistance. The City has some ability to set local standards. We have hundreds of unused low income emergency vouchers every year. Some of that is due to rules we have in place that should be adjusted so fewer people are evicted. I'm working with local Constables on a plan to do just that. If the County Constable can work with a person/family who's on the verge of eviction, and while that's happening they have access to some emergency Section 8 vouchers to help fill the gap, we should make them available through one of our non-profit service providers. Otherwise, as the voucher sits on the shelf, somebody is out on the street, unnecessarily. That conversation is already on a March study session agenda.
Some of the rules in place work against some of the most vulnerable among us. For example, it's difficult for a homeless woman with kids to find shelter. It's easier if she has been abused. Should we wait for that to happen, or perhaps the more humane thing to do is to adjust some of our criteria so she and her family qualify before being beaten up? That's just one example. As I said, that conversation is coming next month.
We partner with multiple local non-profits. Old Pueblo Community Services, Primavera, La Frontera, Compass and a bunch more. We cannot force people into housing, but to the extent that we have control over some of the proscriptive rules, we need to be taking a hard look at them so more of the vouchers we have are being put to good use. And even with that, there will be people who fall in the cracks. There will continue to be homeless. We will continue to work on it. And that work can, and will continue to take place in concert with the great work being done by the hundreds of volunteers who are helping the migrant families. Both are tough issues – both have seen funding denied by the federal government – and both are issues we are addressing locally and regionally.
Youth On Their Own (YOTO)
I mentioned the youth who bounce from foster home to foster home as being one group among the homeless. YOTO is one of the non-profits we work with to touch that group of people. Their focus is to support youth as they work towards a high school degree. Last fiscal year, YOTO served over 2,000 students. That's 2,000 kids in this community who are without a permanent home, and who YOTO is helping get a diploma. 
Of that 2,000, 21% are in foster care, over half are living temporarily with a relative and about a third don't have a bed to sleep in. I hope those numbers surprise you. Think back to your high school days. If you lived in a stable home environment, adolescence was still a time of turmoil. Without a family support system, these kids are wrestling with hunger, hygiene, clothing, lacking school supplies, transportation, and on and on. 
YOTO is one of the non-profits we fund through our homeless youth General Fund programming. When people ask what we're doing about homelessness, support for YOTO is another of the answers. I know Palo Verde neighborhood does annual food and clothing drives for Youth On Their Own. You can support their work, too – look at their website at www.yoto.org, or call them at 620.9244. The Ward 6 office is engaged with them on some new initiatives – more to come on that, but your help can happen tomorrow.
Census 2020
The work we do in support of homelessness is to a large degree a function of federal support. Those federal dollars are to a large degree a function of the 2010 census. There was a significant undercount in that census that has cost this community millions of dollars that could have addressed many of these social needs. We are right on the front end of the 2020 census, and making sure we don't see an undercount this time is a top priority for this Mayor & Council.
There are over 300 federal programs that use the census for establishing funding levels. I just mentioned emergency Section 8 housing – that is just one immediate example. Not all of it is related to housing. This fiscal year, federal grants accounted for over $115M in City revenues. Getting a complete census count is a big deal. Due to the 2010 undercount, Arizona lost nearly $60M annually in federal funding.
It is not only funding. Arizona is expected to receive one more Congressional seat as a result of increased population since 2010. The 2020 census will determine that. So, our leverage in D.C. is going to be affected by the count. 
Last fall, Crystal from my office worked with census people and volunteer community members to put together a Complete Count Committee. We still need you to get involved in that effort. The goals for volunteer actions are a little different than last fall, as we are now close to the first day of the count. The census timeline starts next month, so now is the time for you to connect with Crystal and get your oar in the water. We depend on our volunteers, and are looking forward to renewed outreach efforts, starting with our next volunteer meeting. We will be distributing that invite to that meeting to our neighborhood leaders and neighborhood associations, so watch for that. The first census self-response day is on March 12th. The form is completed online this year, and we, our community leaders, and our volunteers hope to engage members of the community that may find it difficult to access or navigate the online form. Census door-to-door fieldwork begins in May. The end of July is when the count is done and we are locked in until 2030.
You can get information on the census generally by going to their website at www.2020census.gov. 
For a look at the types of questions on the form, click here and here, in Spanish: 
To help with the local count, please spread the word that the Census is still hiring and that information can be found here.
Contact Crystal here at the W6 office at crystal.dillahunty@tucsonaz.gov, or call her at 791.4601. There's a lot you can do to help, and all of it will help us secure funding that'll address homelessness, public safety, community development and a whole lot more for the next 10 years.
Recycling/Glass Crusher
Quick update on the glass crushing project. Mark your calendar if you'd like to participate in the conversation about how we move this from the Ward 6 garage and out into the wider community. On Friday, February 21st at 6pm, I'm asking the City Manager and our Environmental and General Services folks to join us here in the community room to talk about possible next steps. They've got some ideas – we want to hear your reactions, and your own ideas.
Right now we lose over $500,000 annually by picking up glass curbside. It costs us to pick up the glass – it costs us to deliver it to the Material Recycle Facility – it costs us to pay Republic Services to separate out the glass, and it costs us to pay Republic to ship it up to Phoenix for further processing. The value of the commodity on the market is zero. It's all a cost to you, the taxpayer.
Of course much of it ends up in the landfill. Not everyone tosses glass into the recycle bin. It costs us far less to run the landfill than it does to do all the recycle work. But recycling is the environmentally responsible approach, so we clearly need to adjust something in how we treat glass in that process.
In the past month, the bars, restaurants and theaters who have been participating in the pilot program have sent over probably 2,000 gallons of bottles to be crushed. That has resulted in several hundred gallons of sand. The sand has gone to concrete in the W6 front entry, sandbags in preparation for the monsoons, and some incidental uses by some of you. There is a valid secondary market. The trick will be putting into place a collection process that both saves the money we're now losing, and that enough community members will participate in to make it worthwhile. That's the conversation we'll have on the 21st.
 That's my little 'one bottle at a time' crusher. There are plenty of larger ones on the market:
There's no point in our investing in a commercial scale crusher if we don't have the supply of glass to make the program viable. That's where you come in – I hope to see you on Friday the 21st.

The City Manager is one of the key people in not only helping to guide this change in our recycle program, but also in how we're managing our budget, as well as the general administration of the City. Last month, Mike Ortega won a Statewide award for excellence in how he handles the job. He's this week's Local Tucson item.
Since being hired on in 2015, Mike has helped reframe our budget process, upgrade our bond rating with each bond agency, and has had a direct hand in hiring several top notch department heads throughout the City administration. For that, and all of his work, the Arizona City/County Management Association recognized him with the John J. DeBolske Professional Excellence Award. 
We hired Mike from Cochise County – one of our better decisions as a M&C. Congratulations to Mike, and to all of our current City leadership. They all share in this award.
Flexible Lot Development
One area of our City processes that still needs some work is the review process we use for infill called Flexible Lot Development (FLD.) I wrote about it in the past couple of newsletters. Last week we agreed on some procedural steps forward that I hope many of you will take part in. 
FLD is the planning process intended to facilitate some creative infill project design. If applied appropriately, FLD can control urban sprawl. My concern is that we've let the development goal outrace the planning piece. How we tweak the code to address that is the conversation we need to now have.
Staff keeps referring to a former review process that gave birth to the FLD. That process was called a Residential Cluster Project. We're told that the intent of the RCP was 'to create density.' In fact, this is the "Purpose" statement directly from code that described its true intent:
While the result might be creating density, that word does not appear one time in the enabling ordinance purpose statement. We need to keep a focus on what we're really trying to achieve and preserve as we review the FLD. Defining Flexible Open Space has also been a point of contention. Here's what the RCP had to say about that:
Somehow we moved from that to considering water basins and privet hedges as 'open space.'
The recent Mountain Enclave project (76 homes on 6 acres in midtown) is the project that really was the catalyst for this review of FLD. But in the past few years I've heard rumblings about other FLD projects related to midtown projects. The problem is that application of the FLD guidelines has been an entirely administrative process – no appeals to M&C. The Mountain Enclave neighbors chased nearly $20K in legal costs trying to get a voice in the process. As I stated during our recent study session, we need to build some public process into how interpretations of code are being made. Those interpretations directly affect the quality of life of residents who have made significant investments in their own homes. They deserve a seat at some table, at some point in the process.
We gave staff direction to begin the process of community outreach and look at all aspects of the FLD review process. That will include density, how we define functional open space, privacy, native plant preservation and all portions of the code that flow from that discussion. The public process will take time. Coming to agreement on how we include a public component in the outcome will also be a part of what we discuss. The outreach will begin soon. I know several of you who'd like to be included. I'll make sure to publicize how that involvement can happen once those decisions are agreed on.
One way to include a public voice would be to make the FLD what's called a zoning examiner special exception process. That simply means any FLD review is subject to a zoning examiner review – which ultimately ends up as a public hearing in front of the M&C. We cannot simply make that code change during a study session. And I'm not sure it's the best way to get the public voice in the process. While all of that is being hashed out with you, I've secured a good faith commitment from staff that they'll advise the Ward office in which an FLD is happening so we can at least see the plans and weigh in early in the process. Stay tuned and I'll let you know how you can play a part in this as it evolves.
Green Stormwater Infrastructure Fund
One of the justifications for the FLD process is that by helping to curb sprawl, we address climate issues. Infill is more environmentally friendly than uncontrolled growth. Another climate-related piece of work we agreed on last week is a new Green Stormwater Infrastructure Fund (GSI.) My bride and I use about 4 ccf of water per month. The fund will cost us about 50 cents per month. 
Capturing and putting to beneficial use the stormwater that right now runs down our streets will have several positive outcomes. Just easing the effects of that runoff is an obvious one. All of the increased landscaping and tree canopy will also have positive environmental long term effects. Think of the times you've been out walking during the summer and wishing there was more shade along your route. For 13 cents per hundred cubic feet of water used, this fund will more than pay for itself in terms of quality of life.
The 13 cents is projected to raise in the neighborhood of $3M annually. One chunk of that will go to continuing the popular Tucson Clean & Beautiful neighborhood scale stormwater project program. I know several midtown neighborhoods have benefitted from that program, so the GSI keeping it going is important. 
Green stormwater infrastructure can include basins, curb cuts, chicanes, traffic circles – any number of amenities that capture the water as it runs down the street and turns it into free water to feed landscaping. There will be staff who is now going to be overseeing our entire landscape maintenance process. I know many of you have seen the negative impacts of having scattered management of that process. We'll see if centralizing the function helps. 
A total of 86 potential projects have been identified for this program. This chart shows the Ward equity built into the GSI fund:
And here's how that Ward 6 list looks:
You can go on line and look at our most recent agenda materials if you'd like to see what projects are planned for other Wards.
We're laying the groundwork for some important climate-related projects that will benefit the community for decades. This GSI is the most recent example.
Benedictine Pre-Construction Meeting
I'm told that the design effort on the monastery property has moved along to the point that Sundt Construction is now on site and making plans for how to manage the project. I've been in dozens of pre-con meetings – they cover things such as hours of work, how the work will be phased, traffic flow into and out of the work site, parking for sub-contractors, and sharing contact information with principle people on the job site in case issues arise. I'll be hosting the pre-con for the Benedictine on Monday, March 2nd here at the Ward 6 office. The meeting will begin at 5:30.
The purpose of the meeting is to review construction-related items. It's not to review design plans, or to figure out what the public uses for the chapel are going to be. I know some of the design team will be present, so those conversations may happen, but I want to be sure people coming understand the real focus of why we're getting together. Residents from Miramonte and Sam Hughes will be particularly interested since they live in immediate proximity. Stop by and hear the plans. This has been a long and involved acquisition/zoning/design process. Now the work on site is about to start. The best news is that through it all, everyone is agreed that the Benedictine will be preserved.
Tucson Festival of Books
The festival of books is coming on Saturday, March 14th, and Sunday, March 15th. It'll once again take place on the UA mall. They have plans for hundreds of booths again that will include workshops, panel discussions, and books for sale that cover about every topic you can imagine. The festival is free, but it doesn't just happen. It takes hundreds of volunteers to pull it off, and the organizers are knee-deep in recruiting those people.
Volunteers will do a wide variety of things. You may be escorting authors to their speaking location, helping to manage lines at tents, working the information booth, selling books, or a dozen more things. If you'd like to sign up, please contact the Festival organizers at volunteers@tucsonfestivalofbooks.org. If you're unfamiliar with the event, check it out at http://bit.ly/1gzLPrP. The Festival is an internationally known and respected event that's geared to all ages, and to all reading interests.
  
Horse Racing and Doping
Look at this horses right front leg. Her lower leg snapped – you can see the hoof pointing upwards. I saw the video and it sounded like a gunshot when it happened, with bone fragments flying out of her leg.
I opened the newsletter with a little vindication of positions many of us have taken on the controversial F35. I'm closing with another point of vindication, this time on the controversial topic of horse racing and doping the animals. M&C recently approved some off track betting licenses, despite my making the point that we were enabling an industry that is mired in injuries and fatalities due in no small part to the lax approach they use to medicating the horses. Now the Consumer Subcommittee of the House Energy and Commerce Committee is looking at what they're calling the Horseracing Integrity Act. And not surprisingly to some of us, horse racing industry advocates and animal rights groups are aligned.
Some of the witnesses who testified in front of the subcommittee included Hall of Fame jockey Chris McCarron (2x Kentucky Derby winner,) Bill Lear (Vice Chair of The Jockey Club,) Joe De Francis (former CEO at Pimlico Race Course where they hold the Preakness,) and Marty Irby (E.D. of Animal Wellness Action.) This was not a group of animal welfare advocates lobbying Congress.
Here's a quote from McCarron: "There are far too many horses becoming injured. Instead of giving the animal the rest it needs, a trainer can rely on his or her veterinarian to administer a medication to mask pain by reducing inflammation caused by an injury." He's supportive of the Bill they're considering because it "directly addresses one of the leading causes of breakdowns."
The Horseracing Integrity Act would create a private, independent national horse racing anti-doping agency, along with a new set of rules and testing protocols. Right now there's a patchwork quilt of regulatory systems. De Francis testified that "each trainer knows what they're being tested for and when they are being tested." As I stated to M&C, there is no effective system to prevent doping, and therefore no effective system to prevent doping-related injuries. Lear agreed with that, and made this statement: "We have to do more to get the cheaters and abusers out of our sport."
Throughout last year I was reporting on the fatalities that piled up at Santa Anita. Nobody was doing anything serious about changing the conditions in the sport that allowed that to happen. M&C approved licenses that expanded off track betting in Tucson, despite the comments made during those meetings by well-informed animal welfare advocates warning of the on-going abuses. Now, finally, Congress seems to have this on their radar screen. 
There's a group called the Thoroughbred Safety Coalition. They include Breeder's Cup Limited, Churchill Downs Inc., Keeneland Association (a Kentucky race track,) the New York Racing Association Inc., Del Mar Thoroughbred Club and The Stronach Group (Santa Anita.) They're in support of this legislation that will help control injury-masking doping. This would be a good group for M&C to listen to if we get another OTB license application. The industry knows it needs regulation. Until we see it working, we should not be participating in expanding it's hoof-print in our City.
Sincerely,
Steve Kozachik
Council Member, Ward 6
ward6@tucsonaz.gov
City of Tucson Services
The City of Tucson incorporated our 'city services cheat sheet' onto their main page. If you click "I Want To" on the city website (where you're reading this) you'll find information on many city resources, from contact numbers and emails for environmental services, water, how to report graffiti, codes, and more. We will continue to work with IT to keep this section updated, and the google doc distributed will no longer be updated as things change.  You are completely still welcome to contact us directly at the Ward office if you'd like some help navigating the system.
Events and Entertainment
Thu, Feb 13, 6 – 9 PM
Asian Lantern Festival, Reid Park Zoo, 3400 E Zoo Ct, Tucson, AZ
Reid Park Zoo is partnering with Tianyu Arts & Culture Inc., UA Global, and the Tucson Chinese Cultural Center to bring you another fabulous year of more than 400 colorful, interactive, customized lanterns to Southern Arizona.  This event will transport you across the world with Asian-inspired entertainment, cuisine, and culture. You may even get lost in magical worlds as you dive deep into the sea, then emerge to walk among the dinosaurs and finally stumble into the wild plains of Africa! The Asian Lantern Festival is not one to be missed, and you will have plenty of time to soak in this larger than life cultural festival. Even if you came to this illuminating event last year, you won't want to miss it! 80% of the lanterns will be all new to the Zoo, meaning there will be many new lantern lands to explore!
Thu, Feb 13, 10 AM – Sun, Feb 16, 5 PM
Tucson Gem & Mineral Society: World Class Minerals, Tucson Convention Center, 260 S Church Ave, Tucson, AZ
Sat, Feb 15, 1 – 5 PM
Tucson Craft Beer Crawl 2020
Sample beer from local and regional breweries as you explore downtown Tucson on-foot. A percentage of proceeds benefit the Watershed Management Group––nearly $50,000 donated to-date!
HOW IT WORKS :
1) Choose your ticket. (Please note: There are two check-in locations to choose from depending on where you would like to start the crawl.)
2) On Feb 15th, bring your printed or mobile tickets & ID to your selected check-in spot to receive your wristband, map and tasting glass. If you have purchased a VIP ticket, you can stop in at Illegal Pete's for the VIP pre-party, grab your free burrito, and check in there instead!
3) Plan your crawl. The map will show you where all stops are located, as well as the brewers pouring out of those locations.
4) Bounce between bars, sample the best craft beers, and explore downtown!
More info is available at www.tucsoncraftbeercrawl.com
Sun, Mar 1, 11:45 AM – 12:45 PM
Blessing of the Animals​, Trinity Presbyterian Church, 400 E University Blvd, Tucson, AZ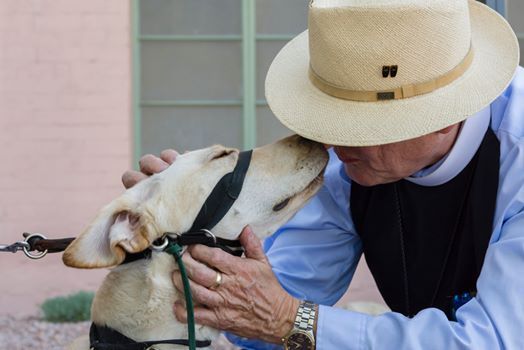 Litany & Blessing of the Animals honoring St. Francis of Assisi. Everyone is welcome!
Paws for the Cause-Tucson's raising club for Guide Dogs for the Blind & the Humane Society of Southern Arizona will be there.
ONGOING...
Arizona State Museum, 1013 E University Blvd | www.statemuseum.arizona.edu
Arizona Theater Company, 330 S Scott Ave | www.arizonatheatre.org
Children's Museum Tucson, 200 S 6th Ave | www.childrensmuseumtucson.org
Fox Theatre, 17 W Congress St | www.FoxTucsonTheatre.org
Historic Fourth Avenue, See Facebook page for weekly events: https://www.facebook.com/events/2343613065903248/
Hotel Congress, 311 E Congress St | hotelcongress.com
Jewish History Museum, 564 S Stone Ave | www.jewishhistorymuseum.org
Loft Cinema, 3233 E Speedway Blvd | www.loftcinema.com
Meet Me at Maynards, 311 E Congress St | www.MeetMeatMaynards.com
A social walk/run through the Downtown area. Every Monday, rain or shine, holidays too! Check-in begins at 5:15 pm.
Mission Garden, 946 W Mission Ln | www.missiongarden.org
A living agricultural museum and ethnobotanical garden at the site of Tucson's Birthplace (the foot of "A-Mountain"). For guided tours call 520-955-5200
Raices Taller 222, 218 E. 6th St | Fridays and Saturdays from 1pm to 5pm | www.raicestaller222.com
Rialto Theatre, 318 E Congress St | www.rialtotheatre.com
The Rogue Theatre, The Historic Y, 300 E University Blvd | www.theroguetheatre.org
Southern Arizona Transportation Museum, 414 N Toole Ave | www.tucsonhistoricdepot.org
Tucson Botanical Gardens, 2150 N Alvernon Way | www.tucsonbotanical.org
Tucson Convention Center, 260 S Church St | tucsonconventioncenter.com
Tucson Museum of Art, 140 N Main Ave | tucsonmuseumofart.org
UA Mineral Museum, 1601 E University Blvd | www.uamineralmuseum.org
Watershed Management Group, Living Lab 1137 N. Dodge Blvd. | www.watershedmg.org
Yume Japanese Gardens of Tucson, 2130 North Alvernon Way | www.yumegardens.org