Topics in this issue...
Half-Staff
Hate Crime Ordinance
Video Evidence
Some Positive TPD Outreach
Background Checks
Federal Budget - Tucson Impacts
Health Care Forum
Cyclovia
Local First: Tucson Botanical Gardens
Adopt-a-Park
The Arts and Urban Renewal
Events and Entertainment
Half-Staff
A police officer who worked on the Navajo Nation in Prewitt, New Mexico was shot and killed while responding to a domestic violence call. The guy was a five year veteran of the Nation's police force and only 27-years-old. I've written plenty about DV calls and how dangerous they are. It's sad to have to validate it yet again.
Another DV-related tragedy took place in Vista, California last week. A 52-year-old man and 52-year-old woman were killed by the woman's ex. The shooter took his own life.
This is a good place to slide in the Emerge! Center for Domestic Violence emergency hotline. It's up and running 24/7. Call 795-4266 if you're feeling threatened or vulnerable.
In Metarie, Louisiana, three people were killed and a woman was shot in the face when someone went on a shooting spree in their apartment. The shooter escaped. The people who lost their lives were ages 40, 56, and 62.
I share shooting incidents that aren't from Tucson in order to make the point that as long as our federal and state representatives refuse to adopt rational gun safety laws, this issue will continue to be one that afflicts us as a country. We've done a lot locally, but because of state preemption laws, there are legal limits on our options. As you know from having read previous newsletters, we are being tested in the Arizona Supreme Court on that right now.
Hate Crime Ordinance
Tomorrow we'll vote on a new hate crime ordinance. It will fill a gap left when a crime is based on who a person is or what the person believes, but doesn't rise to the level of a felony. When I was interviewed by a Star reporter about the proposal, I described our experiences at the Islamic Center of Tucson (ICT), which were prime examples of the need for this change. In the past couple of years, my office and I have developed a very close working relationship with their community. Sadly, that relationship began as a result of the mosque being pelted by debris and epithets from student housing towers.
Last week, validating what I told the reporter, the mosque was yet again the victim of what I'd call a hate crime. This guy, caught on their in-house video system, broke in and tore up over 130 Qurans. The TPD spokesperson said "there's no indication this was a hate crime." I beg to differ. The guy wasn't inside at 3:30 a.m. tearing apart their holy books to make a statement about literacy.
If you know who he is, call 88-CRIME. Those calls can be kept anonymous.
When we talk about this during our council meeting, I'm going to want assurance that our ordinance has the clarity to accurately identify these incidents for what they are, and the teeth to follow through with appropriate punishments.
There was another bomb threat called into the Jewish Community Center last week. That's the second one in the past couple of weeks. As with the desecration of the Qurans, I'd call these threats hate crimes. We'll have that clarified tomorrow, too.
I've lived here since I was in junior high school. Tucson is not what these incidents reflect. And yet, they and similar examples have been playing out across the nation since the election. We will be passing our hate crime ordinance. Sadly, it's necessary.
Video Evidence
Last week, a young girl was sexually assaulted by some guy nearby campus. He was also recorded on video. He has been caught. I'm not going to display his picture, but I will make the point that the police can use any evidence you capture if or when you're a victim of a crime.
Here's another example: this guy was busted last week on what have turned into felony graffiti charges. That was only possible because many people emailed in pictures of tags before they were abated.
Here's just some of the mess he created for others to clean up: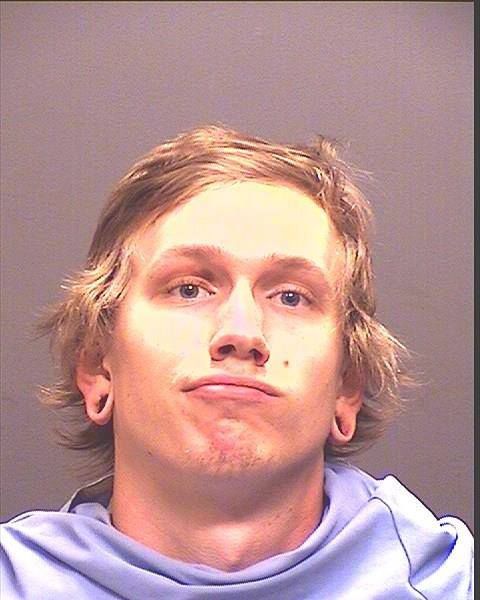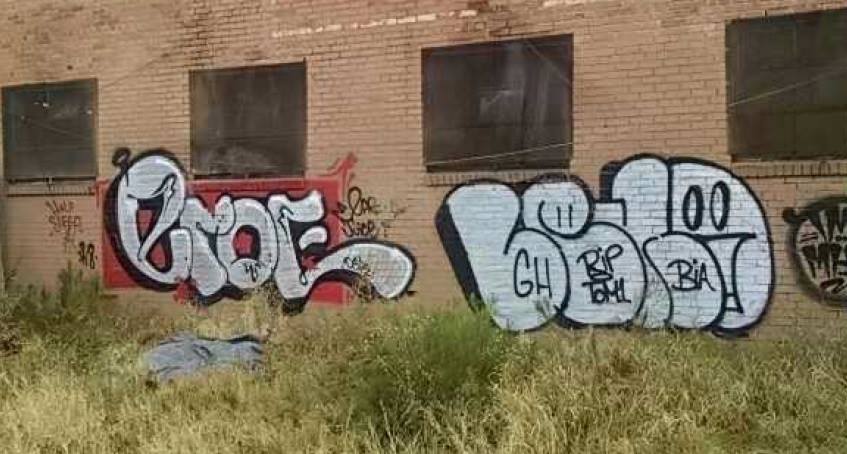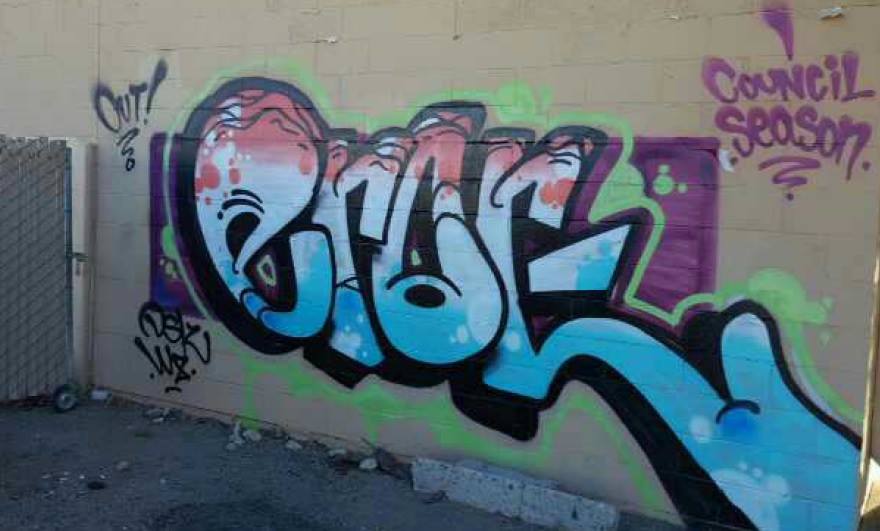 He was booked into Pima County Jail on Class 4 felony charges for criminal damage in graffiti. He's implicated in over 120 incidents, with damages at over $12,000.
TPD gathers pictures of tags in a database. When they can tie them together and attribute them to a single perp, the evidence drives the crime from a misdemeanor up to a felony. If you see graffiti, you can call 792-CITY, but please email a picture of the tags to graffiti@tucsonaz.gov. There's also a smart phone app you can access. Use the links near the top of this webpage to download it for Android or iOS (iPhone): https://www.tucsonaz.gov/info/phone-apps.
The short message is that a picture is golden when we're trying to solve crime. We'll catch the guy who broke into the ICT, just like we finally caught the guy who was leaving his mess all over the city in the form of graffiti. We're in this together, all working to preserve Tucson as the great place that it is.
Some Positive TPD Outreach
The first weekend of March Madness is off and running. I'm predicting the UA will make it to the Final 4. That means at least two things: I'll be busy on the afternoon of the Garden District Porch Fest and will have to figure out a return date, and TPD and the businesses surrounding campus will be working with fans to make sure the celebrations are conducted with Wildcat class.
To that end, TPD has been meeting with stakeholders for several weeks, putting guidelines into place and contacting student leadership and UA administrators to open lines of communication. We're also setting expectations in a fun way through social media and video. This link is just one example: http://bit.ly/2mKy8ml.
As a college sports fan, this is one of my favorite times of the year. As a Tucson City Council Member and a staff employee at the UA, I'm hoping for Tucson to be the national example of how to win it all and be shown on national television as an example of how to party responsibly, respecting the property and rights of all who live and work in the area.
Background Checks
A few years ago, I held a gun buyback. If you missed how it was covered by John Oliver, here's that link.
Photo Credit Mike Christy/Arizona Daily Star
We distributed over $10,000 in Safeway gift cards to people who came up and asked us to take their weapon out of circulation. Two things happened as a result. One was legislation trying to stop us from ever breaking a gun again. We're in the State Supreme Court on that issue right now, taking the position that what we do with property that comes into our possession is our business, not that of the State Legislature.
The other outgrowth of the buyback came from what you see in the background of the photo. See the sign that says "I'll pay double for your gun." That group of heroes was trying to intercept the people who had come to get rid of their gun in exchange for a gift card. They were offering cash for guns, standing in the public right-of-way in plain view of the police – and it was all legal. No background checks going on. Cash and carry. What could possibly go wrong?
In the aftermath, I worked with the City Attorney to craft a policy change we still have in place at the Tucson Convention Center. It says that as a condition of renting our property for your event, if you sell guns on our property, you'll do a background check on each sale. That's for licensed dealers and for private sales as well. The State is now trying to void that policy.
This is the language of the bill going after our background check policy:
SB 1122
Be it enacted by the Legislature of the State of Arizona:
Section 1. Title 44, chapter 9, Arizona Revised Statutes, is amended by adding article 26, to read:
ARTICLE 26. TRANSFER OF PERSONAL PROPERTY
44-1382. Transfer of personal property; city, town or county
NOTWITHSTANDING ANY OTHER LAW, THIS STATE AND A CITY, TOWN OR COUNTY SHALL NOT REQUIRE AS A CONDITION OF A PRIVATE SALE, GIFT, DONATION OR OTHER TRANSFER OF PERSONAL PROPERTY THAT THE OWNER OF THE PERSONAL PROPERTY SEARCH OR FACILITATE THE SEARCH OF ANY FEDERAL OR STATE DATABASES AND SHALL NOT REQUIRE THAT A THIRD PARTY BE INVOLVED.
If this is adopted and signed by Ducey, it will clearly represent the State targeting us again, saying we may not compel background checks on the sale of guns that take place on our property. We have already won in court arguing that we get to set the rules for what goes on at the TCC, so if they challenge us in court based on this law, I'm sure we'd win again (just as we should win on the issue of destroying weapons). But having to defend ourselves in court over this would be just as much a waste of your money as it is having to defend the gun destruction ordinance we have in place. I have a quicker and cheaper solution if it comes to that, one that I will present to the Mayor and Council if SB1122 passes.
What's the simple solution to this revolving door of litigation? We pass an ordinance that states we will not allow the sale of guns on any property owned or leased by the city. End of discussion.
We really shouldn't have to entertain these legislative gymnastics, but as long as our ability to craft local laws is being challenged by Phoenix, defending Home Rule is going to be at the front of my priorities.
Federal Budget – Tucson Impacts
As I noted above, I write about national issues in the Ward 6 newsletter because what goes on in other parts of the country and at other governmental levels impacts us locally. That is exactly true of what the administration in D.C. is now proposing with respect to the FY'18 budget.
Keep that Arts Foundation logo in mind as I go through a little of what's on the table in D.C. The federal budget proposal is thousands of pages long. I'm going to touch on a couple of paragraphs' worth. What has been proposed sends an undeniable values message.
In Arizona, we've been suffering cuts to funding for public education for the past three years. In the Trump budget, we're seeing more of the same. In total, it proposes a reduction in the Department of Education budget of just under $10B. That includes fully eliminating funding for before and after school care for low-income parents, cutting $3.9B from the Pell Grant program, and reducing or completely eliminating 20 grant programs related to teacher quality partnerships and international education work. At the same time, it proposes an increase in funding for 'school choice.' That's allocating $1.4B to charter, private, and religious school choice options. That will impact our local public school system as more kids who have the means leave that system and end up in private or charter schools. State funding formulas are based partially on enrollment. There will be a cascading negative impact to the public school system.
At the city level, we'll see significant reductions in programs we offer for the needy in our community. Community Development Block Grants have been totally eliminated in the Trump budget. So are HOME funds – dollars used to help fund housing for those in need. Low Income Home Energy Assistance dollars are also being completely eliminated. Talk to the folks at TEP, and they'll tell you these funds allow many in Tucson to keep their lights on when they're at the end of the month and running short on cash. As I said, these proposals are a values message.
Okay, back up to the Arts Foundation logo. We are moving forward with the event I'm hosting with Debi Chess Mabie, Julie Lauterbach-Colby, and the arts community. The three of us put our heads together and before the budget was formally announced, we planned this event as a way of either celebrating continued funding or making a positive statement about the need for arts funding in the event of a cut. Well, the Trump budget totally eliminates funding for the National Endowment for the Arts. It also does away with funding for the National Endowment for the Humanities and the Corporation for Public Broadcasting, which supports NPR and PBS.
Here at the Ward 6 Office, beginning at 10:00 a.m. on Saturday, March 25th, we are inviting artists of all (family-friendly) forms to come and share four to five minutes of their work as a statement in support of what the arts represent. That's poetry, song, painting, glass, dance, theater, film – if it's 'art,' then bring it and present it. The theme is Tucson – People, Politics and Culture.
We'd like to know you're coming. Write Julie or Debi at Julie@artsfoundtucson.org or dcm@artsfoundtucson.org. They'll get you a time slot.
If you are not an artist but want to support that piece of who we are, come and enjoy what's being presented. This is all free, non-commercial, and intended to send the message that we're a poorer society if we say the federal government has no financial stake in supporting the arts.
Health Care Forum
As you likely know, the feds are kicking around proposals for changes to the Affordable Care Act, aka Obamacare. As of today, all we have are ideas and proposed deal points. Hopefully the intent is to toss them against the wall to see what sticks. And hopefully much of it falls to the floor.
From Wikipedia: "Etymology: Possibly based on a technique of building wattle and daub walls by throwing daub (mud mixed with straw) at the wattle, throwing hard enough that some obtained a good key and remained in place; compare slapdash, a pebbledash effect produced by throwing pebbles at a rendered wall. Sense 2 is probably influenced by throw dirt enough, and some will stick."
Much of what I've read feels like it's slapdash. But they've certainly been throwing hard, ever since the campaign started. Now it's real.
The discussion affects multiple groups. Those include the elderly, low-income folks, women, and service providers. We'll have them all represented at a forum coming on April 20th. More on that at the end of this section, though.
Let's spend a little time on the impact the changes to Medicaid would have on Arizona residents. Medicaid is insurance coverage for low-income people. The state expanded coverage a few years ago to cover people who make up to 138% of a poverty level income. You may recall the debate, which ended with then-Governor Brewer agreeing to sign onto the expanded program. Why did she sign that? Because it came with a federal match. For every dollar spent by the state, the feds matched with $2.25. We received over $3B in federal funds for adults captured by the expansion between January 2014 and September 2015.
Tough to argue with that offer, even for a Republican Governor. 22% of the State of Arizona's general fund spending goes to Medicaid. But 60% of all the federal funds we receive go to that program. The funding supports low-income children, pregnant women, seniors, and people with disabilities. This graphic shows what has happened to our uninsured rate since as a result:
Given that expansion of coverage, the coverage also represents a safety net for hospitals that had previously been drowning in the costs of uncompensated medical care. Good for the state for having signed on. 38% of our state population is low income. In Arizona, 418,000 people are on expanded Medicaid.
The Trump proposal would cap enrollment and end the current program to go by 2020 to a block grant to each state or set a per-capita cap on funding. The impact would be felt across the health care spectrum and across the state economy.
This letter was sent to the administration last week by AARP:
In a statement today, AARP Executive Vice President Nancy LeaMond announced AARP's opposition to the House plan that would make changes to our current health care system, such as shortening the life of Medicare, hiking costs for those who can least afford higher insurance premiums, risking seniors' ability to live independently, and giving tax breaks to big drug companies and health insurance companies:
"AARP opposes this legislation, as introduced, that would weaken Medicare, leaving the door open to a voucher program that shifts costs and risks to seniors.
"Before people even reach retirement age, big insurance companies could be allowed to charge them an age tax that adds up to thousands of dollars more per year. Older Americans need affordable health care services and prescriptions. This plan goes in the opposite direction, increasing insurance premiums for older Americans and not doing anything to lower drug costs.
"On top of the hefty premium increase for consumers, big drug companies and other special interests get a sweetheart deal.
"Finally, Medicaid cuts could impact people of all ages and put at risk the health and safety of 17.4 million children and adults with disabilities and seniors by eliminating much-needed services that allow individuals to live independently in their homes and communities. Although no one believes the current health care system is perfect, this harmful legislation would make health care less secure and less affordable.
AARP stands ready to work with both parties on legislation that puts Americans first, not the special interests.
Shortly after the November election, I cohosted a panel discussion at Temple Emmanuel with the Center for Community Dialogue. The theme was, given the post-election division we were seeing, where do we go from here? How do we address the changes we all saw coming as a result of the change in administration? The one comment most commonly shared after the forum was 'don't just do this once.' I took that to heart.
On Thursday, April 20th, we will again gather at Temple Emmanuel. This second round will be to specifically address the impacts of the changes being proposed in the ACA. On this upcoming panel will be representatives from the Alliance for Retired Americans, Tucson Medical Center, NOW, and Planned Parenthood. Each will bring its own unique focus on the impacts. And after the panelists speak, we'll open things up for audience participation through a Q&A with the experts.
The forum will begin at 6:30 p.m. I'm again grateful to the staff and Rabbi Cohon at Temple Emmanuel for opening up their space for this important community discussion. I'll share more about this in the coming weeks, but get it on your calendar now. It's unlikely that you or someone you love isn't going to be affected if the changes being discussed actually are adopted.
Cyclovia
Does that leave you feeling a certain chill?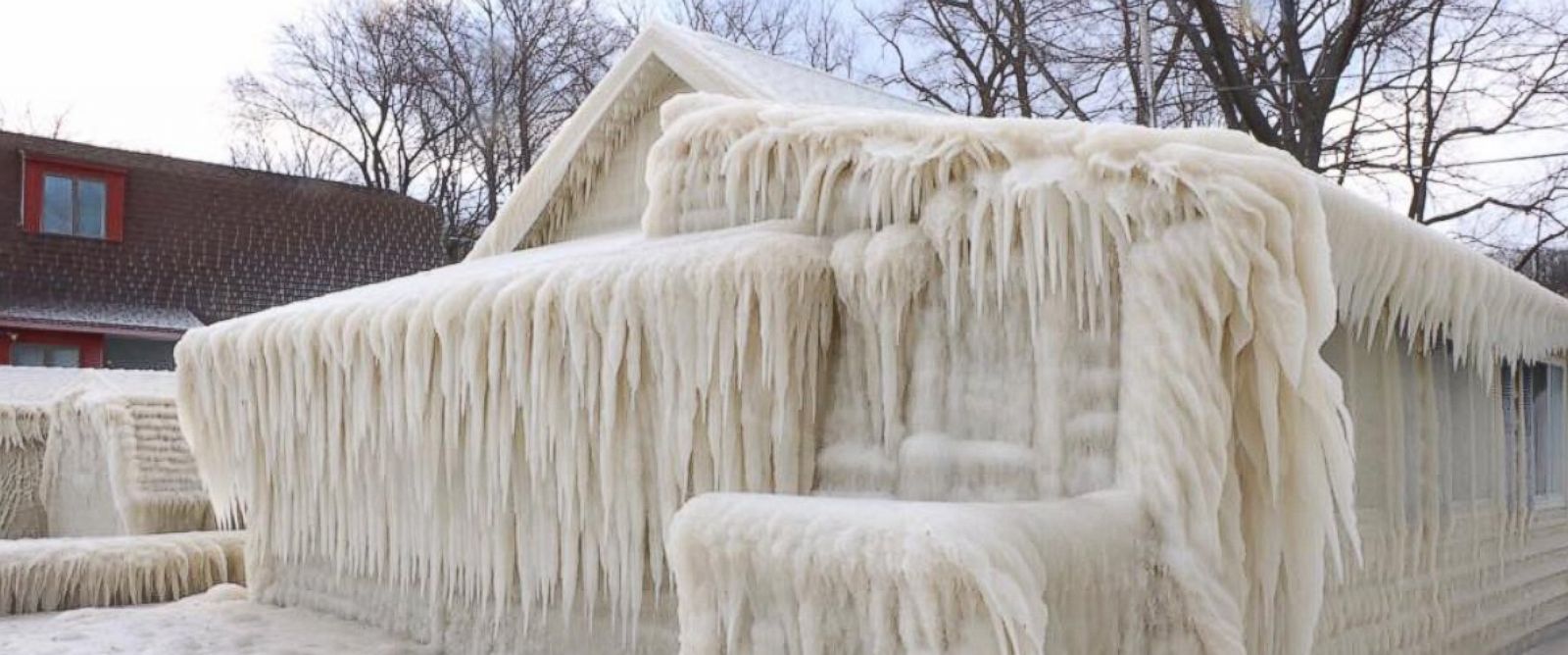 Maybe like this house photographed in upstate New York last week? Well, we have the answer. It's this spring's Cyclovia event. I'm guessing they didn't hold one outside this guy's house recently.
Thanks again to the Living Streets Alliance folks and their Cyclovia guru Kylie Walzak. They put a ton of work into securing sponsors, and meeting with neighborhoods and the city to come up with new and rider-friendly routes. The spring event will run between downtown and South Tucson. Here's the route, taken from their website:
Note the invitation to all sorts of 'transit' users left hand margin. Run, bike, walk, roller blade – just take part.
In order to get involved, check out their website at cycloviatucson.org. It has all the information on the event. It's yet another example of the special things taking place here, pulled together by special people that make ours a great community in which to live, work, and play.
Local First: Tucson Botanical Gardens
Michelle Conklin and her staff over at the Gardens on Alvernon won some great recognition last week, certainly worthy of note here as the Local Tucson item this week.
The Garden Tourism Conference was held last week in Toronto, Ontario, Canada. They meet annually, and in collaboration with the Canadian Garden Council and the American Public Gardens Association rank gardens from all over North America as tourist destinations. They call the list "the Top 10 North American Gardens Worth Traveling For."
For 2017, our own Tucson Botanical Gardens made the North American Top 10. Here's the full list:
2017 TOP 10 NORTH AMERICAN GARDENS WORTH TRAVELLING FOR
(in alphabetical order)
Chicago Botanic Garden, Chicago, Illinois
Dr. Sun Yat-Sen Classical Chinese Garden, Vancouver, British Columbia
Ethnobotanical Garden, Oaxaca, Mexico
Halifax Public Gardens, Halifax, Nova Scotia
Hershey Gardens, Hershey, Pennsylvania
Jardins de Métis / Reford Gardens, Grand-Métis, Québec
Las Pozas, Xilitla, Mexico
Longue Vue House and Gardens, New Orleans, Louisiana
San Diego Botanic Garden, Encinitas, California
Tucson Botanical Gardens, Tucson, Arizona
Tourism is one of our key local industries. According to the Conference folks last week, garden tourism ranks, in terms of numbers of people who travel to visit them, right up there with places like Disneyland and Vegas. Having Michelle's garden included in such a well-respected list is a very big deal.
Congratulations to the staff, volunteers, and donors who make the Tucson Botanical Gardens an international destination and a recipient of this impressive recognition. They're located on Alvernon, just south of Grant.
Hours:
Mon 8:30 am - 4:30 pm
Tue 8:30 am - 4:30 pm
Wed 8:30 am - 4:30 pm
Thu 8:30 am - 8:00 pm
Fri 8:30 am - 8:00 pm
Sat 8:30 am - 4:30 pm
Sun 8:30 am - 4:30 pm
Adopt-a-Park
On Saturday, I had the honor of joining Glenna Overstreet from our Parks Department, and Tom Ellis from Tucson Clean & Beautiful in thanking yet another group of volunteers who are helping to keep Tucson's streets and parks in tip-top condition. They're working as a part of the Adopt-a-Park and Public Areas program.
The first Adopt-a-Park project – "A" Mountain – began in 1984. Since then, it's grown to include over 260 sites and volunteer groups. On Saturday, a coalition of Pima College honors students from Alpha Beta Chi and Phi Theta Kappa were recognized for the hundreds of hours they've invested in Himmel Park to keep it the attractive and welcoming community park that it is.
If you have a group – could be your neighborhood association, your rugby team, your scrabble club – that would like to get involved in keeping Tucson great, check out either our Parks & Recreation department website or go to tucsoncleanandbeautiful.org. There are plenty of ways for you to volunteer, and each is an investment in Tucson.
Thanks are due to the ladies from the Pima College Honors Club who have been working behind the scenes over at Himmel Park. We appreciate their work very much, as we also appreciate our other 'adopt-a-groups.'
The Arts and Urban Renewal
I'll close with this arts-related event. This week's newsletter seems to have a theme of affirming the values for which we stand in Tucson. Whether those are the arts, protecting peoples' health care options, preserving home rule, gun safety, or the beauty contained in places like the Botanical Gardens, many of us are out there staking our claim to things that matter.
On Sunday, March 26th at 4:00 p.m., The Arts Foundation for Tucson & Southern Arizona is going to host a panel discussion focused on what role the arts play in urban renewal today. They'll touch on how the arts can impact and inform city planning and how we grow in an affirming way.
The panel will include Debi Chess Mabi from the Foundation, my friend Supervisor Richard Elias, Adam Lundquist from Southwest Urban Realty & Development, and Chelsea Farrar from the UA School of Art. As we see the arts defunded at the federal level, local discussions on this topic becomes more relevant. This panel discussion is one such opportunity for you to engage in a broader community dialogue.
Sincerely,
Steve Kozachik
Council Member, Ward 6
ward6@tucsonaz.gov
Events and Entertainment
Alamo Wash Basin Management Study Open House
Wednesday, March 22, 2017 | 6 – 7:30 pm
Sky Islands School, 6000 E. 14th St. (south of Park Place)
Join the City of Tucson and the Pima County Regional Flood control District for an Open House for the Alamo Wash Basin Management Study.  This study will identify flood areas and drainage problems, as well as develop a plan for cost-effective solutions to reduce or manage flooding in the study area. For more information on the study, please visit this link.
Connor Grove: Ward 6 Artist Exhibition Opening Reception
Thursday, March 23, 2017 | 6 - 8:30 pm
Ward 6 Office, 3202 E 1st St
From Connor: "I am a photographer, originally from Atlanta, Georgia, now living in the southwest. My show is a study in mixed media, with the a focus on photography. Everyday life and the details that make up this world is what drives  my inspiration. I hope you all can come out, and a big thank you to the Tucson art community."
Serving with Honor, Not Equality: LGBT Veterans, World War II to Now
Sunday, April 2, 2017 | Doors open: 1 pm; Program: 2-4 pm
Jewish Community Center; 3800 E River Rd., Tucson
Based on the ground-breaking book by MacArthur "Genius Grant" recipient, Allan Bérubé, Coming Out Under Fire features nine gay and lesbian veterans who recount how they joined the patriotic war against fascism in the 1940s only to find themselves fighting two battles: one for their country and another for their right to serve. Following the film,  Robert Bell will introduce Erin Russ, Director of Programs for Southern Arizona Gender Alliance (SAGA) and Jennifer Dane from the American Military Partner Association. They are LGBT veterans, who will tell their stories of serving before, during and after "Don't Ask, Don't Tell." http://soazseniorpride.org/events-upcoming/coming-out-under-fire/
2017 UA Neighborhood Network Landlord Education Seminar
Thursday, April 13, 2017 | 8:30 am – 12 pm
Join UA's information network of experts and resources designed to empower you as a property owners renting to students. Presenters this year include: Campus Health, Dean of Students Office, Off-Campus Housing, Office of Sustainability, Tucson Code Enforcement, Student Legal Services, Tucson Police Department, UA Police Department, Campus Recreation. Light refreshments and prizes provided. RSVP and register here. For questions, contact Cynthia Ramirez at (520) 621-1339 or cynthiaramirez@email.arizona.edu. Registration closes Friday, April 7. Space is limited.
4th Avenue Spring Street Fair
Friday, March 24 – Sunday March 26, 2016 | 10 am – 6 pm
The Street Fair takes place along Fourth Avenue in the Heart of Tucson, between 8th Street and University Boulevard. Each Fair includes more than 400 arts and crafts booths, food and drink vendors, street entertainers, and tons of other family fun activities. This is Tucson's Premier Community Event, bringing together more than 600,000 fair goers each year. http://www.fourthavenue.org/general-information
Ongoing…
Arizona State Museum, 1013 E University Blvd | www.statemuseum.arizona.edu
"Snaketown: Hohokam Defined" Exhibit, through July 1, 2017
Arizona Theater Company, 330 S Scott Ave | www.arizonatheatre.org
"Ring of Fire: The Music of Johnny Cash," March 4, 2017 – March 25, 2017
The Rogue Theatre, The Historic Y, 300 E University Blvd | www.theroguetheatre.org
Tucson Museum of Art, 140 N Main Ave | www.TucsonMusuemofArt.org
"Body Language: Figuration in Modern and Contemporary Art," February 25, 2017 – July 9, 2017
Tucson Convention Center, 260 S Church St | tucsonconventioncenter.com
Meet Me at Maynards, 311 E Congress St | www.MeetMeatMaynards.com
A social walk/run through the Downtown area. Every Monday, rain or shine, holidays too! Check-in begins at 5:15 pm.
Mission Garden, 929 W Mission Ln | www.tucsonbirthplace.org
A living agricultural museum and ethnobotanical garden at the site of Tucson's Birthplace (the foot of "A-Mountain"). For guided tours call 520-777-9270.
Children's Museum Tucson, 200 S 6th Ave | www.childernsmuseumtucson.org
Tucson Botanical Gardens, 2150 N Alvernon Way | www.tucsonbotanical.org
"Frida Kahlo: Art, Garden, Life" Exhibit, October 10, 2016 – May 31, 2017
Southern Arizona Transportation Museum, 414 N Toole Ave | www.tucsonhistoricdepot.org
UA Mineral Museum, 1601 E University Blvd | www.uamineralmuseum.org
Jewish History Museum, 564 S Stone Ave | www.jewishhistorymuseum.org
Fox Theatre, 17 W Congress St | www.FoxTucsonTheatre.org
Hotel Congress, 311 E Congress St | hotelcongress.com
Loft Cinema, 3233 E Speedway Blvd | www.loftcinema.com
Rialto Theatre, 318 E Congress St | www.rialtotheatre.com