Topics in this issue...
At Sacred Space a few weeks ago, I shared the song "In the Ghetto." It was first released back in 1969. It could have been written last week.
In Chicago last week, a guy went on a shooting spree that killed four people. He went on the rampage because his dad had been shot to death the day before. Now there are five dead, and the shooter faces murder charges.
In St. Paul, Minnesota, a 16-year-old girl, two 18-year-olds (a boy, who was one of the suspects, and a girl), and a 48-year-old man were killed by some 18-year-old kid. Again, the motivation evidently had to do with domestic violence. The shooter was unharmed and is in custody. He also shot and injured another 18-year-old girl. This note from the police report: shot in faces, mother of child and her family, took infant, found in shed on Clarence, second suspect found killed in another location.
And in Houston, Texas, three were killed and one wounded in what they think is a murder-suicide. Another person is hospitalized, so the toll could still increase.
That's 11 lives lost. None of them will get a half-staff notice, but all of them will impact families and loved ones.
The State Legislature is still pushing a bill that would have us roll back our requirement for background checks at the TCC. As I understand things, not much is moving to votes until they get their work done on the budget, so we won't know whether or not we have that issue to fight for a while yet.
State Preemption Bills
On the same topic, we yet again had our share of preemption bills this legislative term. Also as usual, they were all over the map. The state believes it can handle all of our affairs better than we can.
In fact, 14 bills had to do in some way with the state taking over our work. Here's a brief summary:
HB2011 was an attempt to interfere with our financial management. It would place limits on the amount of our secondary bond reserves and force us to use cash reserves to write down those bonds. Sounds wonkish, but it's basically the state running our finance department.
HB2086 on its face is about issuing ID cards, but the guts of the bill contain the unconstitutional measures that capture our state shared revenue if someone up in Phoenix feels we're not doing their bidding sufficiently.
HB2097 is another of the state's attempts to pick a fight with the feds. It would make it illegal for the state or any jurisdiction in the state to comply with federal laws that aren't specifically authorized by Congress. That would put us at odds with federal agencies when they implement federal rules or regulations. It's their annual states' rights battle, which they forget when they pass preemptive bills that attempt to step all over local authority.
HB2121 forces us to comply with all federal ICE 'detainers.' We comply with the law. Our police are not ICE agents and as much as the State Legislature would like us to become an arm of the feds in immigration policy, that's not the role of local police.
HB2212 is an absurd reporting requirement that would cause us to triple staff in our finance department just to sort out the details of the bill's requirements. It would have us report 'the aggregate dollar amount of federal receipts,' the 'aggregate dollar amount of federal monies appropriated,' calculate federal money as a percentage of the total budget, and submit a plan to the state to show how we'd run the city if those dollars disappeared.
HB2257 is an attempt to tweak the unconstitutional SB1487 they're now using to take our state shared revenues because we destroy guns. It changes a few "shalls" to "mays," but in essence has the same flaws as the existing law. We're already in court defending ourselves on this item – no reason to support an attempt to run it through under a different bill number.
HB2340 would require us to hire a certain, defined level of police officers. We manage our budget. The police operations budget is a piece of that. The state has no role in establishing our staffing levels in that or any other city department. This bill would cost us over $46M new dollars annually.
HB2419 prohibits us from increasing certain license fees or adding new occupational license fees. They want us to spend $46M more on police, but tie our hands on increasing fees to pay for it.
HB2495 tells us when we can hold special elections. We've won our elections defenses before. Don't need them nosing around again on that issue.
HB2521 requires that we pool our contracting tax revenues with other jurisdictions and let the state redistribute everyone's dollars based on a formula they'd concoct. Our estimate is that it'd cost us over $4M in locally-generated tax revenue.
SB1021 is another restriction on our ability to issue local ID cards. It's simply not their business if we decide to do that.
SB1122 is the one they're working on to eliminate our background check policy for gun sales that occur at the TCC.
SB1243 is this year's version of the 'guns in public buildings' bill. It would force us to either put metal detectors at every entrance, or allow guns into our buildings.
SB1344 gives our subcontractors the ability to bring guns into our buildings when performing work for us. It would apply to subcontractors working at gun shows in the TCC, for example.
It's an unfortunate reality that a part of our job on the City Council is to keep watch on what's happening in Phoenix and work to preserve local autonomy. Every candidate running should be held accountable for signing onto that fight. Home Rule is not to be taken lightly, especially in a state like ours where there's such a clear ideological divide between us and the majority party up in Phoenix.
Economic Development
Another of our responsibilities on the Council is to build the economy. Since I started doing this back in 2009, we've put together a toolkit of over 20 incentives we use – when they pass Gift Clause tests – to spur job creation in the local area. A new tool has come online. It's the collaborative work of the City, County, PAG, the Metropolitan Pima Alliance, and utilities. It's called PimaParcels.
Through a new website, companies looking to either relocate to or expand in the region can check an online map for available parcels. The partners are using the Pima County GIS system to facilitate the mapping, which will provide information on zoning, parcel size, utility capacity, and where the site ties into existing transportation networks.
When a prospect finds a parcel that may meet its needs, the site will generate reports with detailed information about it. The goal is to make the first steps in the process of checking out the area much more streamlined than having to pour through manuals, drive all over the region, and check each site individually. It takes all of that legwork out of the process.
Here's a link to PimaParcels. It's another example of how we're working in collaboration with our regional partners to grow jobs in our local community.
Economic Flop
When I was first elected back in 2009, the city was working with a private developer on a downtown convention center hotel. I spent my first nine months in office working to stop the project. It would have placed the city in the position of back-stopping over $200M in bonds if the hotel didn't survive. Among the many points I made at the time was that those hotels were being funded by cities (taxpayers) all over the country, and far too many of them were failing for us to take that risk.
The photo above is of the Phoenix Sheraton. It was indeed funded by the Phoenix city government (taxpayers) just before Tucson was being pitched to do the same. It's being described in the Phoenix media as a "31 story money sucker." That's just what I was afraid of getting us into.
In 2004, the Phoenix City Council dumped $350M into the 1,000 room hotel. It was to be their downtown game changer. Despite their renovations to the Phoenix Convention Center, no private builder would take the downside risk for their hotel. So the City of Phoenix did.
The place opened in 2008. As of last year, they had seen over $28M in operating losses since the opening. In February of last year they announced they had finally sold off the property – for $300M – to a private investor. Now, over a year after that announcement and with continued operating losses now bumping $45M, the sale still hasn't closed. Phoenix still owes $306M on the property. One of the council members suggests it's probably worth less than $250M right now. The private investor has likely figured out that it's not worth his original offer.
The jobs we do at City Council are not hobbies. People may not agree with all of my votes, but they can be assured I'm doing the homework on each issue before taking a stand. Too bad the Phoenix Council bought the hype of the hotel.
Today, we have the AC Marriott going in with private dollars, two more hotels pending in the downtown area, and another over by the University – with private dollars. Our patience paid off.
Water Flop
Here's one quick update on the California water "surplus" I wrote about last week. Some of our serious water folks thought I was suggesting the Sierras in California dumped into the Colorado or somehow affected California's allocation. Nope – the point was that we're all in this together, and let's not assume because California had a nice snowfall this winter that we can all take our eyes off the need to conserve.
Based on an AP article that appeared over the weekend, it looks like the lobbying in California may have won a short-term victory in having drought conservation regulations relaxed as a result of the temporarily full reservoirs.
The northern Sierra region is close to having had its wettest year on record. Many of the state's reservoirs are full or overfilled. They are concerned about flooding as snowmelt hits. All of that's legit. But none of it suggests they (or we) should assume the Wicked Witch of the Drought is dead, and that we can turn on the taps and think all's well in Oz.
Looking at these drought maps comparing last year with now, one might feel we're good to go.
But don't forget that some California communities still face dry wells, and more importantly, the state continues to face the same structural water deficit that we do in Lake Mead. Overpumping of groundwater is still causing subsidence. Remember the graphics I included a few weeks ago to show you our own areas of subsidence? Here's what California is faced with from about Stockton to Bakersfield:
In the San Joaquin Valley, the ground has sunk by as much as 28' since the 1920s. The NASA map above shows land subsidence from May 7th, 2015 through September 10th, 2016. Note that the ground has dropped by as much as two feet in some areas.
Our economic development and the jobs we're creating are good news. We must respect the fact that we live in a desert in the way we manage that growth. There are limits to what the water supply can support. It's great that California had a snowy winter. We have had some nice winter and spring rain. Yet both of us still face a structural deficit in the lower Colorado River basin when it comes to how much water we use versus how much nature is providing.
Trafficking Event
If you've followed my work at all, you'll know my staff and I have put a lot of effort into working with victims of human trafficking. Much of our work has been in the area of sex trafficking. Labor trafficking is also a major concern locally.
When we hosted the recent forum at The Loft on trafficking, Dominique Roe-Sepowitz came down from Phoenix and spoke as one of the panel members. Dominique is one of the founders of Project Rose, from which we modeled our own Project Raise. It addresses the needs of sex trafficked victims. On Thursday, May 4th, Dominique is teaming up with the National Criminal Justice Training Center to present a workshop entitled AMBER Alert Training & Technical Assistance Program. It's a community workshop on how to respond to victims of both labor and sex trafficking.
I'm sometimes asked by lay people how they can get involved. The workshop is primarily aimed at law enforcement personnel, but it will also include non-governmental organizations (some of our local nonprofits). If you're associated with one of the nonprofits, you're already linked into the issue. If you're one of the people who wants to learn more about this issue and find organizations through which to work on it, this workshop may be of value to you as a way of connecting.
The workshop will look at the vulnerabilities unaccompanied kids face, and how communities can best serve them. They're victims. If you're interested, register here.
The event will be held at the Desert Diamond Casino. The keynote speakers will be Cindy McCain, Co-Chair of the Governor's Council on Human Trafficking, and Gill Orrantia from the Arizona Department of Homeland Security.
Health Care Forum
We're moving ahead with our local forum on proposed changes to the Affordable Care Act. Join us at the Temple Emanu-El, 225 N. Country Club on April 20th. Here's the flyer for the event:
Congress is still talking about chiseling away at health care benefits and accessibility. This will have local impacts. Our panelists will give their unique perspectives on what some of the changes will mean to our health care delivery system.
We still have some good local options. We're about to unroll our outreach to Mexico to attract medical tourism. Stay tuned for more on that later this week from our partners over at Visit Tucson, TMC, and others.
Another option is the new health care center that opened last week in 1 W Broadway. It's a collaboration between TMC (one of our presenters at the forum) and the El Rio Health Center. 1 W Broadway has an array of medical and health care options – everything from traditional treatment rooms to spaces set aside for fitness classes. It's called HealthOn Broadway, and will also soon have online visit scheduling set up for its patients. The primary care unit takes all sorts of insurance, including Medicaid and Medicare – as long as it lasts after Congress gets done with its reset of the system. They're open 7:00 a.m. to 9:00 p.m. weekdays, and 8:00 a.m. to 5:00 p.m. on Saturdays. This is not an urgent care facility, so sign on as a regular patient and you'll have a primary care option right in the heart of downtown.
Another option that still exists is the Pima Community Access Program (PCAP). It's set up to take care of uninsured adults who meet some low income guidelines. Here are the income qualifiers:
PCAP Income Chart
(Count each adult, child and unborn child in the home)
| | |
| --- | --- |
| Family Size | Hourly Rate at 40 Hours/Week |
| 1 | $4.31 - $10.79 |
| 2 | $5.82 - $14.56 |
| 3 | $7.33 - $18.34 |
| 4 | $8.84 - $22.11 |
In order to be eligible you must live in Pima County, be 18 years of age or older, not be eligible for other health care programs, and fit the income requirements.
The PCAP folks estimate that we have about 70,000 uninsured people in Pima County, most of whom work at least part-time, and only 60% of whom have employer-provided health care. The PCAP program is intended to fill the remaining gap.
Hospitals and health care centers provide hundreds of millions of dollars in uncompensated health care. There are over 200 primary care providers and six hospitals taking part in this health network. The costs include a $20 enrollment fee every six months, plus low-income adjusted fees for services when used. They cover preexisting conditions (something Congress is considering eliminating from the ACA), as well as routine visits, hospital stays, and discounts on meds. It's a safety net.
To check into enrolling, call PCAP at 694-0418 (River Road location) or 573-2858 (Kino Hospital site) between 8:00 a.m. and 5:00 p.m., Monday through Friday. They'll ask you to bring proof of residency. You can also learn more by checking out their website at www.pcap.cc.
Come and join us on April 20th to hear from the experts on what we may be facing with respect to changes in health care. And if you're lacking or looking for options, the 1 W. Broadway and PCAP may be ideas for you to consider.
Civility Forum
If you're not in the mood to take on the issue of health care on the 20th, you can join Jonathan and Janette Mare over at The Loft. They're hosting a Civility Forum. That topic makes up another important piece of our local fabric.
The UA National Institute for Civil Discourse is also a partner in this event. It'll be free and open to anyone who'd like to attend. We're at the front end of a political campaign for City Council races. Now's a great time to remind ourselves that Tucson leads in civility – unlike what we just went through in the presidential campaigns. The Loft forum will be a nice way to reset that framework.
Red Tag Meeting
Over the weekend, there was yet again a major party at a house on N. Mountain. This location is a repeat offender. The owner has properties in other neighborhoods surrounding campus, many of which have also had problems.
Last week, I hosted a meeting to introduce the campus-area neighbors to the students from campus who have issues with our Red Tag ordinance. In case you missed it, there were probably 10 students and about 50 residents in attendance. There were also a couple of landlords who take exception to our policy, and a couple of attorneys who announced that they're suing the city over the ordinance. It was clear they had coached the students – but that's okay. The ordinance is legal, and I will continue to support it.
There's recent legal history here. In 2015, a guy named Miles Parish sued over what he contended was our "vague" law. It's the same position the students and one of the attorneys took. This is an excerpt from the court ruling in Parish:
Mr. Parish presents one issue for appeal. Mr. Parish argues that TCC § 16-32 is unconstitutionally vague… Mr. Parish argues that the ordinance is impermissibly vague as it provides no clear meaning as to which discretionary standard police will follow when it issues a red tag.
The students asked that we only apply a decibel test. As several of the neighbors in attendance last week pointed out, that's unenforceable and unrealistic. I reminded the group that we indeed have a noise ordinance to regulate sound levels – and we have an unruly gathering ordinance that guides behaviors not covered by a simple decibel test.
Here's Parish's argument for the claim that the law was unconstitutionally vague:
Mr. Parish contends that the ordinance is unconstitutionally vague because TCC § 16-32 permits "unbridled officer discretion" to determine the amount of "excessive noise" that is sufficient for a violation. As a result, Mr. Parish maintains that the ordinance is likely to encourage arbitrary and discriminatory enforcement.
One of the attorneys present last week tried that angle, too. Specifically that our law gives police the chance to target "people of color." I don't believe there was a person in the room who wasn't justifiably insulted by the remark. This is about people inflicting themselves on their neighbors, nothing more.
Here's how the court addressed the question of whether or not a cop can enforce the law as written:
TCC § 16-31 defines the type of "excessive noise" that is prohibited in § 16-32. The Section provides a table that includes the maximum sound levels permitted, measured in decibels. TCC § 16-31(a). In addition, the Section provides that various sounds may not be measureable by a sound level meter but are nonetheless prohibited "if they produce plainly audible sound beyond the property line of the property on which they are conducted and disturb the peace and quiet of a neighborhood or person." TCC § 16-31(b).
Here are some of those activities:
TCC § 16-31. Specific activities that may constitute "excessive noise" include: 1) continuous noise lasting longer than fifteen minutes and which is caused by using a stereo; and 2) shouting, yelling, screaming or any other form of raucous vocalization by a person or group of people. TCC § 16-31(b)(1) & (4).
The conclusion is that "a person of ordinary intelligence is provided with more than sufficient notice as to the type of proscribed conduct that is prohibited by the ordinance."
Teachable moment for the youngsters from campus: find a cause celeb other than "I want to party." I will be happy to help advocate if I can agree with the cause, but our Red Tag ordinance is the product of years and years of trying to get our arms around the issue of unruly gatherings that occur largely in areas around campus. What we have in place is good. I'd like to see the UA adopt its own version.
I understand the students are making their rounds to at least one other council member. I think a better approach – one I suggested at our meeting last week – would be for them to make their rounds to residents of the neighborhoods around campus. Develop relationships and become members of the community. Build from that posture, not one that flies up against the history that led to the current ordinance.
Orderly Gathering
This group joined together over the weekend to dedicate the new Ramada in Tahoe Park, Catalina Vista Neighborhood. We did not get a red tag.
The lady on the far left is our Parks Director, Joan Stauch. She and several other Parks employees took a chunk of their Saturdays to help make this dedication ceremony a success. Our region's parks representative, Glenna Overstreet, was present and several other workers provided chairs, the lectern, and a sound system. We're grateful for the OT they all put in for this event.
The ramada is significant because it was built from materials salvaged by the neighborhood from what was formerly the Kramer Ranch. The ranch was torn down in order to make way for a new midtown infill project called Casa Seton, located immediately north of the Arizona Inn. The ranch was the original site of the Tucson Rodeo. It took place in the area near today's Campbell and Grant. The ramada in Tahoe Park will preserve in perpetuity the memories that would have otherwise been lost with the new construction.
Local preservation activist Ken Scoville is the one who brought the history to the attention of some of us neighbors. He deserves credit for what is now a finished product. If you'd like to 'buy a brick' and have it engraved so you're also a piece of this history, drop me an email and I'll get you connected with the folks who are organizing that part of the work.
We have over 40 neighborhood associations in Ward 6. Each of them is full of residents who care deeply about preserving their current investments and the history of the region. The Catalina Vista event was an example of what committed neighbors can achieve when its members work together for a good cause.
Ride of Silence
In 2015, the National Highway Traffic Safety Administration reported that 3,477 people were killed nationwide by distracted drivers. In the past year, we've made a couple of local changes to our traffic laws. One will have an impact, but I'm not convinced about the other.
I snipped this stat from the Ride of Silence website:
A 5% cut in average speed can result in a reduction of 30% in the number of fatal road crashes.
We dropped the speed limit on our Bike Boulevards by 5 mph last year. That's the change I believe will make a difference.
We also passed a hands-free ordinance. Since it's a secondary offense, I voted against it. I don't think it will have the impact on safety that a primary offense would have. I'm hopeful that we will bring the local ordinance back soon for a revote.
On May 17th, I'll be joining hundreds of other bikers for the Tucson Ride of Silence. We will meet at Ramada 19 in the southwest corner of Reid Park (near Country Club Road) at around 5:00 p.m. After brief opening remarks, we'll head off for an 8 to 10 mile ride in silence. There will be a police escort, so even if you're not generally comfortable riding on city roads, come and take part.
The goal of these rides, which are taking place nationwide, is to inform everyone that bicyclists have a right to share the road. We also have an obligation to obey the rules of the road. The route will roll up Country Club to Broadway, east to Wilmot, down to 22nd, and then back to the park.
The State Legislature just refused to move forward on SB1080. It was to be a ban on the use of electronic, handheld devices by young people in their first six months with a driver's license. It was only going to be a secondary offense, meaning (as with our local ordinance), that a cop would need another reason to pull you over before citing you for violating the hands-free law. It's already illegal for new drivers to have more than one unrelated person who's under the age of 18 in the car, and it's already illegal in Arizona for youth to drive between midnight and 5:00 a.m., unless it's for work or with a parent in the car. Still, they couldn't sign into law a ban on the use of electronic devices for new drivers, even as a secondary offense.
Come and join us on the 17th at Reid Park and take part in the Ride of Silence. It's in memorial for those who have lost their lives due to distracted drivers. And it's a message to us all – when behind the wheel, put down your phone.
Arrive by 5:00 p.m. so you can register and receive some pre-ride information.
More Road Safety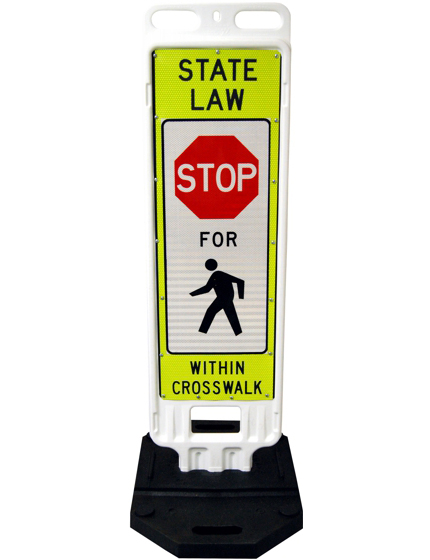 If you're driving up Elm past the Arizona Inn, you'll see a sign planted in the middle of the road warning motorists that there's a crosswalk. Those signs can be placed at marked crosswalks on the roadway if the speed limit in the area is 25 mph or less. The one in front of the Arizona Inn was donated by the Banner UMC folks as a way of helping to mitigate the danger from what will soon be increased traffic coming to and from their new hospital.
You, your neighborhood association, or your business can join Banner in funding these safety signs. Just as Tucson Clean & Beautiful has the Adopt-a-Park and Adopt-a-Street programs, we now also have this Adopt-a-Crosswalk opportunity.
If you want to get involved as an adopter, you'll pay $272.50 to have the sign built and installed at the location. You'll also sign a form committing to replace the sign if it's damaged. If you have a location you would like to sponsor (a marked crosswalk with speeds of 25 mph or less), sign up by contacting Diahn Swartz at our TDOT department (diahn.swartz@tucsonaz.gov or 837-6661). This is a part of our Tucson Bicycle and Pedestrian Program. We have a Pedestrian Advisory Committee that has recommended nearly two dozen roadway safety measures in the past few years. Take a look at the data below. The Pedestrian Advisory Committee's work and the changes we're implementing are making a difference.
Adopting a crosswalk may help the data improve even more.
Local First Banking
Currently only about 7% of money invested into banks and credit unions in Arizona is deposited with locally-owned firms. That matters because it's the locally-owned ones that funnel the dollars back into local projects. The money stays in our own economy; it doesn't go off in some corporate HQ on the east coast.
April is Community Banking month. What better time to suggest you consider, either for your household or for your business, moving your funds into local banks or credit unions? It's a move that will support local initiatives for as long as the bank has the investment use of your funds, and it won't cost you anything but the effort to make the switch.
If you'd like to find out more about how local investing helps our local economy, check out localfirstaz.com/banking. It's full of information on how to make the move, why you should do it, and what impacts it will have. I have some brochures here at the Ward office if you'd like to get it in hard copy.
Also happening in April is a FEATSAZ mixer – an opportunity for you to link up with festival and event organizers to find out how you can join them in supporting all sorts of events we host here in the community. You'll meet the people who stage 2nd Saturdays, the 4th Avenue Street Fair, the All Soul's Procession, and smaller neighborhood events. I've worked with this group in one form or another since I started this work in 2009. Tucson wouldn't be what it is, and we wouldn't be who we are without the vast array of civic events that take place all year long.
The FEATSAZ mixer will be held from 5:30 p.m. until 7:00 p.m. on Wednesday, April 19th over at the Trident II Grill in Plaza Palomino (Glenn and Swan). They'll have hosted appetizers and a cash bar. Most importantly, though, you'll have a chance to get connected with this group of doers in the community – learn from them and join their work. We're a richer region because this group exists and works here.
Sincerely,
Steve Kozachik
Council Member, Ward 6
ward6@tucsonaz.gov
Events and Entertainment
Himmel Park Preservation Plan Survey
The Himmel Park Preservation Team of University of Arizona graduate students is currently working on a preservation/conservation plan for Himmel Park. They are conducting research on community input regarding Himmel Park. The survey should only take 5-10 minutes and you have the option to keep your responses anonymous. Please feel free to share this survey with others who use Himmel Park. Survey link: https://www.surveymonkey.com/r/S6B9Q8P.
The Foreign Policy Implications of CYBERSECURITY
Friday, April 21, 2017 | Doors: 8:30 am; Breakfast buffet: 9 am
Viscount Suites Hotel, 4855 E. Broadway
The Tucson Great Decisions Association is presenting a special program featuring speakers Dr. Volodymyr Lysenko, Ph.D., and Dr. Eva-Maria Maggi, Ph.D., both from the University of Arizona. Dr. Lysenko has done research on disinformation, information wars and disruption to democratic processes, particularly in the former USSR countries. Dr. Maggi specializes in international norms and democratization, and teaches an online graduate course in international security. For more information, or to reserve online, contact the Tucson Great Decisions Association at www.tgda.org.
Arizona Repertory Theatre presents: Evita
Wednesday, April 12 – Sunday, April 30, 2017
Arizona Repertory Theatre, 1025 N Olive Rd
Experience passion & seduction in this seven-time, Tony Award-winning musical. Revered by her people as an advocate for the poor, Eva Perón made a meteoric climb from the slums of Argentina to her role as beloved First Lady at the age of 27, and became one of the most powerful women in the world – though her grand ambition and fragile health also made her one of the most tragic. Told through a captivating score, Evita tells Eva's remarkable true story through some of theatre's most beautiful songs, including the unforgettable, Don't Cry for Me, Argentina. theatre.arizona.edu/shows/evita
Ongoing…
Mission Garden, 929 W Mission Ln | www.tucsonbirthplace.org
A living agricultural museum and ethnobotanical garden at the site of Tucson's Birthplace (the foot of "A-Mountain"). For guided tours call 520-777-9270.
Children's Museum Tucson, 200 S 6th Ave | www.childernsmuseumtucson.org
Tucson Botanical Gardens, 2150 N Alvernon Way | www.tucsonbotanical.org
"Frida Kahlo: Art, Garden, Life" Exhibit, October 10, 2016 – May 31, 2017
Southern Arizona Transportation Museum, 414 N Toole Ave | www.tucsonhistoricdepot.org
UA Mineral Museum, 1601 E University Blvd | www.uamineralmuseum.org
Jewish History Museum, 564 S Stone Ave | www.jewishhistorymuseum.org
Fox Theatre, 17 W Congress St | www.FoxTucsonTheatre.org
Hotel Congress, 311 E Congress St | hotelcongress.com
Loft Cinema, 3233 E Speedway Blvd | www.loftcinema.com
Rialto Theatre, 318 E Congress St | www.rialtotheatre.com
Arizona State Museum, 1013 E University Blvd | www.statemuseum.arizona.edu
"Snaketown: Hohokam Defined" Exhibit, through July 1, 2017
Arizona Theater Company, 330 S Scott Ave | www.arizonatheatre.org
The Rogue Theatre, The Historic Y, 300 E University Blvd | www.theroguetheatre.org
Tucson Museum of Art, 140 N Main Ave | www.TucsonMusuemofArt.org
"Body Language: Figuration in Modern and Contemporary Art," February 25, 2017 – July 9, 2017
Tucson Convention Center, 260 S Church St | tucsonconventioncenter.com
Meet Me at Maynards, 311 E Congress St | www.MeetMeatMaynards.com
A social walk/run through the Downtown area. Every Monday, rain or shine, holidays too! Check-in begins at 5:15 pm.