Topics in this issue...
Thankfully, this one's not a half-staff item. A two year-old boy is in "serious" condition after being shot by his three-year-old brother in Colorado Springs while playing with a gun. A 30-year-old woman (relationship to the kids was not given by police) was arrested for felony child abuse.
We had another shooting in Tucson last week. On Wednesday, two guys were killed in the parking lot of Mission Manor Park. An argument started and the 'solution' was one guy pulling out a gun and killing two people. The shooter escaped. If you know anything about this incident, call 911 or 88-Crime.
Orlando suffered another mass shooting last week. You may recall it was the site of the incident in which 49 people were murdered in the Pulse nightclub last year. Last week it was a disgruntled former employee who showed up at the worksite, killed five people, and then shot himself.
On a personal note, my friend Emil Franzi passed away last week. He and I differed on a lot politically, but he was an honorable guy who was always gracious when we were together.
MS St. Louis
In last week's newsletter, I promoted the candle vigil that was held last Tuesday evening over at the Jewish History Museum. By participating in it, I was unable to take part in the vote Mayor & Council took on the border wall resolution (more on that below). But the vigil was a compelling and poignant event, sadly reflective of rhetoric we hear even today. It was my pleasure to speak at, and take part in that event.
On June 6, 1939, that happy group of men, women and children – over 900 strong – were poised to disembark onto U.S. shores. They were Jewish refugees from WWII Germany. We turned them away. So did Canada. Eventually they were all taken in by France, Britain, the Netherlands and Belgium. After the war it was discovered that 264 of them died in Nazi concentration camps.
I made the decision to attend the vigil when I learned the Trump administration had appealed its executive order that imposes a religious test on refugees to the US Supreme Court, even though it meant missing some important M&C activity. The work I and my staff have done in support of migrants, refugees and the needy in our community made that a pretty natural decision.
Joining me to speak at the vigil were Rabbi Stephanie Aaron and Rabbi Thomas Louchheim. We heard survivor testimonies from Inge Schneider and Gerda Wilchfort, and the testimony of Iraqi refugee Khalid Al Jashame. Bryan Davis hosted the evening. He runs the museum in addition to with his many other areas of involvement. Many thanks to Cantor Janice Cohen of the Congregation Or Chadash for serving in that role.
Since Tuesday I've heard from some folks that the M&C should focus on "local issues" and leave federal topics to the feds. I'm opening this week with this review of the refugee vigil, some comments on the border wall resolution and an introduction to a discussion on climate change that I have on the June 20th agenda.
    How we treat refugees.   
    Our relations with Mexico.
    The environment.
Each of those is a local issue. Each touches our city and our residents in very real and personal ways. I'm grateful to Bryan and the organizers of the vigil for allowing me to take part.
USS Gabrielle Giffords
Another ship deserves some mention this week. Last week there was a commissioning ceremony naming the ship in the picture shown below for Congresswoman "Gabby" Giffords. The ceremony lasted 90 minutes. If you'd like to watch it, here's the link. At 50 minutes into the event Secretary of State Hillary Clinton began speaking. At one hour on the link she turns the mic over to Gabby and Mark Kelly.
I clipped these images from Gabby's speech. The ship has by now moved from Galveston where this ceremony took place, over to San Diego. It's a truly fitting honor for the Congresswoman. I hope you enjoy watching the ceremony, as I did.
Border Wall Resolution
While I was not able to take part in the border wall resolution vote due to the conflicting events, I was able to share some thoughts during a press conference that preceded the beginning of the evening session. That presser included members of the Pima County Board of Supervisors, some of my colleagues on the Tucson City Council, and representatives from the Tohono O'odham and Pascua Yaqui tribes. The breadth of that representation clearly demonstrates that the notion of a wall along the border is indeed a local issue for this region.
First, what this resolution is not. It is not a ban on the city doing business with companies that bid on work associated with the construction or design of the wall. As both the county attorney and the city attorney have pointed out, that would be illegal on several levels. What's not illegal though is for us to direct investments into publicly traded companies away from those involved with support of the wall construction. No firm has a property right to city investments so taking that policy position is not illegal. That's what we did with the resolution.
I traveled to Zambia several times doing work with the residents on a variety of projects. I helped fund and provide soccer equipment for vulnerable youth, spent time in crisis nurseries and saw the devastation HIV/AIDS is having on Zambian communities, and facilitated the building of a school to serve kids who don't have access to government run schools. In the course of that work I came into contact with lots of the indigenous people. One was a lady we brought over to the states – first time she had ever been off the sub-continent. After a few days here, I was driving her from place to place and asked her about her first impressions of Tucson. I expected her to say something about our large shopping centers, big cars and modern conveniences. Instead, the first thing out of her mouth was 'you have no community.' She described how we have locks on all our doors, bars on the windows and how we just shutter ourselves away from our neighbors. In Africa, everywhere you look there are people out on the street engaging with one another and touching the lives of their neighbors.
The resolution we just passed in opposition to the wall is a statement that we do not support constructing a barrier along our southern border. The environmental, economic and relational impacts will be immeasurable. While I was not at the council meeting to take part in the vote, based on my comments beforehand, it was clear I'd have been voting with the rest of my colleagues.
Go to the Visit Tucson website and look at the impact tourism from Mexico has on our region. Consider the environmental impacts I wrote about a few weeks ago. Add to that the relationships many of us have with families and friends who live in, and visit from Mexico. The wall is a symbol that divides. The campaign rhetoric we suffered through – and too many people bought into – was offensive. The M&C and the Board of Supervisors each did the right thing in taking a position opposing its construction.
Media Literacy
This is sort of an aside and admittedly not directly a Ward 6 issue. However, in the course of reading the many media stories throughout the last campaign and even into current coverage many events coming out of DC, it strikes me that it'd be worthwhile to add some component in our school curriculum on simply how to read a paper or listen to a news report, and to do so with critical eyes and ears.
In the Washington State Legislature, there's a movement to require "Media Literacy" courses in their K-12 system. With the explosion of social media posing as news, and our headline oriented fast-paced lifestyles, I think it'd be great to see something similar adopted here. Teach young kids to read and think critically – not just skim and assume the words represent an unbiased and accurate report.
PBS recently did a story on what they're doing in Washington. It's all about helping kids distinguish between a biased report (sometimes even fake) and good journalism. How do they source the stories? What inflammatory or biased words appear in headlines? For example, they looked at WWII stories related to Japanese internment camps. I'm guilty of what they reported. I've never seen a report (nor have I ever referred to the camps) calling the people we incarcerated "Japanese-Americans." Today, everyone's hyphenated and the kids in the Washington study immediately picked up on that omission. One of the kids noted one article that they called the camps "assembly centers." At the time, the press was participating in advancing a narrative.
It'd be great to see TUSD adopt some critical media literacy course work in their curriculum. For those of us who aren't sitting in classrooms any longer, we can certainly read and listen to the flurry of "information" coming at us in a more critical way. It's not as easy as just being a headline reader. In the interest of really understanding the complexities of what we're seeing at all levels of government, it's worth our while to slow down and add some thought to the process of reading.
Climate Agenda
One topic that deserves our close scrutiny is the whole topic of climate change. For the June 20th study session I've asked for a sort of trifecta climate agenda discussion. To open it I've asked Dr. Joaquin Ruiz from the College of Science at the UA to come and talk about the science of climate change. Then Representative Randy Friese will join us to talk about work he and Representative Kirsten Engel are doing at the state legislature on the issue. Finally, I've asked Barbara Warren to come and talk about what Physicians for Social Responsibility are suggesting might be done at the local level in terms of preparedness for climate emergencies.
In December 2011, the city's Climate Change Commission issued a report in which they outlined a series of recommendations related to work the city, residents and businesses could take to proactively address our climate impacts. The recommendations were largely voluntary in nature. They included things like the city expanding our voluntary Green Building Certification standards, continuing to encourage waste reduction and recycling, support of Transit Oriented Development, and encouraging auto maintenance by residents and businesses that have car or truck fleets. The recommendations were well researched, and we've moved ahead with some – but the impact could be greater.
Between 2000 and 2008 the CCC study indicated emissions generated by city assets dropped by 6 percent. That's from a combination of building efficiency, fleet emissions and things like employee commuting. But between 1990 and 2007 our greenhouse gas emissions from city electricity and natural gas use rose by 53%. Based on those data, the trend line is in the right direction, but not significantly.
We have some building policies in place related to designing to silver LEED standards, annual lighting and mechanical system upgrades meeting certain goals, and use of permeable concrete where possible. So it's not as though we're ignoring the notion of climate change and things we can do to address it. The purpose of our June 20th discussion is to reactivate attention on this topic and see if we can move the needle more fully than we already have.
We're one of 25 cities designated as a Solar America City by the US Department of Energy. We have over 2.2 megawatts of solar photovoltaic systems at several of our city buildings. In addition we've invested over $2 million in Energy Efficiency and Conservation Block Grant money into energy and water audits of our facilities. Over 30% of our fleet vehicles use alternative fuels such as compressed natural gas.
In 2006, the M&C adopted the Mayor's Climate Protection Agreement (MCPA). In it the M&C called for a reduction in city and community-wide greenhouse gas emissions to 7 percent below the 1990 levels. As I noted above, the goal wasn't close to being met.
In a June 2nd New York Times piece by Peter Baker, the president is quoted as saying, "Global warming has been proven to be a canard repeatedly over and over again." That was a 2012 tweet from Trump. Later he said, "The concept of global warming was created by and for the Chinese in order to make U.S. manufacturing non-competitive." I look forward to our June 20th discussion, opening with Dr. Ruiz countering those notions, and then shifting to talk about what we are doing at the state and local levels to address climate change here in the desert.
If there are still some who feel I'm delving into non-Ward 6 issues, this is a picture of some pine trees in Tahoe Park. Note they're browned out. In the drought they've suffered from a lack of moisture and were invaded by bark beetles.
The trees had to be removed to avoid the infestation from spreading. One of the Groundskeeper guys who was removing the trees told me they're seeing this with pines all over town. If you have some, make sure they're getting a good dousing of water.
Yes, climate change is a Ward 6 issue. It's a citywide issue and it's a statewide issue. We'll talk about it on the 20th.
Water Infrastructure Incentive
One item we approved last week is a development incentive related to water infrastructure. It follows our Primary Jobs Incentive (PJI), but has an assurance built into it that we will not be straying away from our assured water supply policy. Combining economic development with water security is why this incentive makes sense.
When a potential development comes in, one of the incentives we have to offer is PJI. Under that incentive, if a business invests a minimum of $5 million in facilities or equipment, creates at least 25 jobs that pay an average of at least $52,400 with the rest averaging $45,600, and the company covers at least 75 percent of the employee health insurance premiums, they can qualify for all of their construction sales taxes going to job training, public infrastructure improvements or offsets to impact fees. In addition, we'll waive building permit fees. The Water Infrastructure Incentive (WII) builds on that.
Without going too deeply into the weeds, if a company first qualifies for the PJI, they can also have a portion of the cost related to bringing water infrastructure to their site abated. There's a formula we'll apply that measures how much a given project is eligible for. For the first go-round on this incentive, we've capped the annual available funds at $2.5 million. That'll give us a chance to see how it's working and later decide whether to expand it, or not.
If you're familiar at all with this newsletter you know that I'm a big advocate for building out the Sonoran Corridor. One of the constraints out in that area is utility infrastructure. If this WII can be the catalyst for some high-paying logistics or manufacturing jobs to locate in the area, the region will benefit. Other jurisdictions in the state have a similar program, but there is no other location in Arizona that is as well suited for major, high-paying job creation as we are out on the Sonoran Corridor.
We're told the county is also considering a similar incentive for sewer infrastructure. Working together, we may be on the cusp of seeing continuing significant economic development coming to the region. That pays for everything we do. I believe this incentive will be a valuable tool to help move that along.
Bond Ratings
Understanding that our financial health is what will continue to drive our climb out from the recession, hearing from the Bond Rating Agencies is an important sign as to how much progress is being made. Last week we heard from all 3 of the major agencies. The reports are positive.
Bond ratings affect the cost of borrowing money. The lower the rating, the more it costs us in interest rates. Since the recession, each of the agencies has taken notice of our structurally unbalanced budget and has either dropped our rating, lowered their outlook, or both. This year, all of that changed.
Here are some of the comments coming from the S&P report:
Rationale
S&P Global Ratings assigned its 'AA-' long-term rating to Tucson, Ariz.'s series 2012-E (2017) general obligation (GO) bonds and series 2017 GO refunding bonds. At the same time, S&P Global Ratings affirmed its 'AA-' long-term rating and underlying rating (SPUR) on the city's GO bonds outstanding, its 'A+' rating and SPUR on the city's certificates of participation (COPs) outstanding, and its 'A-' rating on the city's improvement district bonds. The outlook is stable.
Key in that paragraph is the final comment – "the outlook is stable." What does that mean to them?
Outlook
The stable outlook reflects our view of the city's growing local economy, which we consider broad and diverse, albeit tempered by below-average per capita market values. The outlook further reflects our expectation that the city will continue to address modest deficits and ongoing budgetary pressures, supported by what we consider very strong management. We do not expect to change the ratings during the next two years.
The 'very strong management' reflects our work in getting through the fiscal downturn and achieving a structurally balanced budget.
Now this from Fitch Rating Agency which is also affirming a 'stable' outlook:
Fitch Ratings
Fitch Rates Tucson, AZ's GOs 'AA-'; Outlook Stable
Stability means the agency has trust that we have our financial act together and lenders can be confident we're managing the people's money responsibly.
Moody's upgraded their outlook. Here's some of the Moody's report:
Tucson (City of), AZ
New Issue: Moody's assigns Aa3 to City of Tucson, AZ's GO bonds; outlook changed to stable from negative
The justification for moving to stable is stated in this paragraph from the report:
Rating Outlook
The change in the outlook to stable from negative reflects the city's demonstrated willingness and ability to make appropriate financial and operational adjustments to address rising costs associated with rising pension liabilities. The stable outlook also reflects the city's large tax base anchored by the University of Arizona and Davis Monthan Air Force Base, as well as stable financial results despite chronically thin reserve levels.
It's from our having made those "appropriate financial and operational adjustments" that we got to balanced, even in the face of the ongoing fiscal challenges we face.
You all just overwhelmingly gave us a thumbs-up on Prop 101, the sales tax for roads and public safety. That's a signal of trust. These bond ratings are also a signal of trust. In a recent memo related to our approach to managing the Prop 101 revenues, City Manager Ortega said, "I want to assure you and the voters of our absolute commitment to accountability and precise execution of the program." I agree – and I'm fully on board with that commitment.
Amber Kerwin will be the hands-on person within the city for making sure 101 is rolled out as you were promised it will be. She has worked in our Fleet Division, as well as in Facilities, Finance, and Procurement and has done some project management. She was involved with putting together the public safety checklist of needs that you saw in the Prop 101 material. She's well suited to take on this role. And I'm sure she's aware there'll be several sets of eyes peeking over her shoulder to make sure we're on track.
Good news from the bond reports and a strong commitment from city management, staff and the M&C to make sure Prop 101 is delivered as promised.
Tucson City Court
We receive a monthly update on what's going on at the Tucson City Court. The staff handles an average of 243,000 charges every year with just under 120 workers. To say the least, they're a busy group of folks.
As with every department, we're looking for ways to balance the high demand for court services with the need to control our costs. In the case of the court system, we must also make sure we're protecting the safety of the public, while at the same time not being so overly punitive with defendants that our actions cause them to lose jobs, family and hope. It's a balance.
One of the programs the court folks are going to try this summer is a 24/7 Alternatives to Jail (ATJ) pilot program. The goal is to allow police officers to contact a judge at any time of day from out in the field. From their computers they'll be able to check the status of people they arrest, and if the conditions are appropriate, the person will be field released. That'll save the officer from having to transport the person downtown, potentially save the person from having to sit in jail overnight – which also costs the city money in booking costs – and lighten up the court docket the following day.
The court will run the pilot for 30 days. If we can save officer time, keep the number of inmates limited, save jail costs, and help people keep their lives together, it could be a significant win for the community in general.
Extended Court Hours
Another new program they've implemented is extended hours every Tuesday. The goal is to make access to the court services more convenient for people. Every Tuesday effective now, the court will remain open until 6:30 pm. That's when they'll stop issuing numbers to people waiting to see staff. The court staff will stay on site until every customer with a number has been taken care of.
I'm using this newsletter as a way to help get the word out about this program. Both the public services division and the walk-in warrant court are operating during these extended hours. If you can't make the regular working hours due to your own employment, we're hopeful this service will help people get their court-related business taken care of in a more convenient way than previously
City workers throughout our organization are doing more work, providing consistent levels of service, and are doing so with staffing levels that are significantly lower than when I started doing this back in 2009. These changes at the courts are one example of some creative ways we're conducting service delivery under the new staffing and budgeting realities. We at the Ward 6 office are grateful in this case to the court workers who too often go unrecognized during these times of change.
Sun Tran Operations
In 2015 there was a 42-day bus strike. Everybody lost. We at the M&C are serious about avoiding a repeat. We still have the same restrictions on how actively we can participate directly in negotiations as we did in '15. Federal rules prohibit us from having a 'seat at the table.' But it's our budget that funds operations, so we have that indirect role in avoiding a stoppage.
The players are us (from the budget standpoint), the Teamsters and Transdev. They're our management team – the group seated at the bargaining table, and the group who manages the day to day operations of the system.
Transdev is under contract with the city to run the system. Last week we were made aware that their contract is expiring at the end of May. The Teamsters agreement with them expires at the end of June. In order to provide continuity in the labor negotiations, we've done two things. One is to extend the Transdev contract for 90 days so it won't expire until the end of August. Second, we've contracted with an independent third party to intercede in the negotiations. Given the untimely expiration of the respective contracts, bringing in that third party is a way to make sure there's focus in the room with respect to coming to agreement on the Teamster contract. I support the city manager's decision to hire the consultant at this time.
In the past week we received memos from both city management and from Transdev outlining the process the talks will take going forward. First, the city memo:
DATE: June 8, 2017
TO: Honorable Mayor Rothschild and City Council Members
FROM: Dayl W. Cole, Director, Department of Transportation
SUBJECT: Transdev Contract and Sun Tran Bargaining Unit Negotiations
The purpose of this memorandum is to provide information regarding a contract extension for Transdev Services Inc. and an update on the start of Sun Tran Bargaining Unit negotiations.
The City of Tucson and Transdev Services Inc. have mutually agreed to a contract extension of 90 days ending on August 31, 2017. In addition, the City intends to ensure that any successor management contractor retains the existing Sun Tran and Sun Van employees.
During this time, Transdev will continue to meet its obligations under the contract; however, the City has agreed to obtain a third party who will conduct labor negotiations on behalf of Sun Tran. Transdev will provide to the City and to the third party negotiator all relevant information and documentation needed to assist in the negotiations, and all parties will work cooperatively to bargain in good faith with the Teamsters.
Additionally, labor negotiations began with Sun Tran bargaining unit employees, including drivers, mechanics and service island attendants on June 5, 2017. The current bargaining unit contract is set to expire on Friday, June 30, 2017.
Due to the labor rules that govern the negotiations, the City cannot insert itself into the labor negotiation process. Labor negotiations with the Teamsters are the responsibility of the management contractor by virtue of the City's management contract. This structure is necessary in order to preserve the City's ability to receive federal funding for transit, while also preserving the Teamster's collective bargaining rights.
Any media inquiries on the status of the labor negotiations will be forwarded to Sun Tran. The Sun Tran Management Team and Department of Transportation staff will be following a comprehensive communications plan that describes how Sun Tran will communicate to its employees, city staff, elected officials and the general public under all potential scenarios related to the negotiations.
We will be providing regular updates on the negotiations as they progress.
Katrina Heineking was the manager of the local Sun Tran office when I started on the council back in 2009. She's now working from their regional office up in Phoenix. This is the letter she sent to all Sun Tran/Sun Van employees last week.
To: All Sun Tran and Sun Van Employees
From: Katrina Heineking, Regional Vice President, Transdev
Date: 6/8/17
Re: End of contract with City of Tucson
Transdev has been the transportation management provider for Sun Tran and Sun Van, under one entity or another, for roughly 30 years. Recently Transdev and the City of Tucson attempted to negotiate a contract extension. Transdev was working towards a contract extension of one year. However, the contract extension will be for only for 90 days.
Transdev regrets that our association with Sun Tran and Sun Van is ending. Transdev greatly appreciates all the hard work that Sun Tran and Sun Van employees have contributed to this incredible operation.
At the end of the 90 day extension (on or around August 31, 2017) a new transportation service provider will assume Transdev's management duties for approximately eight months while a new Request for Proposals (RFP) is crafted and released by the City of Tucson for this service. When the new RFP is released Transdev plans to earnestly participate in this process as an applicant to again serve as the transportation management provider.
In about 30 days, each employee will receive an official notice of the end of employment with Transdev and anticipate that the City of Tucson will also provide clear direction on the transfer to the new contractor. With the exception of the Transdev senior management team, we have been informed that the City of Tucson intends for all employees to remain in their current positions and can carry on the great work of providing excellent transit service to the City of Tucson.
As many of you know, I was part of the Sun Tran/Sun Van family for over 8 years myself, and have been very proud of all the accomplishments we achieved together over the years. Transdev wishes the very best to all Sun Tran and Sun Van employees, and hopes we can work together again sometime in the near future.
These are moving parts in play right now. Most immediately, the contract negotiations for the bus operators/mechanics is being managed through the independent third party. We are also working on an extension of the management contract to fill the void between August 31st and next year when we will reissue an invitation to bid on providing that service. There is also an ongoing conversation about whether we should adopt a new management model for transit operations. They're each independent issues, but all have a direct long-term impact on the bus system and how it operates in this region. Murphy Woodhouse wrote a very good piece in the Saturday Star. I'm certain it won't be the last you see of this topic in the media during the coming weeks.
GoTucson Mobile Apps
This is the logo you'll see for the GoTucson Transit app.
This is the GoTucson Parking app. In July, they'll become two separate apps on your smart phone. Breaking them in two is necessary in order to expand customer enhancements to both.
Right now it's not possible to show real-time bus information on the GoTucson app. It's also not possible to pay parking fines on the app. Once the split is made on July 1st, both of those functions will be activated.
The GoTucson app was first launched in January of 2015. We added the Transit app in July of that year. Since that time we've had over 16,800 users on the app. With the upcoming split, we're hoping the utility of each will create an even larger growth in use. Just a head's up that this change will be in effect in less than 30 days.
Flag Day Celebration Downtown
The downtown merchants are throwing a party. It's this week's Local Tucson item and you're invited.
On Wednesday, in the courtyard at our downtown grocers Johnny Gibson's (11 S. 6th), will be the first in a series of downtown events taking place this summer. Flag Day will be remembered with music, food and drink specials. The event will run from 5:30 pm until 7:30 pm. There will be over 100 flags and bunting displayed all over the downtown area. The merchants deserve the credit for pulling this together.
A couple of weeks ago I joined Margo Susko from Hydra at the flag retirement ceremony out on the east side. She and Amy Pike from A Perfect Pantry are involved with this celebration of Flag Day at Gibson's. They're on the Downtown Merchants Council, and are long time advocates of the downtown core revitalization work.
Mark your calendar for more upcoming downtown events. Of course there will be 2nd Saturdays throughout the summer (July 8th and August 12th) in addition to the July 4th celebration which will include free movies for the kids at the Fox Theatre this year. On July 27th there will be an event honoring Korean War veterans. Tucson's birthday will be celebrated on August 21st, and of course Labor Day is on September 4th.
There's a lot of good happening downtown, and plenty of opportunities for you and your family to come and be a part of it. I hope to see you Wednesday at Gibson's.
If you ever want information on downtown activities, check out https://www.downtowntucson.org/. They keep a robust and active site.
Five Animal Items
It's tough for me to pass up an opportunity to share news related to our furry friends. The five here include information on a gift in support of the new Humane Society facility, an illness we've seen around town in dogs, free microchipping, sad news about coyotes we're seeing in the urban areas of town, and a report affirming that having fido in the house is good for your health.
First, many thanks to Pima Medical Institute for their $100K contribution to the HSSA facility that's now going up near Miracle Mile. The gift from PMI is an extension of their long relationship with HSSA. Not only do PMI students do some of their clinical rotations at the center, but PMI faculty (they offer a veterinarian degree) help with free surgeries and other pro bono vet services. If you'd like to get involved with the HSSA operation, contact Diana Cannon at dcannon@hssaz.org.
Next, PACC and the Pima County Health folks are continuing to look into the confirmed cases of canine Leptospirosis seen in some dogs, largely out on the east side of town. They're suggesting you avoid taking your pets to Udall Park until they've got things under control. Lepto is a bacterial disease that's often spread through contaminated water sources. Symptoms include dogs drinking more than usual (hard to tell when it's over 100 degrees outside), redness in the eyes, depression, and lack of appetite. If you have a puppy, you'll see the changes in behavior that may be a sign. If you've had your pet out to areas where they may have been in contact with contaminated water sources, PACC suggests you contact your vet to check on risk and reaction.
On June 24th, from 9 am until noon (while their supplies last) PACC, HSSA and No Kill Pima County are teaming up to distribute 1,000 microchips that were donated by the American Kennel Club. Back when I had my guys, we never thought about microchipping. Had we, it might have saved the life of one of my pups. There will be several free clinics around town on the 24th. PACC will host one out at 4000 N. Silverbell. HSSA will use their Companions for Life center at 3465 E. Kleindale, and the ABC Clinic at 375 W. Ajo will also host a clinic. There'll be others further out of town, and the No Kill Pima County group will have some at locations still to be determined. If the three I've listed don't work for you, you can connect with No Kill at https://www.nokillpimacounty.org and they can give you some more options.
This poor little guy was seen wandering through one of our midtown neighborhoods. I followed one on foot in my neighborhood last week. I've also had emails from people asking about others they've encountered.
Managing urban wildlife is the responsibility of the Arizona Game & Fish Department. In response to the calls, I and others reached out to them to see what they suggest with respect to the coyotes we're seeing – each of whom are clearly in distress. Here's their letter: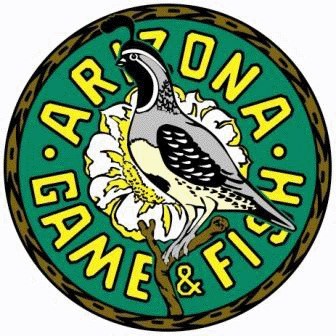 Arizona Game and Fish Department
NEWS RELEASE
For Immediate Release, April 27, 2017
Contact: Mark A. Hart, PIO
520-388-4445 (o), 520-282-0978 (c)
Game & Fish Cautions Against Reporting Coyotes With Mange
The Arizona Game and Fish Department has received a number of reports of coyotes with mange in the Tucson area.
The Department is appreciative of calls from the concerned public but at this point, unless they are threatening public safety or alive but not moving, AZGFD is discouraging the public from contacting the agency about coyotes with mange.
Game and Fish in Tucson has taken nearly a dozen calls about nuisance coyotes in four weeks, most from Tucson's east side and many involving thin coyotes with apparent cases of mange. Mange is a disease in canines caused by various types of the mites (Scabies and Demodex). When a high number of mites inhabit the hair follicles and skin of a coyote, it can lead to lesions, hair loss and immune system failure that can result in death.
 "Unfortunately, urban coyotes are prone to mange because they tend to have weakened immune systems. Eating garbage and other abnormal foods may be part of the problem," said Anne Justice-Allen, Game and Fish Veterinarian and Wildlife Health Program supervisor. "We are unable to treat such cases, but know that such diseases are nature's way of culling the weak and maladapted from wildlife populations. We have not found rabies or canine distemper in any of the affected animals we've examined."
 Justice-Allen added that pet owners can help prevent their dogs from contracting the disease from coyotes by keeping them on a leash and vaccinated. In addition, she recommended hazing coyotes away by maintaining eye contact, standing one's ground, and making loud noises or spraying them with a garden hose. Coyotes and other wildlife species, except birds or ground squirrels, should never be fed, she noted.
 "The public should contact us at 623-236-7201 anytime about a coyote behaving in a threatening manner, or if it can't leave an inhabited area on its own," said Regional Supervisor Raul Vega of Game and Fish in Tucson. "Meantime, the public should know that coyotes have a keen sense of smell, can be extremely hard to trap, and are difficult to safely remove by lethal means in densely populated areas."
I guess I have a different perspective about you calling G&F if you see coyotes in distress. I don't believe you should be discouraged from making those calls. Even if they can't address the incident you're calling about, it gives them information on the prevalence and location of the situation. But as with the PACC recommendation about Leptospirosis, keep your pets away from situations in which they may contact the sick coyotes. Sad, but it's a part of managing living with urban wildlife.
After all that talk about diseased animals, here's a bit of good news. Having a dog in the house is good for the health of your young kids. We dog lovers already know it's good for our own mental health but now a study by Jordan Peccia, a professor of Environmental Engineering at Yale, has demonstrated exposure to animal micro-organisms during the first three months of life may help to stimulate a child's immune system so it doesn't become overly sensitive. Peccia and his partner in the study, Jack Gilbert, the director of the Microbiome Center at the University of Chicago, were tipped off by a study they saw in the New England Journal of Medicine last year. The study found that Amish children in Indiana who grew up close to barnyard animals had far lower rates of asthma than kids raised apart from animals. The Peccia/Gilbert study concludes spending over 90 percent of our time in environments where bacteria is lacking can result later in our bodies overreacting to harmless substances, resulting in allergies and asthma. Solution – get a puppy. This little guy who has swapped beds with the dog is probably picking up some valuable bacteria. Very smart mom in that house!
I'm busy preparing our house for a coming grandson by continuing to be a slob, and in the process making sure we have a bacteria-rich environment for him to enjoy. This prep work is simply something my bride is enduring, all in the long-term best interest of the little kid to come. Who knows, we may yet see research validating the notion that adult immune systems are enhanced by the "hygiene hypothesis" the study just tested. Yes, leaving my socks lying around is a part of this larger science experiment, and is laying the groundwork for a healthy grandson.
UA Ice Hockey
A couple of weeks ago I shared the very positive attendance figures for the Tucson Roadrunner hockey team. The first year at the TCC was a success for them. Their hockey co-tenant, the UA club team saw a drop in attendance, likely in some measure due to the arrival of the Roadrunners. The 'Cats home schedule was also truncated and they lost some weekend dates. Even with all that, the team continued to play an important community role.
Credit coach Chad Berman for getting his players involved in some significant promotional nights. For example, the team "adopted" Chase Lock, a young kid from Tucson who's suffering from a brain tumor. Chase's family had the team over for dinner, the team attended his school play, and Chase is a regular at team games and practices. He has been named an unofficial member of the 'Cats.
During their "Pink the Rink" night, the 'Cats raised over $10,000 for the UA Cancer Center. The promo is common throughout the NHL, but in the case of club hockey, the UA team takes it to another level. They sell personalized jerseys, sell bios of loved ones in the game program and host a red carpet ceremony at the end of the game to honor those involved in the event. As Chad says, they're 'building character' as they engage with events like this.
One close to my heart is their "Pucks and Paws" event. Fans bring their dogs to that game and they raised over $1,000 for the Humane Society. On "Teddy Bear Toss" night they collected over 700 Teddy bears for hospitalized little kids. They've done a military appreciation night, a food drive, an elementary school reading program and a promo for heart health.
Intercollegiate athletics often get in the news for the big deal final four and bowl games. I work in the field and so I understand that's the finish line we strive to pass. But stories like these don't often get told. The kids on the UA Hockey team are playing on a club team not supported by the NCAA, which makes what they're doing even more deserving of recognition.
Check out the UA Hockey 'Cats when they resume play this fall. It's a good show, and the kids are great representatives in the community.
Sincerely,
Steve Kozachik
Council Member, Ward 6
Ward6@tucsonaz.gov
Events and Entertainment
Twelfth Annual National Dump the Pump Day
Thursday, June 15 2017
Dump the Pump. Save Money. Ride Transit.
Sun Tran offers the following resources to help you Dump the Pump on June 15 and plan your ride:
Tucson Juneteenth Festival
Saturday, June 17, 2017 11:00am - 9:00 pm
Dunbar Cultural Center- 325 West 2nd St.
The 152nd anniversary of our country's Juneteenth celebration happens in 2017. Celebrations in Tucson and around the USA aim to increase knowledge and appreciation of the roles, achievements and contributions of African Americans to our society and pay tribute to this important milestone in our nation's history -- the annual commemoration of the end of slavery, when our nation finally and truly became the land of the free (on June 19, 1865). Enjoy historical presentations and exhibits, music and dance, arts, crafts and food vendors, at Dunbar Cultural Center. Juneteenth is the oldest known celebration commemorating the ending of slavery in the United States.
Tucson Kidsfest
Saturday, June 24, and Sunday, June 25, 2017
Tucson Convention Center, 260 S Church Ave
Tucson Kidsfest, powered by Tucson Electric Power, will offer activities for kids of all ages, including skateboard/BMX half-pipe shows, game trucks, jumping castles, carnival rides, laser tag, a Bookmans Entertainment Area as well as an interactive show with celebrity guests, presented at Tucson Convention Center.
http://tucsonconventioncenter.com/events/tucson-kidsfest/
Woven Through Time: American Treasures of Native Basketry & Fiber Art
June 12, 2017 - December 5, 2018,
Arizona State Museum  University of Arizona, 1013 E. University Blvd.
Arizona State Museum's new permanent exhibit opens April 8, 2017 and features a sampling of the more than 35,000 specimens of basketry and other fiber art in the museum's extensive collection, ranging from millennia-old objects to modern-day masterpieces that celebrate the Southwestern U.S. region's ancient and abiding fiber-weaving traditions
Museum of Contemporary Art (MOCA) Summer Exhibitions
June 17, 2017 - October 1, 2017
Wednesday - Sunday 12:00 to 5:00 PM- 265 South Church Avenue
Tucson's Museum of Contemporary Art (MOCA) presents 4 new exhibitions in time for summer:  Virginia Overton will create a site-specific installation; Chuck Nanney | Selected Ambient Works, Volume II; Tucson John | Tucson Nights: After dark in the Naked Pueblo; A Night on the Edge of forever: The art of midnight films, free theater, and the psychedelic Underground San Francisco 1969-1973. For descriptions and more details, please visit the museum's website.
Ongoing…
"Frida Kahlo: Art, Garden, Life" Exhibit, October 10, 2016 – August 31, 2017
Southern Arizona Transportation Museum, 414 N Toole Ave | http://tucsonhistoricdepot.org/
UA Mineral Museum, 1601 E University Blvd | www.uamineralmuseum.org
Jewish History Museum, 564 S Stone Ave | https://www.jewishhistorymuseum.org/
Fox Theatre, 17 W Congress St | www.FoxTucsonTheatre.org
Hotel Congress, 311 E Congress St | hotelcongress.com
Loft Cinema, 3233 E Speedway Blvd | https://loftcinema.org/
Rialto Theatre, 318 E Congress St | www.rialtotheatre.com
"Snaketown: Hohokam Defined" Exhibit, through July 1, 2017
Arizona Theater Company, 330 S Scott Ave | www.arizonatheatre.org
The Rogue Theatre, The Historic Y, 300 E University Blvd | www.theroguetheatre.org
"Body Language: Figuration in Modern and Contemporary Art," February 25, 2017 – July 9, 2017
Tucson Convention Center, 260 S Church St | tucsonconventioncenter.com
A social walk/run through the Downtown area. Every Monday, rain or shine, holidays too! Check-in begins at 5:15pm.
A living agricultural museum and ethnobotanical garden at the site of Tucson's Birthplace (the foot of "A-Mountain"). For guided tours call
520-777-9270
.
Children's Museum Tucson, 200 S 6th Ave | www.childernsmuseumtucson.org