Topics in this issue...
In Atlanta last week, two prison guards were killed when a couple of inmates shot them. They were among 33 inmates who were being transported from prison to prison when the two overtook the guards, grabbed their guns, and killed them. The shooters were caught several days later after holding an elderly couple hostage in their home.
In Canton, Ohio a guy shot and killed a 71-year-old and 64-year-old couple. The guy then went onto North Royalton, Ohio where he shot and killed a 45-year-old mom along with her 21- and 18-year-old daughters. He was caught by police.
At a UPS outlet in San Francisco last Wednesday, a UPS employee shot and killed three of his co-workers and wounded two others. He committed suicide when confronted by police. It's possible you missed this incident because the media was wall-to-wall that day with the D.C. shooting at the congressional baseball practice. Thankfully nobody was killed in that incident. There were plenty of interviews done with members of Congress. One that didn't get as much airtime was the comment coming from Gabby Giffords. Given the obvious connection, I think it's particularly relevant. Here's what she had to say about the shooting.

It doesn't matter if you're a Democrat or a Republican, nor if you're a senator or a representative, nor a staffer or a sworn officer. If you serve the institution of Congress, you're connected to your colleagues, current and former, by a shared sense of service to ideals far greater than yourself. This shooting is an attack on all who serve and on all who participate in our democracy.

I am heartbroken for the pain of Congressman Scalise, the other victims, and their family, friends, and colleagues who survived. I am thankful for the great courage of the Capitol Police, who were my protectors after I was shot and became my friends. I also know the courage it takes to recover from a shooting like this, and I know Steve and everyone there this morning have such courage in great supply.

May all Americans come together today with prayers for the survivors, love for their friends and family, and the courage to go about everyday making this country its best. Our nation is resilient, and we always come back stronger.
We host Sacred Space each Sunday from 4 pm until about 6 pm. This coming week the teaching will be offered by Dr. Ann Marie Chiasson. She'll be speaking on the theme "the infinite wisdom of the heart." As we communally sort through the issues that are dividing us – and issues that are causing us to reach for weapons to solve our differences – looking into the matters of the heart is timely. They've graciously allowed me to share some music to sort of focus on the teaching and how we express what's inside ourselves in word, thought, and even through silence – between one another and between ourselves and a spiritual other. Come and share some introspective and healing time. Things begin right at 4:15 pm.
And thanks to friend John Warnock for sharing a recent New York Times study with me. It's an interesting review of gun control ideas from January 10th of this year. The authors, Quoctrung Bui and Margot Sanger-Katz, examined 29 policy ideas, looking for overlaps between perceived effectiveness and public support for the measures. I've included their top 10, ranked by "effectiveness," below.
They built their list of possible policies by consulting academic literature on laws around the U.S. and in foreign countries. The also spoke to advocates for stronger gun laws and to gun rights supporters.
To get a measure of the popularity of each policy, they hired a marketing firm to conduct internet surveys. Morning Consult surveyed 1,975 voters last June and asked whether they approved of the possible laws.
To gauge effectiveness, they asked experts in gun policy to evaluate all of the ideas and rank them on a scale of 1-10 according to how effective they believed the policy would be in reducing the number of gun-related fatalities. The panel was made up of 32 current or retired academics. They were from backgrounds in criminology, public health, and law, and all of them had published extensively. They were told to ignore whether or not the policy was politically popular, or even whether it'd be tough to pass legal muster.
Here are the top 10 ranked by "effectiveness" with a column showing public support. The intersection is worth noting – especially considering how little of this is being enacted, despite the public support noted in the survey.
What Works and Doesn't Work in Reducing Gun Deaths
| Suggested Policy | Effectiveness | Public Support |
| --- | --- | --- |
| Requiring all sellers to run background checks on anyone who buys a gun. | 7.3 | 86% |
| Preventing sales of all firearms to people who have been convicted of violent misdemeanors, including domestic assaults. | 7.1 | 83% |
| Preventing sales of all firearms to people who have been convicted of stalking another person | 6.5 | 85% |
| Requiring all gun owners to possess a license for their firearm. | 6.4 | 78% |
| Requiring all sellers to run background checks on anyone who buys ammunition. | 6.4 | 72% |
| Banning the sale and ownership of all semi-automatic and automatic firearms. | 6.1 | 63% |
| Preventing sales of all firearms to people who have been reported as dangerous to law enforcement by a mental health provider. | 6.0 | 87% |
| Requiring all owners to report lost or stolen firearms. | 6.0 | 88% |
| Banning the sale and ownership of all ammunition magazines with a capacity greater than 10 bullets. | 5.8 | 63% |
| Requiring that all firearms be recorded in a national registry. | 5.7 | 70% |
It's worth noting that we have adopted three of those top 10 policies in Tucson. We require background checks on all gun sales taking place at the TCC, we require people to notify the police if their guns are lost or stolen (although the A.G. has indicated he thinks this is preempted by state law), and we have a ban on the sale of guns or clips at the TCC that fire more than 10 rounds.
We've seen shootings in churches, movie theaters, elementary schools, community colleges, in a nightclub, a deli, and in a shopping center. Last week, of course, the shooting took place at a baseball practice. Since congressmen were the target, they're focused on the issue of gun violence. While it's too bad the other incidents didn't move them like this, take this opportunity to let them know things like background checks are supported by a vast majority of the people, and experts say they'd be helpful in reducing gun deaths.
I will keep working locally for rational gun safety laws. Seeing regional support or even statewide support for what we've done here – maybe even during this lull in the elevated rhetoric period while Congress reflects on what just happened – would be a good outcome.
Climate Change
On Tuesday we'll have our study session discussion on climate change. There are so many different directions this issue can take us, and I'm hopeful the agenda item will be just a first step in many community conversations on the topic.
I've invited Dr. Joaquin Ruiz, Dean of the UA College of Science, to come and present on the topic. This is a frame from the slideshow he'll use on Tuesday. It shows a pretty clear correlation between the increase in CO2 emissions and surface temperatures.
I asked Joaquin to simply speak to the science. As shown in the graphic, it speaks for itself.
In connection with climate change, we of course need to be aware of our own drought. I've written quite a bit about the forecasts and predictions related to Lake Mead water levels. Until very recently the thought was the heavy snow melt this year would preserve the lake levels above where a shortage will be declared for at least another year. Last week, the U.S. Bureau of Reclamation changed that prediction. They're now saying by the end of 2018 Lake Mead could be only just about a foot over the shortage level. That's a significant change from their earlier predictions. And it makes reaching an agreement on a Drought Contingency Plan even more urgent. They were close, but last November's election brought in a new set of players. As we've seen from some of the environmental declarations from D.C. since November, there's reason to believe some of them don't take the science seriously.
This will have to be a community effort. Government can't solve the whole issue. To that end, Sustainable Tucson, a citizens group that regularly meets in the Ward 6 community room, is looking at a variety of ways to address climate change impacts. Those include our approach to transportation, the built environment, local-first commerce, and food security. The Sunshine Mile development can address several of those focus points – transit, built environment, encouraging walkable destinations, local businesses, and local food. We still haven't missed out on that opportunity completely.
There are of course ways the city can continue chipping away at its own carbon footprint. About 12% of our electric needs are already satisfied by solar. More is planned. Ford Motor Company is introducing a new "pursuit rated" hybrid police car. The squad car comes with a combined city/highway gas mileage rating of 38 MPG. They're saying that based on a $2.50 per gallon cost for fuel, the car will save departments close to $4K annually in fuel costs. I'm asking that we look into whether or not the performance and up-front cost of those vehicles might make them attractive for our Prop 101 capital needs.
You can save considerable amounts of water in your home (remember the Lake Mead shortage that's looming) by doing some pretty simple things. Friend Dave Bright sent an article that reminded me of the tremendous impact we can have by doing things like fixing a toilet flapper valve or a leaky faucet.
The EPA issued a report that estimates Americans needlessly waste a trillion (with a T) gallons of water every year through leaky faucets, toilets, and sprinkler systems. That's 9% of the total water needed to put an end to the drought in California. It's enough to full 24 billion bathtubs. It's the annual water use of more than 11 million homes. And it's fixable. The report indicated you can lose from 1,000 to 4,000 gallons of water per day simply from a toilet that 'runs.' A flapper valve costs less than $5. Tucson Water will give you one if you ask.
That's the final slide in Joaquin's power point. Embedded in it is the message that we're not without the ability to make a significant difference in climate impacts. How we get around, how we shop, leaks in our household plumbing, turning off lights. Yes, there's a global problem, and I believe Trump was wrong to pull us out of the Paris Accord. And yes, I brought the item to Tuesday's study session to bring the conversation about solutions down to a local level – the level at which the city, private sector, utilities, home builders, and every one of us can play a role.
Pima Animal Care and Heat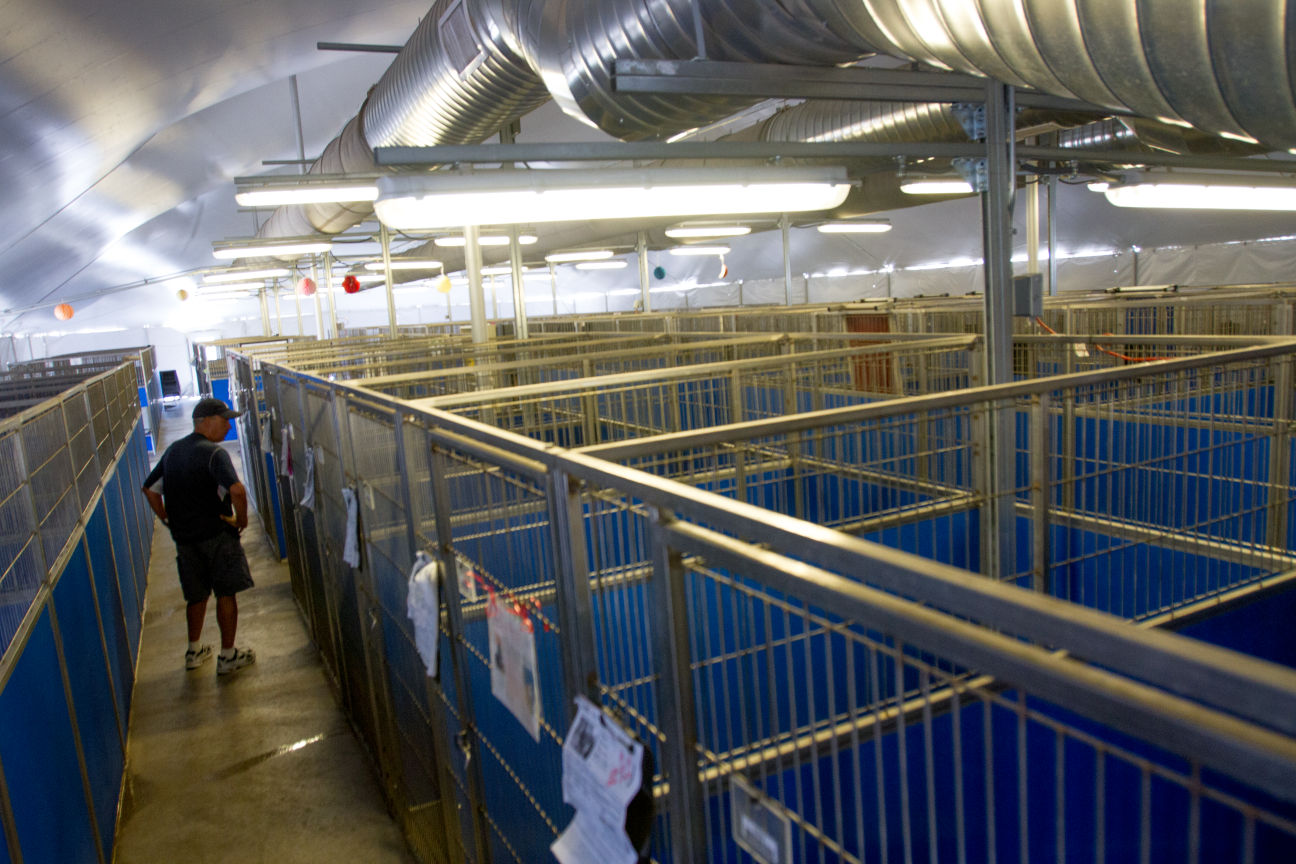 On the topic of extreme heat, PACC is waiving adoption fees through Wednesday in order to find good forever homes for the pets they have out at the center. It's located at 4000 N. Silverbell. As you may know, a couple of years ago they built an auxiliary unit to house dogs because they had become so overstuffed inside the kennel. Now, the tent is also becoming too full. For the safety of the animals in this heat, they're waiving adoption fees for all adult dogs. The pup you adopt needs to be at least six months old to qualify.
They've installed large fans and portable air conditioning in order to keep the air moving in the tent. If you have room in your home and in your heart, stop by and pick a pooch. They're open until 7:00 pm.
Business Insider Ratings
I was speaking at a Metro Chamber event last week and a guy insisted Tucson is "not a desirable place to live." I reminded the group that Bloomberg has recently rated Tucson #3 nationally in terms of job growth – businesses wouldn't be moving here if it were an undesirable place to come. Last week's Visit Tucson update also validated the fact that we're a pretty good choice for visiting and for taking up permanent residence.

Business Insider ranked cities as 'must-move-to' destinations. They consulted realtor.com and put in place three measurement metrics to do the ranking. Those were:
Census Bureau migration data from 2010 to 2014. The "migration ratio" is the ratio of people moving into a metro (from another metro) versus people leaving the metro (to another metro).
A search of traffic on realtor.com. The "views ratio" is the ratio of Realtor.com views to a metro versus views from that metro elsewhere between April 2016 and April 2017.
Population growth estimates from 2015 to 2017. The "growth rate" is the percentage Nielsen estimates the population in a metro has grown based on census data.
There were two Arizona cities in the top 10. Phoenix came in at #6, and we're #9 in the nation. The top 10 were:
#10 – Portland, Oregon
#9 – Tucson
#8 – Oklahoma City
#7 – Riverside
#6 – Phoenix
#5 – Charlotte
#4 – Nashville
#3 – Las Vegas
#2 – Jacksonville
#1 – Austin, Texas
Tucson's ratings were Migration ratio: 1.06
Views ratio: 1.63
Growth ratio: 1.6%
Phoenix - Migration ratio: 1.13
Views ratio: 1.10
Growth ratio: 4.4%
Austin - Migration ratio: 1.46
Views ratio: 0.80
Growth ratio: 7.8%
There's a tired, old, clichéd, negative set of voices that refuse to recognize the hard work many people throughout the community, both inside and outside of government, have done to get us out of the recession. These rankings validate that communal effort.
Pima County and Opioids
An issue that's hitting nationwide is the use of both prescription and non-prescribed narcotics. Last month, we adopted an ordinance that addressed the illegal sale of Spice in a big way. When writing about the Spice problem we have in Tucson, I shared one of the issues is how the product is 'cut' with other chemicals. Opioids are an especially dangerous addition. The result can be fatal.
Opioids are highly addictive narcotic drugs from the same family as opium. When used property, they can help with pain relief. They include everything from codine to heroin, methadone, oxycodone, and fentanyl. There is wide concern that they're being over-prescribed, and there's the reality that young people are getting their hands on the drugs and overdosing.
The state recently announced some measures aimed at getting a handle on the abuse of opioids. Much of it included education, data collection, and access prevention. As I mentioned, at the local level we recently passed an ordinance related to Spice. This class of drugs is equally dangerous.
Andrea Kelly recently had Dr. Francisco Garcia from the Pima County Health Department on her Metro Week show. He gave a very good rundown of what we're seeing here in Tucson. The very short message is that there were over 1,750 hospitalizations in Tucson last year due to overdoses with some form of opioid. Those ER visits are hugely costly, both in terms of dollars and in terms of impacts on people's lives.
Check out this graph from the Metro Week show. There were 263 opioid deaths in Pima County last year.
When broken down by age, you can see the majority of the deaths are among relatively young people.
When Chief Magnus came on board, one of his early efforts was to put Narcan into the hands of our officers. It's an emergency treatment drug used when there may be opioids present. It's expensive. Consider a contribution to the Police Foundation earmarked for adding to our supply if you're looking for a good way to invest into the community.
Also last week, the Governor issued an executive order essentially intended to begin the collection of data related to overdoses and deaths due to the use of opioids. The order includes a reporting requirement that will impact local health care providers and TPD. Here's the operative piece:

2. The specific health conditions to be reported are as follows:

Suspected opioid overdoses;


Suspected opioid deaths;


Naloxone doses administered in response to either condition;


Naloxone doses dispensed; and


Neonatal abstinence syndrome.
I raise this issue here because kids are home for the summer – access to prescription drugs in your home is an issue. These drugs have a proper and valuable medical use. Please, if you have them in your home remember to lock your meds so your young people can't get to them. According to Dr. Garcia, 20% of Tucson area high school seniors report having tried opioids. Not only can that lead to addictions, but as you can see from the data, it can be fatal.
Gun Violence Prevention Arizona has an ASK program to encourage you to ask parents of your kids' friends if the guns in their homes are locked up. A similar question might be asked about access to prescription drugs in the homes your children are visiting. It's not hype, and it's in every neighborhood of the city.
I tried getting informational talks on trafficking and Spice into TUSD – with very limited access allowed. This is an area to which TUSD might want to direct some educational focus.
Prop 101 Commission
With your approval of Prop 101, we now have in place a committed funding source for both roads and public safety capital needs for the next five years. For me, the salient selling point was our establishing very transparent ways you can make sure the money is going where we said it'll go.
For the roads piece, the arterials were all listed in the voting guide. We already have a Bond Oversight Commission in place that has been identifying residential streets to repair with the Prop 409 money. That group will continue and shift now to the allocation of Prop 101 dollars. We'll have about $8M annually for residential road repair. If you have residential streets you particularly want to see the Commission consider, you can email us here at the Ward 6 office, or send an email to Michael.Graham@tucsonaz.gov and he'll get your suggestions in front of the group.
We will be allocating approximately $30M per year on capital needs for public safety. There was also a list of those items available in the election material. We're setting up an oversight committee to make sure the public safety tax dollars are being used for what we told you they'll be used for. If you'd like to apply to be on that committee, this link will take you to the application form. The City Manager and his group will be reviewing the list on June 23rd. We'll see then if there's a need to keep the application process open any longer. With that deadline, if you're interested, getting your name in the hopper this week will be important.
There will be 11 members on the committee – one each from our council offices, one from the Mayor's office, and four appointees of the City Manager.
Planning and Development Services Director
As City Manager Ortega continues to put his team into place, one vacancy we still have is our planning department director. On a long-term interim basis, Mike has appointed Scott Clark to take on the role. It's expected this 'interim' position will last for up to 18 months.
Scott comes into this role from our water department. Since 2015, he has worked over at Tucson Water in customer service, human resources, and business services. Customer outreach has been a big part of his work. It will be in PDSD as well.
The reason the appointment is for a year and a half is to allow Scott and the planning staff time to implement some of the changes Ortega has in mind. Broadly, those include automating workflow, streamlining how we deliver the planning services, getting some new software into operation, and of course continuing the day-to-day work we're doing in what is now a very busy city department.
We at the Ward 6 office wish Scott well and extend this offer to help in any way we can as he transitions into these new and important initiatives.
Nova Home Loans Arizona Bowl
It's not too early for you to get your name on the list if you'd like to help with the Nova Home Loans Arizona Bowl. It'll be held on Saturday, December 30th in Arizona Stadium.
Right now, the organizers are forming subcommittees that will help to facilitate the various functions surrounding the event. The subcommittees will include hospitality, game ops, team interface, marketing, and some other roles. If you'd like to get involved, give them a call at 292-6951. It takes hundreds of people to stage an event like this. Tucson has stepped up in each of the first two years we've hosted the bowl game. It'd be great to see that level of response again this time around.
Misplaced TUSD Focus
At last week's TUSD Board meeting, members considered a resolution that called the City and County out for our "anti-education, anti-prosperity regulations and resolutions." For a District governing body trying to retain teachers, retain students, avoid litigation related to how it handles contracts, get out of desegregation orders, and hire a superintendent, it's my belief their time would have been much better spent staying in their own lane. In fact, everyone on the Board except the chair felt the same way. The motion to consider the resolution failed for lack of a second.
Here's the text:
"Anti-prosperity lawsuits?" I assume he means our fighting for Home Rule against the unconstitutional attempt by the state to make us their arms dealer.
"Anti-education?" The Metropolitan Education Commission is directly funded by the city and county, and is an immensely successful outreach into the education community. And every member of the City Council is supportive of the Steps to Success program initiated out of the Mayor's office.
"Resolutions?" Somehow opposing spending $15 billion dollars on a border wall is anti-education? Even members of Trumps own party are sprinting away from that idea.
"Regulations?" Analyze this - over $500M in private sector investment in the downtown core since I took office in 2009. Rated #3 for job growth nationwide by Bloomberg in metropolitan areas our size. Raytheon expansion - 1,975 new jobs. Caterpillar, Vector Space Systems, Home Goods, Comcast, AC Marriott, Hexagon Mining, 4.4% unemployment rate as of March, 2017, structurally balanced operations budget, $48.9M in working capital as of June 30, upgraded bond outlooks by all three rating agencies, and by a margin of 20 points support from the public for a half-cent sales tax increase to fund infrastructure and public safety capital needs.
That record speaks of trust by the voters and sound fiscal management. That's the analysis the TUSD Board is asking for.
We've made far too much progress in the region by working together to start down the path of inter-jurisdictional fights like this. I applaud the members of the Board who sat on their hands when this came up for a vote. I only hope they didn't lose any quality Superintendent candidates as a result.
Tucson Meet Yourself
It'd be tough to get any more Local Tucson than the annual Tucson Meet Yourself celebration that takes place downtown. 
This year it'll be held on October 13th, 14th, and 15th. But right now they're taking applications for participants and volunteers. The event organizers recently sent out an invitation to become involved. Here's the information, with links you can check out if you're interested in being a participant in any part of the celebration.
Food Vendors:
Deadline extended to June 30, 2017
Read information on Food Vending at TMY here
Direct link to Food Vending application here
Performers:
Deadline: July 15, 2017
Read information about performing at TMY here
Direct link to Performer's application here
Community Matters Exhibitors:
Deadline: First-come, First-Served (spaces are limited)
Read information about exhibiting/selling products at TMY here
Direct link to exhibitor application here
Traditional Folk Artists and Artisans:
City of Gastronomy Kitchen Stadium:
To showcase or demonstrate recipes, food justice work, ethnobotany, local food entrepreneurs, heritage crops and products, send message to: tucsonmeetyourself1974@gmail.com
Sponsors:
To help your brand identity by gifting this beautiful event to the community, send message to Festival Director Dr. Maribel Alvarez:  alvarezm@u.arizona.edu
This is one of our signature events. People come from all over to participate. If you follow this newsletter, you know I'd prefer the City support civic events at a greater financial level than we currently do. Maybe in the days to come. For now, if you would like to be a part of Tucson Meet Yourself, the links shown above are an easy way to get involved.
F-35 and A-10
I'm going to close with this while holding open the option of returning to it as things develop. I've written in the past about some of the many development problems that have plagued the F-35. One that I've mentioned previously is trouble they have with the headgear the pilots wear. The pilots had experienced light-headedness and had to go to alternate oxygen sources. From everything I had read, though, I thought this was one of the development issues they had resolved.
Last week, both Reuters and the Arizona Daily Star reported that in fact the issue is still a problem. 55 of the planes are training up at Luke AFB in Phoenix. They've been grounded until the problem of hypoxia can be resolved. Since May 2nd, five incidents in which pilots had to turn to their back-up oxygen system have been reported. Having pilots pass out while flying an aircraft that carries a price tag of tens of millions of dollars – and while flying over populated areas – is probably not a good thing.
Also announced was the possibility that the A-10 is back under consideration for being phased out. The impact on DM is not yet clear, but the issue is significant. For us to maintain the viability of our base it's critical our Congressional delegation work to continue the A-10 mission.
Senator McCain has called the cost of the F-35 "a disgrace." He has fought to preserve the A-10. I suspect he's less than pleased with what transpired last week in relation to both aircraft. Stay tuned.
Sincerely,
Steve Kozachik
Council Member, Ward 6
ward6@tucsonaz.gov
Events and Entertainment
TDOT- Operation Splash
Sandbag pick-up before severe weather events
Tucson Rodeo Grounds
4823 S 6th Ave, Tucson, AZ 85714
The Tucson Department of Transportation's (TDOT) Operation Splash campaign begins this month as we enter into the monsoon season. City crews are on call day and night to put in place more than 500 barricades at approximately 150 dip crossings. The goal of the program is to make sure motorists do not enter flooded roadways. Sandbags will be available at the Tucson Rodeo Grounds prior to severe weather events. Below is a map of the sandbag distribution layout and traffic flow at the Tucson Rodeo Grounds.