Topics in this issue...
Last Thursday in Aurora, Illinois, two guys were found shot to death in the front seat of their SUV. One was 25 and the other was 39 years old. Police have no idea of the motive and are looking for the shooter.
In Houston there are two dead and three wounded in what police are not calling a "mass shooting." Instead they're calling it a "shootout." I guess the definition doesn't make much difference to the two dead 18-year-old guys.
The two 18-year-olds who are now dead in Saratoga, California would likely say the same. These two young guys were found dead in their home, with no apparent motive. Police are still investigating these murders too.
The TSA reports that in 2017 a record number of guns have been confiscated from people trying to bring them onto planes. In the first six months of the year they've gathered over 1,800 guns from people's bags, including a 9mm loaded handgun from a former American Idol winner (Scott McCreary), and a 40 caliber handgun. Most travelers who are caught say they "forgot" it was in their bag. Note to people carrying around loaded guns: remember where they are.
The airports with the greatest number of confiscations are Atlanta, Dallas, Houston, Phoenix and Denver. Carrying a loaded gun through a TSA checkpoint may result in arrest and up to a $12K fine.
TPD De-escalation / Mental Health Unit
Last week I teased a presentation we're hosting that will include our police Mental Health Support unit and a presentation on the de-escalation training our officers receive. It's now booked and you're invited to take part.
Come and join us on Thursday, August 10th at 6 p.m. here at the Ward 6 community room for what will be a very interesting evening with TPD. The first part of the event will be an explanation by our Mental Health Support Team (MHST) on the training they receive, and their role out in the community. Included in this part of the event will be instruction on what you should look for when viewing and reporting incidents to most effectively get the MHST trained officers to the scene. The goal is getting people the treatment they need and avoiding incarceration if at all possible.
Following that we'll get a briefing from TPD on the de-escalation work they're doing within the agency. You may become involved in this work if you'd like to sign up to take part in some of their training scenarios. We'll see videos of the training and the officers who join us on the 10th will give you detailed descriptions of what you may expect when you sign up to take part in their work.
Both of these are key parts of our Tucson police training. I'm grateful to the officers who will join us on the 10th to engage directly with you on both the mental health and de-escalation work they're doing. I hope you can join us. It will be interesting and educational.
Last weekend we had an incident out on DMAFB that involved both the de-escalation training our officers have received, and the MHST unit. It took place at exactly the same time we had TPD demonstrating the tactics to community members out at the academy.
The DM incident involved an armed, suicidal adult guy who had locked himself inside his home with his four children. Over a four hour period of negotiating, Captain Paul Sayre and hostage negotiators convinced the guy to release his kids. Then our MHST unit, working with SWAT personnel at the ready, finally got him to surrender. Nobody was injured. It took several hours and the result was certainly worth the effort – as well as a validation of the training our officers receive.
This is the work I have asked TPD to present to you on the 10th. I believe it'll be well worth your time to come and take part.
Pullover Protocols
Remember these? They were the fruit of a nudge and collaboration with Mike Humphries of the Pima County Board of Health and Susan Gamble from Santa Teresa Tileworks. Now not only are they in distribution for TPD (come by Ward 6 and grab some), but Pima County sheriffs are getting some printed up.
Seeing a good thing happening, the state is now including pullover protocols in the driver's manual you study when applying for a driver's license. We haven't seen the types of unfortunate incidents locally that have hit the news from other parts of the country. Having these tools out in circulation can only help.
An Inconvenient Truth / August 7th Forum
Before I get into some climate updates, I'm linking these two events together as a dual-invitation for you to come and take part.
First, this Friday the 28th, Catalina United Methodist Church is hosting the screening of An Inconvenient Truth. It's free. Doors will open at 6 p.m. for the 6:30 screening.
This is the 2006 documentary about former U.S. Vice President Al Gore's work on the issue of global warming. It's credited by many as a seminal event in redefining the environmental movement.
The film premiered at the 2006 Sundance Film Festival and later opened in New York and LA. It won two Oscars – one for best documentary feature and one for best original song. It grossed over $24M domestically, and over $26M on the international market, so this isn't some low budget backyard doc that you could shoot on your cell phone.
The show is a prelude to the local screening of its sequel An Inconvenient Sequel: Truth to Power. That will open in theaters around town in early August.
Then on Monday, August 7th join us at Temple Emanu-El for the climate forum I'm hosting. Representatives from the solar industry, Southern Arizona Transit Advocates, the homebuilding industry and the electric industry will be on the panel. Together they represent a broad array of opportunities we each have to take part in reducing energy use and our carbon output.
Note from the flyer that this will be another audience participation forum facilitated by Catherine Tornbom from Our Family Services Center for Community Dialogue. Climate is an issue we need community dialogue on, so this forum is timely and important.
Doors at the Temple will open for the forum at 5:30 p.m. We'll begin with the panel discussion at 6. It'd be great to see a full house at both Catalina United and at the Temple for these events.
Water Issues
The monsoons have finally arrived. That's good news...
...and in some cases not so good news. The good news though is the positive affect on our groundwater supply.
Water Checkbook
During last week's candidate interview I had with the Metro Chamber, one person asked me what my priority issue is at the council after making sure our budget is in order. That's easy – water security.
The combination of population growth and climate issues is an ongoing stress on water management not only in Tucson, but throughout the region and the state. Currently, groundwater provides about 43 percent of the state's total water needs in our large population centers. The CAP provides 32 percent, about 21 percent comes from surface waters, and only 4 percent is recycled effluent. From that, agriculture uses over two-thirds, cities use just under a quarter and industry uses less than 10 percent. It's pretty skewed.
Tucson Water keeps what we call our "water checkbook." It's what you might expect: a running balance of how much we have, how much we've used, and how much we've saved. That's for potable water and for effluent as well.
This graph shows a few interesting things. The top of each bar is our total available potable water supply. You can see that since I've been in office, it has remained pretty steady. But look at the solid blue in each bar of the graph. That's how much we're using. Notice that it's going down, despite the growth in population in the region. In fact, we're using right now about what we did in 1994. That's to your credit, and to the credit of the Tucson Water utility and M&C for having incentivized conservation through our rate structure, and through the rebates related to water-conserving appliances and harvesting equipment that we offer.
The numbers in the small yellow rectangles represent the difference between our supply, and the demand we're serving. They're our checkbook balance. They range from about 35,000 acre feet in 2008 up to over 60,000 acre feet last year. We save our excess delivery that comes to us from the Colorado River as long term water storage credits. It's our savings account.
Couple those storage credits with the positive supply over demand and this graph shows the very good position we're in:
That's over 330,000 acre feet of water we have stored for our use. It amounts to a three-year supply based on our current demands.
I will be advocating for water security policies that continue this excellent trend for as long as I'm on the council. As I said to the Chamber interview committee, the only thing that compares in importance with this issue is our budget. I'm committed to keeping an eye on both checkbooks. I know my colleagues on the M&C are as well.
Unified Community Advisory Board
There's supply, there's demand, and there's the need to make sure the balance is not contaminated. The Unified Community Advisory Board (UCAB) is a local committee that's watching that third piece of the important water issue. Last week, Chris and I sat in on their fall meeting. It was informative and it was great to see the members of the community working in concert with representatives from the EPA, military and Tucson Water to make sure we're delivering clean water to our residents.
Since 1942 there have been at least 20 separate facilities operating in the Tucson International Airport/Raytheon are. Many of them were discharging waste liquids into the soil and eventually into our water supply. Those chemicals included TCE (trichloroethylene), a metal degreaser. One facility – an Air Force plant located nearby – operated under contract with Raytheon. They were found to have been discharging TCE and other solvents containing chemicals into unlined ditches or directly into waste pits and ponds. The surface water runoff flowed onto the San Xavier Reservation and seeped into the water supply.
Although improper waste disposal at those sites had stopped by the early 1970s, the groundwater was already contaminated. Residents nearby complained of chemical odors in the water. The EPA and city began sampling the water and found a plume of contaminated water that is about half a mile wide and five miles long. In 1983 the area was added to the federal superfund priority list as an area in need of cleanup.
UCAB is a diverse group of residents, city and federal officials, air force representatives and others who meet regularly to discuss the ongoing issues related to the cleanup process. UCAB was formed in 1995 and has been meeting regularly since then.
The cleanup operation began with a treatment plant (TARP) aimed at cleaning up the TCE. Later another chemical – 1, 4 Dioxane – was found in the plume. The process in place at the TARP plant did not affect that new pollutant. So in 2013 we gave the direction to Tucson Water officials to build a treatment plant (AOP) for the 1, 4 Dioxane. We did that while the city and Air Force were still arguing over who would pay for what. Of all the decisions I've made on the council, the decision to move forward with the construction of the AOP plant, even before the USAF had signed onto a settlement was the most important I've made for the community's health and for our water security.  
During last week's UCAB presentation, we received an update on the effects being realized at both the TARP (for the TCE) and AOP (for 1, 4 Dioxane). In both cases the news is positive. In fact, here are the results from the three sample points most recently reported on:
"Non-detectable" is the goal.
While there is a level of concern – and in fact a remaining level of distrust – I give high marks to the city and federal officials who made the presentations to UCAB. The leadership of the UCAB also demonstrated a clear interest in an open and transparent presentation so all involved could walk away with a set of facts, not assumptions.
The next meeting will be on October 18th at 5:45 p.m. Meetings are held at the El Rio Senior Center at 101 W. Irvington. Anyone interested in water quality for this region will benefit from what they'll learn during these meetings.
County Bond Committee
When the voters passed Prop 101, our roads/public safety measure, we made sure to include the extension of our existing Bond Oversight Committee to continue working independently of any political influence in selecting residential roads for funding. That group has served the community well throughout the Prop 409 allocation process and each of us on the M&C believes they'll continue that excellent work with the new 101 dollars.
The Pima County Board of Supervisors voted to increase primary property taxes by 25 cents, earmarking that amount to fixing roads. Because of other reductions in taxes the actual net tax increase will be 14 cents. The supervisors expect the funding to raise about $19 million annually. The increase has a five-year sunset, just like Prop 101.
The new money is being split between jurisdictions based on assessed property values. It breaks down like this:
Pima County – 41%
Tucson – 41%
Oro Valley – 7.5%
Marana – 6.25%
Sahuarita – 2.75%
South Tucson – 0.27%
In order to determine how each area will spend its dollars, the supes also set up a Transportation Advisory Committee. The committee will have 13 members – two each from the supes, and three from the county administrator. So far they've all named their representatives, except for Supervisor Miller. Serving on the TAC will be:
John Bernal, Curtis Lueck and Tony Paez (Huckelberry)
Dan Eckstrom and Eric Ponce (Valadez)
Rick Price and Amber Smith (Bronson)
Sergio Arellano and Lucretia Free (Christy)
Dan Castro and Bob Gugino (Elias)
Together, they'll make a recommendation as to how the money will be spent. In our case, our own Bond Oversight Committee will also weigh in on their recommendations. That'll ensure we're not duplicating efforts, and the money will touch as many lane miles as possible within the city limits.
The addition of this funding to the Prop 101 money voters approved will extend the amount of residential pavement preservation we will accomplish. Yet more good news for the region; more in the series of good news reports I've been happy to share with you in the past several months.
Honor's College Dean
There are some hiring and election decisions happening in Tucson this summer. One is the UA hiring Terry Hunt to run its Honors College. He'll be on board this September.
Terry brings an international research background and he has served as dean for the Honors College at both the University of Oregon and at the University of Hawaii. His research is in human and environmental history, with a focus on the Pacific Islands. There, for over four decades he has led study-abroad programs on Easter Island mentoring students in field study throughout that site.
He will step into the ongoing controversy over whether to build the new Honors College community at the proposed off campus site. The unresolved question is whether to build it with or without taking the project through the established rezoning process. I've written about it in previous newsletters and in a guest piece that appeared in the Star. I've also met with new UA President Robbins and discussed my concerns at length. Due to the timing of Arizona Board of Regents meetings, the UA will need to make a decision in the very near term So by the time Dr. Hunt arrives, we will be a bit more deeply entrenched in that process, whichever way it heads.
Over the weekend I learned the UA has hired a land use attorney to begin working with residents and the city to try to craft a way forward that works for everyone involved. I know at the end of the process we'll all say, "Nobody ever said it'd be easy." I'm hopeful we can also say that we found a way.
Welcome to Tucson, Terry. Being a history buff, you may find the Comstock Hospital located on a part of the proposed Honors College site to be of historical significance and worthy of some Honors student study, assuming it's not demolished as a part of the new campus plan.
TUSD Superintendent Search
The process for hiring a new superintendent to oversee TUSD is inching along. The TUSD school board has approved a selection process which is now moving forward. The hope is to have a new person in the saddle by early fall.
A selection committee is being formed that will include three members named by each of the TUSD board members. That 15-person committee will review the 17 applications now on file and will shortlist those down to five finalists. Those five are to be submitted to the TUSD board without any ranking – just the stack of five. They'll do an internal review of those applicants on July 27th and choose finalists from that group who will be scheduled to visit the area during the week of August 14-18. During that time there'll be public forums at which the public may ask questions and submit comments to the board. The board will also interview the finalists and eventually render a selection.
Following that selection, they'll still need to negotiate terms of a contract, so it's unclear when the actual public announcement will be made.
It's too bad they couldn't have had someone in place before the beginning of the new school year, but it's better to do it right than to do it fast. Interim Superintendent Gabe Trujillo will remain in that role throughout the selection process.
New Council Member
With all the focus being on the 2018 midterm congressional and state elections, I don't want you to lose focus on this November – actually, this August - first. We have three seats up for re-election this fall on the city council. Mine is one of them and I have some announced opposition, Richard is running unopposed, and there are now five people running for the Ward 3 seat.
For those candidates who are out collecting donations for their campaigns, there are limits as to what they can accumulate that were announced last week. Those limits are based on voter registration for city residents as of June 30th. They run a calculation that includes those voters (284,406) and the Consumer Price Index to come up with the final expenditure limits. Here's a chart showing what candidates for this fall's city council seats may raise:
| Final Expenditure Limits - 2017 | Council Member |
| --- | --- |
| Final expenditure amount per voter | $0.4316 |
| Maximum amount a candidate can spend through the end of the campaign period | $122,749.63 |
| Maximum amount a candidate can spend through the day of the Primary Election | $92,062.22 |
| Maximum amount a candidate can receive in public matching funds | $61,374.81 |
| Maximum amount a candidate can contribute to his own campaign | $3,682.48 |
Please do your homework. These are important positions, not hobbies. I'd also encourage you to do your homework on the initiatives that'll be on the ballot this fall (pre-school half-cent tax, zoo capital needs one-tenth of a cent tax, and M&C salary increases). While the decisions we'll make at the polls in 2018 are certainly important, let's not ignore election day this fall. If "all politics are local," then selecting representatives for these seats is certainly worth the time you invest in the process.
Ray Carroll
While I'm on the personnel and staffing theme, I'll welcome former Pima County Supervisor Ray Carroll back into the public eye. He was hired on by the Amity Foundation to direct their community and government relations area. In general terms, that's to help them navigate the challenges coming if Arizona loses funding through the Arizona Health Care Cost Containment system (AHCCCS) if Congress changes the rules of funding health care.
Amity Foundation works with a variety of marginalized groups – homeless, people with addictions, victims of racism, sexism, trauma or violence. They're about community building and restoring people who have fallen on tough times. With or without changes to the health care system, Ray will have plenty on his plate getting Amity's mission out into the wider community. It'll be good to have him back in circulation.

As I mentioned above, last week I did a candidate interview with the Metro Chamber. The committee included a broad array of those who make Tucson great. The diverse group included TMC, Port of Tucson, Casa de Luz Hospice, the development community and even ASU. During our meeting of course I made it a point to brag on the progress we've made in pulling out from the recession.
Also last week in a bit of good timing, Resonance and the National Geographic issued a report that validates my bragging. It's only appropriate that I include that report as this week's Local First item. They have Tucson ranked number two among the top 50 small cities nationwide using a broad set of metrics.
The analysis included things such as job opportunities, nightlife, arts and culture, youth and diversity as measuring criteria. We were measured in the group of cities with populations between 200,000 and a million people. Ranked ahead of us was Honolulu. So, congratulations to us. You can see the whole report at this link: http://bit.ly/2vsBFYI.  We're on page 30.
HB 2116 – Rezoning Rules Changes
On May 10th, the governor signed HB2116, a bill that will change some of the rules surrounding rezoning decisions. More specifically, it changes how protests are calculated, and how many votes are needed at M&C to sustain a protest.
Currently, if the owners of 20 percent or more of the lots on any side of a rezoning (within 150' of the proposed change) submit a protest, it triggers a supermajority vote of M&C. Right now it requires six of us to vote in favor of the rezoning in order for it to be adopted. All of that changes under 2116.
Under the new rules, 20 percent of property owners within the zoning area - not just from one side of the project - must file a protest in order to require a supermajority vote to adopt the rezoning. And the supermajority vote is no longer six of the seven of us. It's five to sustain the proposed rezoning.
Questions have already been raised by members of Tucson Residents for Responsive Government (TRRG) about the effects of this new bill. I'm joining my colleagues in TRRG and hosting a public discussion of the changes. It'll be held on Wednesday, August 30th at 6 p.m. here at the Ward 6 community room. We'll have our city attorney present along with Dan Bursuck, a lead planner from our planning department. Together they'll walk through the former current rules, taking questions along the way so everyone knows the new ground rules the state just put into play.
Rezonings are often challenging discussions. I mentioned the Honors College above. We've got tough zoning discussions coming related to the Fry's Food Store out on the east side, and ongoing talks about some commercial/residential work being proposed right down the street from the Ward 6 office. Knowing the rules of engagement is important. Please put this date on your calendar and plan on coming to take part in the conversation.
If you'd like to do a little pre-meeting homework on the bill, this link will take you to a factsheet produced by the fine folks up in Phoenix.
Some Animal Items
UA Work with Zoos and Aquariums
All over the world, zoos and aquariums are teaming up with local agencies and working on animal conservation. Last week when I was describing the impact of the one-tenth of a cent zoo ballot initiative, I mentioned conservation work being done out at the Reid Park Zoo. Now through the UA College of Agriculture, their School of Natural Resources and the Environment will be working with our folks at the zoo, sending students to do internships as a part of a new certificate in zoo and aquarium conservation. It's a three-class-plus-internship undergrad program that will give students direct hands-on work in the field.
Reid Park Zoo is already involved in Saving Animals From Extinction (SAFE), a program geared towards raising awareness of and working to combat the extinction of several animal species. It's not only being done through sending dollars off to some sub-Saharan place. They're involved in breeding animals and studying their physiology. The students taking part in this new program will benefit from all of that work in progress.
The certificate requires student's work with an accredited zoo. Reid Park Zoo is fully accredited through the Association of Zoos and Aquariums. The partnership will be a good one for all involved.
Safari Nights
We're partnering again with the folks over at Tucson Medical Center to offer the 2017 Summer Safari Nights at Reid Park Zoo. The program will run each Friday from 6 p.m. until 8 p.m. There's live music, a variety of family-friendly animal shows, food and drink offerings and discounts in the gift shop.
For the kids-at-heart, there's face painting, glitter tattoos and other zoo-ish sorts of attractions. If you've never ridden on a camel, this is your chance. I did it while traveling in Egypt and I can safely say that I much prefer my bike. But give it a whirl and make your own call.
Safari Nights ends on Friday, August 4th, so you've got two more chances this summer to take the family out and participate. It's worth the trip.
Audobon Birding Festival
A short while back, my mom used to go out on the Audubon bird counts. I still see people occasionally gathered around the Loop and other areas I'm running past doing those counts. We have an active birding community in Tucson.
On August 11th and 12th, the Audubon will be offering two birding-related presentations by experts in their respective fields.
On the 11th, Sergio Avila-Villegas will share his own personal stories about studying animals ranging from Jaguars to butterflies in our own Sonoran Desert and up into the Sierra Madre area, too. His presentation is titled, "Fur to Fuzz: Studying and protecting the wildlife of the Sonoran Desert Region."
On the 12th, Paul Bannick will present, "A year in the lives of North American owls." His is a combination of pictures and tales about his own work with those critters. His book by the same title will be available for purchase.
Both of the presentations run from 6 p.m. until 8:30 p.m. Both will take place out at the Riverpark Inn at 777 W. Cushing Street. Both will also include food, so you don't need to load up before heading over.
If you'd like to register for either of the Festival banquet presentations, you can use this link.
To see the Audubon's full festival schedule of events, check out this link.
Luke Safford coordinates their events, volunteers and field trips. If you'd like more information about the festival or any Audubon activities, connect with him at lsafford@tucsonaudubon.org, or call him at 209.1811.
Monsoon Sandbag Distribution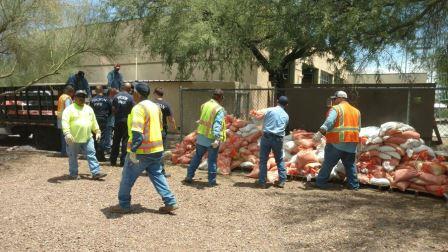 We now have two distribution sites for monsoon sandbags. One is a do-it-yourself fill the bag site over at Hi Corbett Field. I saw a hearty lady this morning filling bags as I jogged past. You'll find a few large piles of sand waiting over in the east parking area outside the front entry of the baseball field. Bring a shovel and some empty bags.
Every Wednesday from 4 p.m. until 8 p.m., we're giving away up to 10 bags per car over at the Rodeo Grounds. That's located at 4823 S. 6th Avenue. At this location you can just plan on popping the trunk and tossing in the 10 you're allowed. We'll keep this Wednesday opportunity going until the rains start to die off. I'm hopeful that means this is a long-term deal.
Thanks to our TDOT staff who are out in the field during the heavy rains monitoring dip crossings for dangerous conditions. They keep track of monsoon activity through the National Weather Service ALERT system and stay ahead of oncoming floodwater, getting barricades into place as quickly as possible. There are plenty of city workers out serving the community in ways most of us simply take for granted. This is yet another example.
Sincerely,
Steve Kozachik
Council Member, Ward 6
ward6@tucsonaz.gov
Ongoing Events
"Frida Kahlo: Art, Garden, Life" Exhibit, October 10, 2016 – August 31, 2017
Southern Arizona Transportation Museum, 414 N Toole Ave | www.tucsonhistoricdepot.org
UA Mineral Museum, 1601 E University Blvd | www.uamineralmuseum.org
Jewish History Museum, 564 S Stone Ave | www.jewishhistorymuseum.org
Fox Theatre, 17 W Congress St | www.FoxTucsonTheatre.org
Hotel Congress, 311 E Congress St | hotelcongress.com
Loft Cinema, 3233 E Speedway Blvd | www.loftcinema.com
Rialto Theatre, 318 E Congress St | www.rialtotheatre.com
Woven Through Time: American Treasures of Native Basketry & Fiber Art July 17, 2017 - December 5, 2018
Arizona Theater Company, 330 S Scott Ave | www.arizonatheatre.org
The Rogue Theatre, The Historic Y, 300 E University Blvd | www.theroguetheatre.org
Tucson Museum of Art, 140 N Main Ave | www.TucsonMusuemofArt.org
Tucson Convention Center, 260 S Church St | tucsonconventioncenter.com
A social walk/run through the Downtown area. Every Monday, rain or shine, holidays too! Check-in begins at 5:15pm.
A living agricultural museum and ethnobotanical garden at the site of Tucson's Birthplace (the foot of "A-Mountain"). For guided tours call
520-777-9270
.
Children's Museum Tucson, 200 S 6th Ave | www.childernsmuseumtucson.org