Topics in this issue...
Happy Fourth of July
That's my uncle Bud. He served in WWII, was captured over in Guam and was held as a POW for over 600 days. This is the official report on that service. I'm sure you haven't seen many of these.
And this is a picture of Diana and her son Adam at his graduation from the military academy. Adam is just beginning his military service. Diana's oldest son Demi is also in the military currently serving in the near east.
We at the Ward 6 office thank the generations who have served and are serving this nation in our military, protecting the values we hold dear. Have a happy and safe 4th of July. It's about more than firecrackers and hotdogs.
Affirmation of Life
Before the half-staff item this week, I want to share a very touching and life affirming program they're running over at Handmaker Assisted Living Facility. A dear friend named John is living there, along with others experiencing a variety of needs. You know my love of animals (thanks to the lady on the Loop this morning who let me 'introduce myself' to her horse) – this video touches several soft spots. I hope you enjoy it.
Half-Staff
In Conowingo, Maryland last week a 52-year-old estranged husband shot and killed his 42-year-old wife, then turned the gun on himself taking his own life as well. She had turned to run. There were no gunshot wounds in the front of her body.
Outside of a sports bar in Stockton, California last week, police arrived on the scene and found two victims of gunshot wounds. Both were under 30, both died. The shooters were not found as of the time I'm writing this. The killing occurred after 2 a.m.
A triple homicide from last week is still under investigation in Albany, Georgia. This one happened inside a duplex at about 9 p.m. The three victims (two men and a woman) were all in their 20s. Two young kids, both under five were on the scene. It's certainly a half-staff incident for the two children.
These half-staff openers are to remind us each week that gunshot violence takes place every day across this country. We only drop the flags to mourn the dead when it's someone well known. The grief and loss is equal for those close to victims we remember here.
The Guardian recently published some data that spoke to correlations between gun ownership and gun violence. The intent was to speak to the unique relationship that exists in this country between us and our firearms – and how that plays into our politics and inability to craft even modest gun safety legislation.
This graph shows how far ahead of other 'advanced' countries we are in terms of homicides as measured by population.

  
Add to that the fact that we have by far the highest number of privately owned guns in the world. The article estimated that in 2007 (not much has changed) there were about 88 guns per 100 people in the U.S. That includes kids, so there was more than one gun owned per adult. Ranking second was Yemen at 54 guns per 100. We're just over 4.5% of the world's population, but we own roughly 42% of all the privately held guns.
I've been on plenty of panels speaking on the topic of gun safety. One issue often raised by opponents of gun laws is that the real culprit in gun deaths is mental health. The fact is that people with mental illnesses are more likely to be victims of violence than they are to be the perpetrators. Yes, we need better treatment options for people suffering mental illness, but that's not the solution to gun violence. The notion does a disservice to people suffering from those sorts of issues.
Wouldn't we then be safer if more people carried? Let the data answer. High gun ownership rates tend to coincide with increases in gun deaths.
We'll keep plugging away at trying to effect positive change in safety laws as they relate to guns. The data and facts simply lead to that as a needed policy direction.
Arizona Daily Star Mischaracterization
I'm grateful to our police chief for quite effectively countering a misleading article the Star ran last week. In it they cited an article that ran on the website 24/7 Wall St. The article had the headline, "Website says Tucson is the most dangerous city in Arizona" (June 22 edition of the site). That's accurate as far as it goes, but for our only daily print media to leave a misleading headline unanalyzed was disappointing.
The article should have explained that the data being measured in the 24/7 Wall St. article was defining "city" as Arizona cities with populations greater than 250,000. That meant they were comparing three cities in the state: Tucson, Phoenix and Mesa. Chief Magnus clarified that by including more robust data sets:  
"When the list is expanded to include all Arizona cities that chose to report their data for 2015, Tucson ranked 10th in violent crime per 100,000 residents. More significantly, compared with "like cities" in terms of population across the country (FBI Group I subset 500k<1M residents), Tucson is 24.5% below the National average rate of violent crimes per 100,000 residents."
Even the FBI warns against rankings based on raw data related to crime statistics. They say this:
"When providing/using agency-oriented statistics, the FBI cautions and, in fact, strongly discourages, data users against using rankings to evaluate locales or the effectiveness of their law enforcement agencies."
One reason is the data don't disaggregate the numbers well to account for locale-specific trends. In Tucson the vast majority of homicides are committed by people who know their victims. They're not random – meaning you're not walking around in a crime-ridden city where you need to watch out at every corner.
I mention this here because while discussing gun safety laws, I take seriously the work we've done at the city council level – background checks, alcohol use and guns, reporting lost or stolen guns, sale of weapons that can fire 10 or more rounds. I don't want that work to be undone by misleading headlines from any of our media sources.
More Good Work By Our Police
During the time we were drafting and passing our Spice ordinance there was also much talk about how police and fire first responders were treating victims when they made contact. One of the problems is that when a victim is unresponsive, there's no way to know what they're on, so counteracting whatever drug it is may be risky. Our police are now equipped with doses of Narcan because we know it is an effective antidote to much of what's out on the street. In the past two weeks, that policy decision has resulted in two lives saved out on the street.
These are excerpts from the actual police reports relating those two incidents:
On 06/23/2017, I was dispatched reference an overdose. We arrived on scene prior to TFD and observed a subject on the ground twitching, extremely pale and unresponsive. The individual had an extremely infrequent heart rate, and there was little to no breathing taking place. We were informed by a friend that this individual had just used heroin and was possibly overdosing. We administered Narcan while giving sternal rubs. The male slowly became responsive as TFD administered additional aid and was transported to St Joseph's Hospital.
On 06/25/2017, I responded to an address response an overdose call. Upon arrival, I located a 14 year old female laying on a couch in the front yard. The child was unconscious and unresponsive, but was breathing and had a pulse. I was advised by the family that she had been drinking and doing drugs, but they were unable to advise what drugs. I again unsuccessfully attempted to wake the female. At this point I administered my department-issued Narcan to the child. She immediately began to shake and convulse for several seconds. She then opened her eyes and became more alert. TFD arrived on scene and transported her to the hospital.
Excellent work by our police, and a great policy decision to begin carrying Narcan.
Incident Training
One more police item. In an effort to familiarize the public with the kinds of events cops experience, we're recruiting citizens to take part in scenario-based training exercises. The public will be given roles to play in a variety of incidents and the police will be working on their responses. The goal is to upgrade officer skills in these areas:
De-escalation
critical decision making
Pre-use of force actions
proportionality
communication
defensive tactics
officers safety
full service policing
procedural justice
Including members of the public will create a more realistic environment for the officers. The people taking part will have a chance to see the nature and extent of the training we offer to cops.
The sessions will take place on several days this summer and fall. There will be orientation sessions at the Police Academy in advance of that so the participants know what to expect. There will be two orientation dates (July 9th and 16th) with two sessions offered on each day (10 a.m. until noon, and 12:30 p.m. until 2:30). Participants only need to attend one. If you'd like to sign up for one of the sessions, you can use this link www.jointucsonpd.org. Click on the "volunteer" link to sign up. The Academy is located at 10001 S. Wilmot. During the orientation you'll have a chance to sign up for any of several dates. The scenarios will take place between about 9:30 a.m. and 3 p.m. each day they hold the sessions.
If you'd like to get more information, you can contact Lt. Chris Dennison at Christopher.dennison@tucsonaz.gov or 603.4948.
Community Homelessness Report
TPD's work in the community also often involves work with the homeless. Last week we received an update on progress being made in the city regarding our homeless population. It's a complex issue and the information presented was a valuable reminder that when talking about 'homelessness,' the brush stroke is broad.
Many thanks to the Tucson Pima Collaboration to End Homelessness (TPCH), Claudia Powell and the folks at the UA Southwest Institute for Research on Women for pulling together the data. More importantly, kudos for coordinating the legwork to generate the data.
I said this is a complex issue. There isn't a single defining descriptor by which you can identify a 'homeless person.' This graph makes that clear. It's a summary of  some of the issues experienced by the people we came across during this year's point-in-time count.
Note that members of the homeless population we counted include folks with alcohol problems, drug dependencies, medical, mental and developmentally disabled issues. Those conditions are prevalent in both young and older members of the homeless population.
The good news is that we see a declining trend in the number of people living without their own home.
In the past five years we've seen the numbers in the point-in-time counts drop from over 2,200 down to fewer than 1,600. Many are in shelters and transitional housing. Some are simply out on the street.
Nobody on the council takes this issue lightly. We have each been disappointed to see the decrease in federal funding our Housing & Community Development staff receives to address the needs of the homeless. The trend data though demonstrates the progress we're making, even in an environment of diminished resources. That's a credit to the nonprofits in the community who are active in touching these lives, to the many people who donate resources in support of the homeless population (we at the Ward 6 office are still collecting donations for the homeless who are out in the summer heat), and our HCD staff, led by Sally Stang who is hard at work allocating scarce resources.
If you'd like more information on the work being done by TPCH, check out their website at www.tpch.net.
Federal Government and Water
If you read this newsletter much, you know I'm not a fan of what we're seeing from the feds when it comes to reductions in social service funding. The work we're doing on behalf of the diverse homeless population mentioned above is an example. Equally, I'm not a fan of the evisceration of the EPA and the Trump Administration's approach to all things environmental. Water in this case.
The Waters of the United States Rule was a largely technical rule adopted back in '15 by the Obama Administration. It essentially defined which rivers, streams, lakes and marshes fell under the jurisdiction of the EPA and the Army Corps of Engineers. The rule establishes whether anti-pollution laws are triggered by certain actions of farmers or developers working upstream of an already protected waterway. It limits the EPA's regulatory oversight to any body of water that's within 1,500 feet of another one that's already protected, unless of course the two are connected by surface water.
Last week the Trump administration announced their intent to roll back the rule. That decision generated a significant response.
Supporters of retaining the rule include environmental groups such as the Sierra Club, Natural Resources Defense Council and Environment America. It's also supported by fishing groups for some pretty obvious reasons. Polluted rivers and streams affect their livelihood.
Supporters say we can't protect the lakes and downstream bodies of water unless we protect the tributaries feeding into them.
Opponents of the rule include groups such as Haliburton, the National Association of Manufacturers and mining companies.
Opponents say the rule was a power grab by Obama and overly broad governmental overreach. Trump began the process of rescinding the rule last week, limiting the number and types of waterways covered. He and his staffers call the move "good for business."
The only formal position statement I've seen on the proposed modification is from Congresswoman McSally. She said this in her release:
"WOTUS (Waters of the United States) is a sweeping regulation written by unelected bureaucrats that would give the EPA jurisdiction over any type of body of water on private land – lakes, ponds, creeks, and even desert washes."
She went on to say she's "pleased with the EPA's decision to repeal the harmful WOTUS rule."
As is true with health care, there's a difference between making clarifying changes to existing policy and tossing it out wholesale. Water and health care are such complex issues that it'd be great if federal policy makers would stop taking extreme moves, sit and meet with one another and find some common ground in the middle.
Southern Arizona has an intertwined connection of waterways throughout. This matter is deserving of better and more thoughtful response than what it's receiving.
Federal Government, Utilities and Coal
I've written about the Navajo Coal-Fired Generating Station in the past. It's back in the news again this week.
This is a photo of the plant. It's huge – and dismantling it will take a couple of years. The federal Bureau of Reclamation is involved in the decision on whether or not to shut it down, along with the utilities who own the plant and the Navajo and Hopi tribes. As with the water issue, this has multiple moving parts.
The owners include Salt River Project, Arizona Public Services, NV Energy and TEP. Since it's more economical to buy power from natural gas plants, the owners want to shut down the coal-fired plant. Environmental groups (and I agree) support closure.
The tribes rely on the plant for jobs – about 750 of them when combining the nearby coal mine that supplies NGS. The feds, in the form of the Bureau of Reclamation want to see the plant continue operating. Last Monday the Navajo Nation Council approved a new $350M lease for the plant that could get the bureau what they're after. It doesn't make economic sense, and certainly doesn't make environmental sense. It's also not finalized, so more to come on this one.
Inconvenient Truth
All of that is by way of introducing an upcoming screening of An Inconvenient Truth. On Friday, July 28th Catalina United Methodist Church will host a free screening of the show. It fits with the ongoing conversations we're having at the council and what we'll soon be seeing with the newly formed climate and energy committee. They've asked me to speak about those initiatives prior to the screening. The show will start at 6:30 p.m. – doors open at 6. I hope you can come and take part. CUMC is hosting this screening as a lead-in to the arrival of "An Inconvenient Sequel: Truth to Power" on August 4th in Tucson.
Two related environmental events – I'm putting together a forum that will include representatives from power utilities and transit. That will take place on Monday, August 7th in the evening. More details in next week's newsletter. I've already shared that we'll host a public hearing on the environment – to hear from you – during our evening council session on Tuesday, August 8th.
We have to have these conversations and they need to result in tangible actions – not just by the city government (although we have a role), but by everyone. I'm looking forward to the movie, the forum and the public hearing – and to retooling the climate committee.
Another Federal Funding Issue – Health Care
I've written recently about the impact proposed cuts to the Centers for Disease Control will have on ongoing cancer research. In short, it'll terminate multiple research efforts that are currently underway. That's just one of the many impacts the changes to health care legislation now under discussion will have.
Over the weekend, Trump suggested instead of working on a suitable replacement plan, we should just "repeal" what's now on the books and figure the rest out as we go along. This graphic comes to mind:
Legislation with a heart.
Last week our local hospital, TMC presented a panel discussion on the impact the proposed changes to health care would have not only on their operation, but on the millions of patients and service providers who will also be affected both now and over time. Thanks to Rhonda Bodfield for sharing with me the PowerPoints some of the presenters used. I'm going to use some of their material to give a layman's description of the complex ways we will be touched by what Congress is wrestling with right now.
Water is complex. The NGS issue is complex. This is complex. All such issues deserve to have a diverse set of voices at the table working towards solutions. That's not the case presently.
These were the panel sponsors and a website you can use if you'd like to get more deeply involved in this issue. I mentioned one of the focuses of the forum was how hospitals themselves will be affected. The most obvious and immediate way will be a resurgence in having to pick up the cost for uncompensated care. This graph makes the point pretty clearly.
If they repeal expanded Medicaid, simply flip those two trend lines. TMC's estimate is they'll be hit by something in the range of $20M annually in costs they'll have to absorb. That's just data. If Congress and Trump decide to repeal, the numbers show a predictable result.
This graph (also poached from what Rhonda sent to me) shows not only Pima County (122,000 adults will be affected), but also how the rural areas across the state will be affected. When you hear experts predicting rural health facilities will shut down if repeal is achieved, this picture tells why that story is true. What you see is the percent of adults in small towns and rural areas in Arizona that rely on Medicaid. If over half of your patients lose coverage, you either provide the coverage at a loss, or shut down.
Continuing to connect the dots, if health care providers shut down, jobs will be lost. The data shown in the chart below is from the Milken Institute for Public Health out of the George Washington University. It simply shows a comparison between the status quo (keeping what we have in place) and the proposal now being discussed in D.C.
Quoting panelist Dr. Daniel Derksen (UA Cancer Center for Rural Health): "You don't save money by throwing people off coverage. That just shifts costs to individuals, families and health providers. And it worsens health outcomes."
I'll just lift wholesale this explanatory frame from Dr. Derksen's presentation and suggest that if you want to get involved on this topic, refer back up to the website shown in the opening graphic of the forum sponsors.
When I hosted a health care panel discussion at Temple Emmanuel a couple of months ago, the premise was that the issue was not going away and that we'd need to stay engaged in how it evolved. Simply put, we're seeing that prove true.
Fireworks and Pets
Chester, Winston and Milo are just chillin', but that could change during the fireworks.
Our community volunteer partners at No Kill Pima County and PACC are teaming up to help you retrieve your lost pet if that happens during the fireworks. More pets become lost on July 4th than on any other day during the year. Between July 5th and 8th, you can get some personalized help in finding your furry family member.
No Kill will have a booth out at PACC from July 5th through the 7th from noon until 3 p.m. On the 8th it'll be open from 10 a.m. until 1 p.m. Through the financial help of Fireworks Productions of Arizona, they'll have "lost pet" posters to tag your vehicle window (do not create a sight line issue for the driver), as well as guidance for helping you find your pet. Inside the kennels, if you're fortunate enough to find yours there, PACC will be waiving their fees to redeem them as long as your pet is altered or you're willing to have them altered for free.
The best situation of course is that you don't need this service. Keep your pets inside the house while fireworks are going off, have some music or the TV on to drown out the noise and keep your doggie door locked shut. But if it happens, this Lost Pet Initiative may be of value to you.
Fireworks and Fire – and the Law
Remember, not all fireworks are legal in Arizona. Maybe more importantly, all of them legal or otherwise can cause fires. It's dry outside – don't use even allowed fireworks irresponsibly.
Even though the state allows the sale of fireworks, they are illegal to use inside the city limits. All of them. Party poppers, snakes and sparklers are ok. Hhere's what is allowed:
PERMISSIBLE Consumer Fireworks:
Ground and handheld sparkling devices.
Cylindrical fountains.
Cone fountains.
Illuminating torches.
Wheels.
Ground spinners.
Flitter sparklers.
Toy smoke devices.
Wire sparklers or dipped sticks.
Multiple tube fireworks devices and pyrotechnic articles.
And here's what is illegal:
Fireworks NOT PERMITTED:
Anything that is designed or intended to rise into the air and explode or to detonate in the air or to fly above the ground, including, for example, firework items commonly known as bottle rockets, sky rockets, mortars, missile-type rockets, helicopters, torpedoes, roman candles, jumping  jacks and M-80 type ground salutes.
If you cause a fire you may be held criminally liable even if you're using permissible fireworks. You may be held liable for any emergency response that results from the use of fireworks. There are plenty of controlled shows going on around the area. I know our fire department folks would love it if you'd just enjoy those and leave the consumer products under the tents you see popping up around town. Oh, and it's illegal to sell those consumer fireworks to anyone under 16 years of age.
If you want chapter and verse on the law as it relates to fireworks, you can check ARS Chapter 36, and Tucson City Code section 11. Please be responsible. The place is a tinder box waiting to ignite.
Martha the Ugly Dog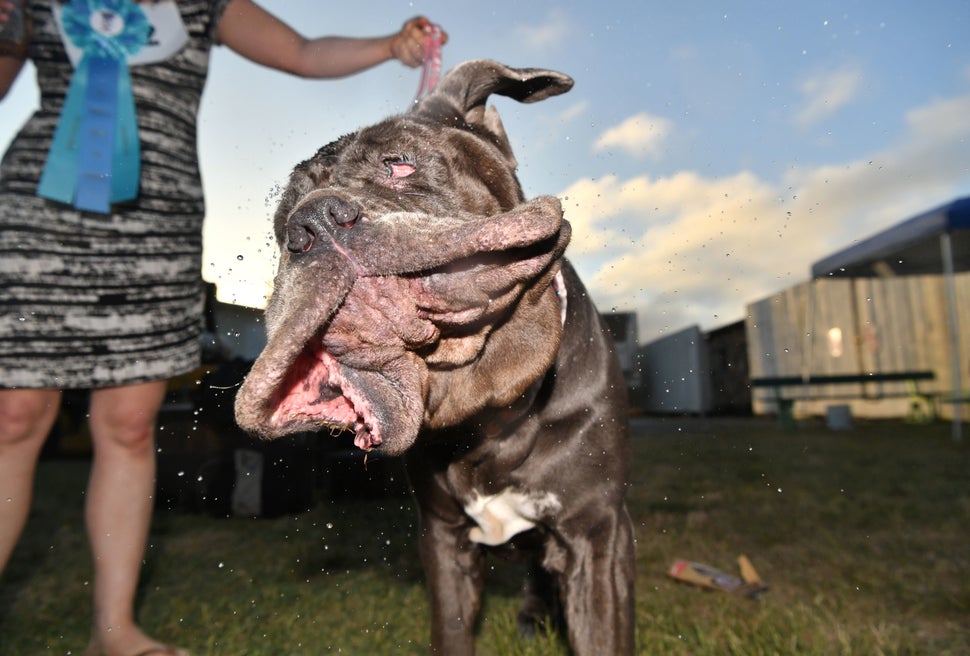 If Martha was your baby, would you go out to PACC to retrieve her if she ran off during the fireworks? Of course you would. She'd be family.
My very first girlfriend was named Martha. In this case though, Martha is a 125 pound Neapolitan mastiff. Last week she claimed the prize of World's Ugliest Dog at the Sonoma-Marin Fair. During the ceremony, Martha climbed the stairs to get up on the stage, plopped down and fell asleep. She snored her way through the judging and the cheering crowd. She'll be headed to New York for a Today Show appearance soon, perhaps as equally excited as she was at the fair.
Her 'mom' is 29-year-old Jessica Burkard. Of course Jessica will accompany her baby to New York. Maybe the best news is that, in addition to her two eye surgeries and one stomach operation, Martha has been spayed. Yes, that gene pool is now off the market.
July 4th Palo Verde Neighborhood Parade
Speaking of Pima Animal Care Center, they agreed to provide this year's Grand Marshall for the PVNA annual 4th of July street parade. You can see from the photo taken last year that it gets quite the turnout. Not to "rain on their parade," but check out the clouds in that shot. It's still possible!
The activities begin at 7:30 a.m. with a free pancake breakfast. Food including sausage, juice, watermelon and coffee is served up until 8:30 a.m. – or until they run out of food.
The parade starts right at 9 a.m. There are three ways to participate. Arrive by 8:30 with your 'float' (decorated bikes, patriotic dress, etc.) if you want to be included in the awards. If you don't care about the awards, show up by 9 a.m. and you can walk/ride the route or find a place along the side of the road and watch as it processes past you. The staging area is 3412 E. Fairmount. If you get close to the area, you'll see all of the activity – can't miss it.
If you plan on driving around the Palo Verde area on the morning of the 4th, please be cautious. There will be hundreds of people and pets on foot and on bike. I join the residents of PVNA in thanking you for being aware and considerate.
Himmel Park Restoration
I'm bracketing the Local First logo with equally local and noteworthy items. The PVNA parade is their 54th such annual event. It's tough to beat that record of ongoing patriotism and dedication to neighborhood continuity.
In addition, there's some good work being done by a group of residents who live in neighborhoods surrounding Himmel Park. They're at the front end of putting together a needs list for the park, a list that'll touch on a variety of areas.
Last week we hosted the first meeting of this group. They have formed four subcommittees, each with an area of focus. Each of the subcommittees is actively recruiting people who'd like to participate.
The subcommittees include Landscaping, Playground Equipment, Mural Art, and Amenities (items such as lighting, toilets, other infrastructure). Please contact Alison here at the Ward 6 office if you see one of those you'd like to help with.
A couple of years ago neighbors from the Sam Hughes neighborhood spearheaded the work you now see completed out in front of the Himmel Library. That was step one in the beautification for the park. The group dedicated to the rest of the restoration will very much appreciate your help if you can give some time to the effort. This is truly a regional park, used by people and groups from all over the city. You do not need to live in this immediate area in order to be a welcomed addition to the restoration group.  
Fox Theatre
On a closing note, the Fox Theatre has a great lineup of shows coming this fall and they've begun selling season tickets to the public. Some of the acts are right out of my '70s wheelhouse (Three Dog Night and Stephen Stills/Judy Collins), but they've also got Argentine tango dancing, comedy, Christmas for the kids, martial arts and acrobats from China, and a bunch more. I've spoken to their Director Craig Sumberg and he tells me their pre-sale is at a record level. That speaks to the package they're offering.
If you'd like to check the full lineup, you can see it at FoxTucson.com. Or you can reach Craig directly at craig@foxtucson.com. Either way, this is a good time to get included in their season if you haven't been for a while.
Sincerely,
Steve Kozachik
Council Member, Ward 6
ward6@tucsonaz.gov
Events and Entertainment
July 4th: 'A' Mountain Fireworks Celebration
Fireworks show at 9:15 p.m.
The City of Tucson/Pima County host the 21st annual 'A' Mountain fireworks celebration, presented by Desert Diamond Casinos and Entertainment. Enjoy the 4th of July show from the Tucson Convention Center's (TCC) Parking Lot B, which is off Granada Avenue between Congress Street and Cushing Street. The Sun Link Tucson streetcar provides convenient access to the TCC at the Cushing Street stops and runs until midnight to accommodate holiday crowds.
FREE FIRST THURSDAYS – SURF'S UP!
July 6 at 5:00 pm - 8:00 pm
Tucson Museum of Art 140 North Main Avenue
Explore TMA's six feature exhibitions, enjoy live music from the R & P Music Factory, and play beach games including corn hole and volleyball in the TMA Plaza. A selection of local beers will be available for purchase and American Flying Buffalo food truck will be serving up delicious BBQ wings, burgers, and more.
Children's Museum Tucson: S.T.E.A.M. Sundays
Sunday, July 9th from: 10:00 AM to 5:00 PM
Children's Museum Tucson 200 S. 6th Ave.
Enjoy $3 admission every Sunday during the summer, plus hear from special guests each week to share their love of Science, Technology, Engineering, Art or Math (S.T.E.A.M.) with all our visitors. Some of our scheduled guests include the Arizona-Sonora Desert Museum, Tucson Botanical Gardens, Pima Air & Space Museum, and University of Arizona Optics.
Ongoing…
"Frida Kahlo: Art, Garden, Life" Exhibit, October 10, 2016 – August 31, 2017
Southern Arizona Transportation Museum, 414 N Toole Ave | www.tucsonhistoricdepot.org
UA Mineral Museum, 1601 E University Blvd | www.uamineralmuseum.org
Jewish History Museum, 564 S Stone Ave | www.jewishhistorymuseum.org
Fox Theatre, 17 W Congress St | www.FoxTucsonTheatre.org
Hotel Congress, 311 E Congress St | hotelcongress.com
Loft Cinema, 3233 E Speedway Blvd | www.loftcinema.com
Rialto Theatre, 318 E Congress St | www.rialtotheatre.com
Arizona Theater Company, 330 S Scott Ave | www.arizonatheatre.org
The Rogue Theatre, The Historic Y, 300 E University Blvd | www.theroguetheatre.org
"Body Language: Figuration in Modern and Contemporary Art," February 25, 2017 – July 9, 2017
Tucson Convention Center, 260 S Church St | tucsonconventioncenter.com
A social walk/run through the Downtown area. Every Monday, rain or shine, holidays too! Check-in begins at 5:15pm.
A living agricultural museum and ethnobotanical garden at the site of Tucson's Birthplace (the foot of "A-Mountain"). For guided tours call
520-777-9270
.
Children's Museum Tucson, 200 S 6th Ave | www.childernsmuseumtucson.org