Topics in this issue...
Charlottesville, Virginia
This was the murder weapon used Saturday by a neo-Nazi killer in Charlottesville. We cannot allow the bigoted extreme to feel empowered by incidents such as this. Tucson is filled with a diverse mix of good and compassionate people who I know will stand against this type of hatred. I am grateful for the responsibility vested in me as an elected official to bring a strong voice of opposition to the actions we saw play out in Virginia last weekend.
In Morgantown, West Virginia last week a 65-year-old guy shot and killed his 64-year-old wife. Then he started their house on fire – while still inside – and killed himself too.
It's a pretty sharp looking house, not counting the fire damage. One has to wonder what went south in the relationship to end it like this.
The same sort of thing happened in Pembrook Pines, Florida. In this case a 38-year-old husband shot and killed his 39-year-old wife before turning the gun on himself. According to the investigation all the signs here point to domestic violence.
In Johnsberg, New York, a 76-year-old guy shot his 71-year-old brother, called 911 to announce what he had done, and then shot himself before police had a chance to arrive and intervene. In the incident report, every single nearby resident had nothing but positive things to say about the two guys.
MHST / De-escalation Training
What do I mean by not having a chance to intervene? I mean possibly getting the guy into some mental health treatment or at least having the opportunity to assess he was in a crisis situation that could be resolved.
Last Thursday, we hosted a very informative presentation from the Tucson Police Department on both Mental Health Support Team (MHST) work and the training we're giving our police officers in how to de-escalate incidents. Many thanks to Lt. Chris Dennison and Sgt. Jason Winsky for taking the time to share that work with a full community room.
Every one of our police officers goes through Mental Health First Aid training. Right now nearly 80 percent of them have taken Crisis Intervention Training (CIT) and about half of that group has been trained in advanced mental health work. It's that last group of officers you'll see if you clearly identify on your 911 call that there is a behavioral health issue involved. Providing that information is key to how TPD responds.
In Tucson, about half of the people our MHST team interacts with are familiar faces to them. In many cases they've had multiple encounters with the person and have therefore had an opportunity to put together a case management file on him or her. That informs how we treat the person when we arrive on the scene. The goal is to get them into treatment, not into jail unless criminal behavior is also a part of the incident.
If there was one single take-away from the presentation it is simply when you call 911 and you know or suspect there's a mental health component to the incident, tell the dispatcher and ask that a CIT-trained officer respond to the call. If you are in crisis yourself – or a loved one is – call the 24-hour crisis line at 1.866.495.6735.
The de-escalation presentation was a great way to show the public the kinds of training we're giving to officers, but it is also a way for the public to become involved in that training. Most of my staff has gone through the 'scenario workshop' and each came back feeling it was valuable from both the police and civilian side.
The point of the training is to help officers internalize the wide variety of factors they need to process in split-second decision situations. It's tough, never predictable, and always subject to Monday-morning quarterbacking. TPD is known as a leader in the industry in this training.
These are some of the factors an officer has to process on the spot when confronted.

It's an assessment that includes things such as the physical proximity of the subject, the size of the subject, any potential bystanders that may be vulnerable, whether weapons are involved, have all other measures been exhausted before force is applied, and what level of force is appropriate, if any, given all of the other factors. The de-escalation comes in as a way of slowing down an incident so that last piece can play out; that is, using verbal or non-verbal tactics to open lines of communication with the subject and work towards a non-physical conclusion.
We're grateful to the officers who came and shared their time and expertise. There are still opportunities for you to take part directly in their Use of Force scenarios. If you'd like to do that, contact Lt. Chris Dennison at Christopher.Dennison@tucsonaz.gov.

Since primary election ballots were mailed out last week, I'm going to use this Local Tucson item to encourage you to take part in the electoral process. This is the calendar for the primary:
PRIMARY ELECTION DAY – TUESDAY, AUGUST 29, 2017

July 31

Last day to register to vote.

August 1

Mail Publicity Pamphlet," The Choice is Yours", to all registered voter households.

August 9

Mail Vote by Mail Ballots

August 18

Last day the City Clerk can mail a replacement ballot to voters.

August 23

Voters must mail their voted ballot via the United States Postal Service by this date.

Tuesday, August 29

Voting Locations open from

6:00 AM – 7:00 PM

ELECTION DAY
Every registered voter who designated a party preference will receive a ballot by mail. If you're registered as an Independent, you must have let the City Clerk's office know which of the primary ballots you wanted in order to take part by mail. You can still go to a polling place on Election Day though.  In the general, everyone will get a ballot in the mail.
On each mailed ballot there's a listing of the candidate(s) running, and a place on which you can write-in a different choice if that's what you want to do.
There is a polling place located in each of the wards in which there's a seat open. Since we have city-wide general elections, every ward in the city will have a polling place in November and every registered voter will be mailed a ballot.
If you missed the chance to register for the primary, you can still get involved in the general. The last day to register is October 9th. We have registration forms here at the Ward 6 office and you can also register to vote online. However you do it, don't sit this one out. The work done by the M&C is too important to abdicate the choice to others.
Three More Locals
Judge Michael Pollard is being recognized by the Arizona Judicial Branch of the Supreme Court as Judge of the Year in Arizona. That's very cool for us locally. Judge Pollard has been a local icon since December 2009 – same time I was first elected - when he initiated the Veteran's Treatment Court. Through that program, vets with what are largely misdemeanor charges can go through a structured treatment program and have the charges dropped after completing it. It's a way Judge Pollard has developed to help returning veterans reintegrate into mainstream society, even where there may be minor personal issues needing some treatment.
Park Tucson Director Donovan Durband also deserves recognition for his work in strong support of our local civic events. In addition to his work for the city, he's also the current President of FEATsAZ (Festival and Events Association of Tucson and Southern Arizona). They're the clearinghouse of local civic events.
When I was first elected, Donovan was on my staff as a liaison to downtown merchants and activities. Without his work and the support from Fletcher McCusker, we likely wouldn't have seen the re-emergence of what was previously called Downtown Saturday Nights. It's now 2nd Saturday's Downtown and it brings thousands into downtown every month.
Donovan has completed a 132-page application, and submitted it to the International Festivals and Events Association, putting our name in the hopper for this year's World Festival & Event City. We should know whether the application is successful during the IFEA convention we're hosting this year out at the JW Marriott Starr Pass. That event will be September 14-16.
Finally, a hallmark of our fire chief's job has always been working in the community. Jim Critchley is now being inducted into the Arizona Fire Service Hall of Fame.
This recognition is based on a complete body of work, not on achieving a particular organizational level. Jim was President of the Western Chief's Association and through that was able to share many of our training protocols nationwide. The Arizona Fire Service Hall of Fame has been in existence since 1998. In its nearly 20 years, Jim has the special honor of being the very first Tucson Fire Chief to be inducted into the hall.
Congratulations to each of these three guys for the individual work they're doing to make Tucson a great place in these very different, but very worthy ways.
Final Local – Tucson's Birthday
This coming weekend is our 242nd birthday. There will be plenty of events going on around downtown and the west side to commemorate. The one that gets it all kicked off will be held on noon, Friday the 19th at the Southern Arizona Transportation Museum, right at our historic train depot downtown.
Jonathan will deliver a proclamation, Arturo Valenzuela will share his work on "The Grand Lady and the Old Town," and the event will include a mix of mariachi delivered by Francisco Martinez and a change of mood with the Southern Comfort Band. The master of ceremonies will be William Kalt.
Join us at the historic Amtrak depot located at 400 N. Toole. There is lots of easy parking right in the area.
Honors Dorm
We went into executive session last week to get an update on the proposed Honors Dorm to be built north of campus. While I can't write what we discussed in exec, I can express my thoughts as I shared them in open session. First, here's the motion I made which was unanimously adopted by M&C:
I make a motion to direct City staff to proceed as discussed in executive session, and specifically as follows:
a) That City staff review the drainage reports, traffic impact analysis, and similar project reports to offer comments to UA regarding mitigation measures relating to the impact of the development of the proposed Project;
b) That City staff participate in a process, to include community meetings through the CCRC, for input to the UA relating to the Project design and coordination;
c) That City staff identify on and off-site mitigation measures and negotiate with the UA regarding the UA's funding of those measures in the event that the Project proceeds in a manner that is not subject to City zoning compliance to include green space;
d) That staff makes every effort to secure the proposed agreements that will be presented to ABOR as soon as possible, so that a final determination about City zoning, including any decision on legal actions in connection with that question, can be made at the earliest opportunity.
e) That staff use any available measures to ensure that the Project satisfies all SHPO requirements relating to historic preservation;
Finally, the Mayor and Council urges the UA to work with City, CCRC and others to establish a process that engages all stakeholders for planning, coordination and construction of future projects that impact the community.
To clarify some of the acronyms:
CCRC is the Campus Community Relations Committee. It's a group that meets monthly to discuss UA/community affairs. It's made up of neighborhood representatives from areas surrounding campus, UA Community Relations staff, Tucson Police Department, University of Arizona Police Department, UA Parking and Transportation, and representatives from Banner University Medical Center.
ABOR is the Arizona Board of Regents. Ultimately, they approve or disapprove any capital spending made by the UA.
SHPO is the State Historic Preservation Office. There's an historic hospital structure standing on the parcel now programmed to become a parking lot. SHPO will require some documentation of what's there before any demolition can take place.
We have not seen the final land use agreement or management contracts. For that reason, we aren't in a position to take a final stand on whether or not we believe we have a legally defensible way of requiring it go through our rezoning process. That has been at the heart of this since American Campus Communities presented it to the neighborhood several years ago. They didn't like the response at the time and have done this end-run. Now we're faced with a possible state-owned and managed property that is exempt from city zoning.
I stated during our open session that ACC has lost credibility for the way this has moved forward. There's a lot of pressure on the UA to get this done – the proposed opening date is fall of 2019. We would of course prefer to see it move forward subject to local zoning rules. That's indeed what is promised in the campus master plan, but is not how this is playing out.
To address that last item, we included in our motion the desire to establish a binding process to guide future projects. In litigation, everyone loses. In this case I believe the UA is losing some measure of public trust along with ACC. I'm hopeful we can resolve it going forward. In the meantime, we'll wait to see what the final agreement looks like before deciding on our legal options.
Street Maintenance
On last Tuesday's consent agenda, we were asked to consider an item which would have conceded ownership of several streets - largely north of campus - to the UA. This map shows what was included:
The streets highlighted in yellow are now city owned and city maintained. They're primarily located south of Banner UMC, from Campbell over to Park, down to Speedway. Under the intergovernmental agreement we were presented, the UA would take on ownership, as well as the responsibility of maintaining them. On its face, it sounds like a no-brainer for the city.
Recall that earlier in the day we had gone through the whole Honors Dorm discussion. One piece of that project is a request that the city vacate a segment of Fremont Avenue. It's shown as #12 on the map. I pulled this item from consent for further discussion.
The simple question I raised was what is the motivation behind the UA taking on ownership and maintenance responsibilities for all of these streets? With the Honors College and Fremont Avenue as the immediate example, it puts the state in a position to combine parcels for the purpose of development without any city involvement. If there's more involved than that, it's not immediately apparent to me. I asked for the item to be continued until we can get a more clear answer as to the intent.
After the land transfer, the city would continue to operate our Residential Parking Program, with the goal of transferring all of that over to the UA over the next four years. During that time, we'd continue to receive the parking revenues from the transferred rights of way, on a shared and reducing basis, eventually ceding it all to the UA. I suppose that's fair if they are taking on the maintenance responsibility.
Refer back up to the motion I made related to the Honors College. It's all about being inclusive in communicating about land use and development projects outside of the campus boundaries. Adopting that motion and then being asked to vacate all of what you see in yellow and effectively taking ourselves out of the conversation seems inconsistent. We should see this item back sometime in September or October, after we see the final deal points on the Honors College.
Caterpillar Development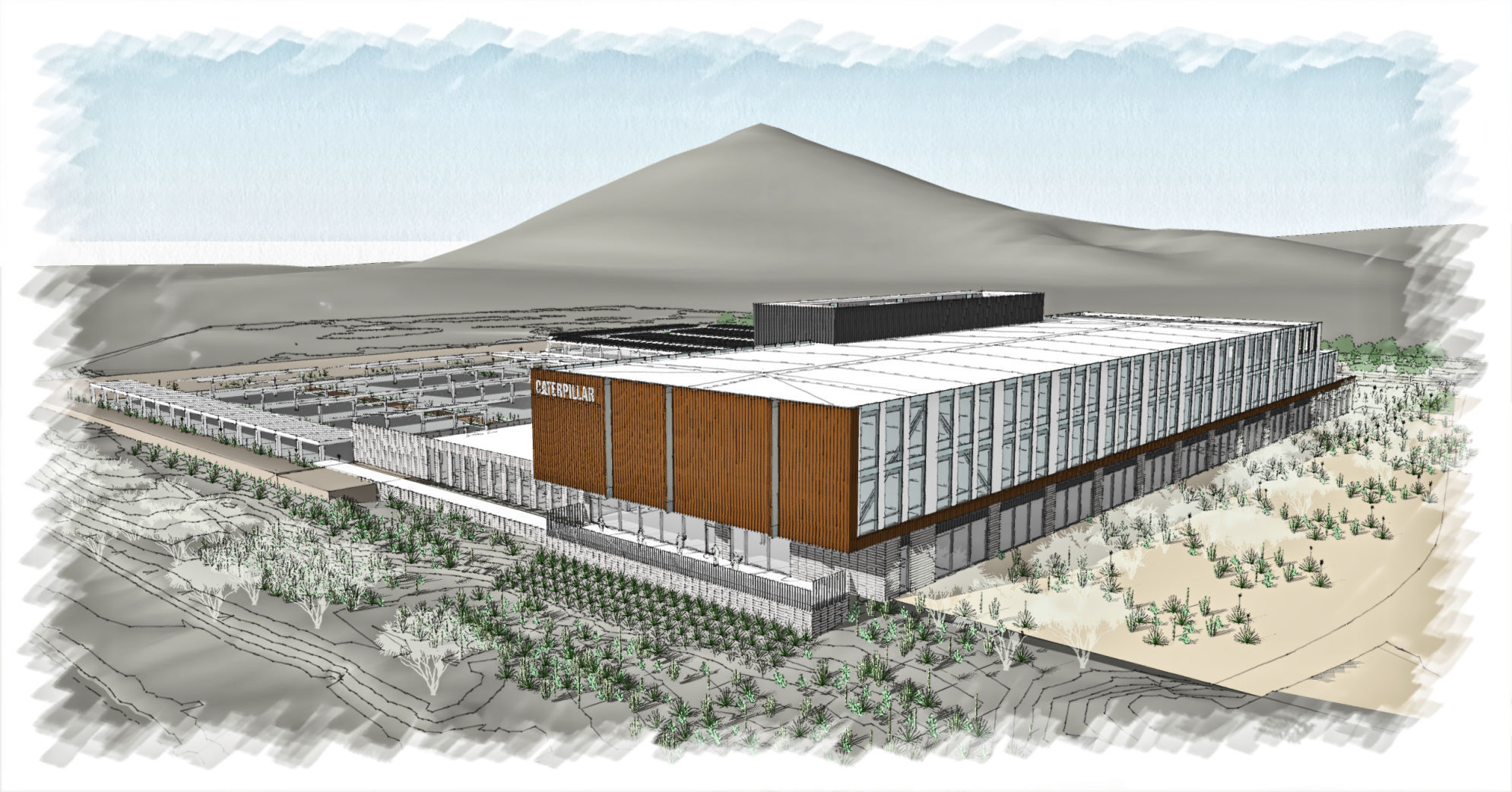 I'm taking part in candidate forums this summer and one comment I continue to hear from one of the guys running is that we "gave away a lot" in order to get Caterpiller to come to Tucson. That's simply false.
Above is the rendering released last week showing what the facility will look like when it's finally built. It'll bring in 600 new high-paying executive-level engineering positions. Rio Nuevo is helping fund the construction. The city's role is to assist with abatement of some existing landfill space, and to construct a short road extension to Cat so their employees can access the site. For what the community is gaining from Caterpillar coming to the region, that's not "a lot" to "give away." All of it was subject to a gift clause analysis – and it passed easily.
Another candidate was critical that I supported bringing the mining industry to Tucson. These are engineering jobs. They're not digging an open pit mine out west of I-10.
Welcome to Tucson, Caterpillar. Those of us who read the material will continue to help dispel the misinformation being passed around.
Boards, Committees and Commissions
I've been working with a subcommittee of Tucson Residents for Responsive Government (TRRG) for a while to come up with ways to better recognize the work done by our representatives on Tucson's boards, committees and commissions (BCCs). Last week the M&C adopted the TRRG recommendation. I believe it'll be a good way to both hear updates from the groups and thank them for their work.
Right now we don't have any standing agenda items through which we can hear updates from any of the BCCs. We have about 60 of them and we are in the midst of a process of consolidating some to make the work invested more efficient. So a part of the change we adopted is to make sure we hear from them on a rotating but regular basis.
One change is that we're going to move announcements of new BCC members up from the end of our evening meetings to item number two. In addition, we'll invite new appointees to the meetings in which they're being added as a way of thanking them for getting involved. When people agree to invest their time, they deserve to be thanked.
The other piece of this will also occur during the evening session. Right now we have an item called Mayor and Council reports. Afterwards we have a City Manager's report. We're now adding BCC reports. For that item we'll invite three of our BCCs to come and report to us on what they're working on. We'll have three per meeting, each gets a five minute block during which to present. I think this is a good way for us to stay connected with what each BCC is doing, and at the same time demonstrate affirmatively that what they're doing is of value. Good work TRRG and thanks to Jonathan for working with me on this.
Commission on Climate, Energy and Sustainability
Last week we also voted to combine the work of our former Climate Change Committee and the Metropolitan Energy Commission. In the process of consolidating and building efficiencies, looking at the similar types of issues these groups were involved in and finding a way of combining them made some sense.
Because there were valid concerns raised by members of each of the two commissions, we set in place a process by which they had a direct voice in how the merger would take place, and the scope and purpose of the new group. Over the course of nearly four months, the City Manager's office met with the groups and formed the framework for the new commission. This is a statement that defines the purpose of the new Commission on Climate, Energy, and Sustainability (CCES):
FUNCTIONS AND PURPOSES:
Advising the Mayor and Council on:
a.  The most effective and efficient methods of meeting the climate / energy / sustainability goals outlined in the City's General Plan, and  
b.  Methods for improving the City's climate and environmental impact and adaptability in its operations, and  
c.  Achieving the incremental as well as transformative systemic outcomes necessary to respond to climate, energy, and broader sustainability challenges in our region.
There will be 11 voting members on the CCES. Each council office and the mayor has a member. The City Manager will appoint four. We're looking for a balanced group with representation from areas including environmental organizations, the business community, renewables, land use, food/agriculture, the utilities, water management and transportation. It's intentionally broad in order to capture the breadth of the whole climate issue.
Last week I hosted the climate forum at Temple Emanu-El, requested the public hearing on climate during our evening session, and participated in a candidates debate focused on the climate and sustainability. There's a lot of good momentum going on this topic. I look forward to input from the new CCES as they get established.
All in all it was a good week for us in how we interact with the community through our Boards, Committees and Commissions. My goal is to enhance our work as a participatory governing body.
City Workers
It's not just community members who are partners in making the city work. We have a great staff of city employees, each of whom is committed to public service and making Tucson the great place it is to live. Last Tuesday we adopted the final form of an upgrade to the benefit plan our nearly 4,500 employees work under. One change is how vacation time is accrued and the other is a paid parental leave policy.
The vacation piece is pretty straightforward. It simply changes how vacation time is built up for individual workers. Previously our employees had to wait 10 years before seeing their vacation accrual rate increase. Now that happens as early as after the first year of employment and periodically thereafter. This chart shows the timetable:
The other change relates to paid time off for having a kid or adopting one under five years old. Our employment package is now the best in the state when it comes to this policy.
Effective September 1st, our employees will no longer have to use vacation or sick time to stay home with newborns or newly adopted children. The new leave benefit allows up to six weeks of paid time off following the birth or adoption. This is in line with what much of the private sector is already doing, and is superior to what any other jurisdiction in the state is doing.
Turnover is costly. The whole hiring process is time-consuming and the training that follows is costly. Retention is a policy goal that makes us a more efficient organization. Just as is true of the private sector, our workers have pitched in throughout the climb out of the recession. These changes to the benefits plan will help us recognize that loyalty and retain not only long-term workers as they build up vacation credits, but also younger workers who are still in the child-rearing stage and see the new parental leave benefit as a way of staying employed for the long haul.
This was a good move – one we have worked hard through the budget process to be able to afford in a responsible manner.
CAP/Lake Mead
You've seen that message in this newsletter plenty of times. It's such a key issue for us that you can plan on seeing it plenty more times. This graphic from a recent CAP news article shows why we cannot let the topic fade out of focus:
When the water level in Lake Mead drops below 1,075', a shortage will be declared. You can see how close we are right now. As I've shared many times, the two most important issues we face are our budget and water security.
Right now there's an immensely significant and almost completely unreported power struggle going on between the Ducey administration and the CAP board. I'm not taking sides one way or the other since I believe the issues being discussed are important to resolve, but they're not easy yes or no topics the way they seem to have been presented by Ducey.
The Central Arizona Water Conservation District is the elected management body for the CAP. They've been managing the canal, our water negotiations with other Lower Basin States and others. But they don't, or shouldn't work in a vacuum. The state and public need a voice. And the state has also been involved with the negotiations. The issue is too important to be done otherwise.
Recently the governor's office laid these issues on the table:
CAWCD Governance Measures
Make the ADWR responsible for forbearing diversion of Arizona's water conserved in Lake Mead (system conservation & ICS)
Subject any CAWCD agreements with other States or water users that involve Colorado River water to approval by ADWR
Prohibit CAWCD from contracting for federal lobbying services
Require the Auditor General to perform a financial and performance audit of CAWCD every 3 years
Expressly affirm through legislation that CAWCD does not have sovereign immunity
Explore ways of making the CAGRD more sustainable
Allow AWBA direct access to the water storage (4‐cent) tax
The ADWR is essentially the state. Other acronyms – ICS is an 'intentionally created surplus.' It's an ongoing conversation about how a jurisdiction or tribe retains its rights to the water it leaves on Lake Mead to help prevent a shortage declaration. CAWCD is the CAP board, CAGRD is the Central Arizona Groundwater Replenishment District and AWBA is the banking authority. The interplay between them is complex, but having them all in the Ducey list of proposed governance changes shows that no single entity can or should be managing our water security.
Ducey has formed some "stakeholder" meetings in which those invited to participate are talking about fundamentally important water issues, all behind closed doors. There aren't any publicly posted agendas and no notes shared with the public about what went on from the governor's office. The CAP is subject to open meetings so they have posted some information – which is where I got the list of demands coming from Ducey.
All of this is happening at the same time the Governor's Water Augmentation Council (GWAC) is slowly moving through a multi-year agenda of identifying new sources of water. That governor's group is made up of largely industrial and municipal members. Early in the year I co-authored an op-ed with Madeline Kiser that ran in both Tucson and Phoenix in which we joined members of the local sustainable water working group to call for expanding the membership of the GWAC to include conservation-minded groups. Those would include Sierra Club, Audubon, Watershed Management, Community Water Coalition, Climate Action Network and plenty of others. The formation of Ducey's new plenary group initially appeared to be a hopeful sign. However, the lack of transparency and the power struggle involved in setting the agenda doesn't leave me with a lot of confidence that it's what Madeline and I had in mind when we wrote the guest piece. Time will tell.
With the water levels on Mead just 4' above a shortage declaration, time isn't something we have a lot of right now. The Colorado River is a 1,450 mile long river that's shared by seven states and Mexico. Nearly 40 million people are served by it. We have oversubscribed our demands on it. Because of a wet spring, the prediction is Mead will be at 1,082' at the end of 2018. This graph shows where the 2017 inflow to Lake Powell ranks historically:
Clearly we can't count on this decent news from year to year. Look at the graph and you see that during only twice years in the 2000's did we see this level of inflow to Powell. That's the feeder source for Mead.
Last week we agreed to fund our portion of an IGA with the state and CAP to continue studying residential water demand in our Active Management Area. We began this in 2013 and the results of the research have driven some of our water policy decisions. Our $10K investment is well worth it.
We are also continuing to refine the Water Infrastructure Incentive that was on our agenda last week. It can be made to have a more robust conservation component. That's what we're after. When completed it will tie into this whole conversation of the importance water security has to us as a region, and immediately in Tucson.
This is important stuff – and not easy to keep your eye on the ball since there are so many issues in the air at the same time. I try to use this newsletter as a way to keep you (and me) up to speed on what the various actors are up to. Bottom line: each of these councils and committees needs more conservation-minded voices at the table.
Sonoran Institute
On a similar note, the Sonoran Institute is conducting a survey gathering public input on the Santa Cruz River. What do you love about it? How would you like to see it improved, developed, preserved? The Pima County Regional Flood Control District will take this input and use it to guide a management plan for the Santa Cruz. The first stretch they're looking at is between Grant Road in Tucson and Trico Road up in Marana.
Here's how you can share your thoughts. First, take the online survey at this link: www.tiny.cc/scrsurvey. You have until September 15th to complete and submit it.
They'll also be hosting interactive workshops on October 10th, 12th and 18th. In the workshops, they'll focus on specific reaches of the river. To learn more about those, check this link: www.tiny.cc/scrworkshops.
These are important ways to get your voice into the water conversation. If you'd like to connect directly with the Program Manager for this work, contact Amanda Smith at asmith@sonoraninstitute.org. She has all the background and can help you to register for any of the workshops or the survey itself.
Tucson Golf
Another area we're asking for your input on is our golf enterprise. We own five municipal golf courses which we manage through a contract with OB Sports. The financials are a mixed bag; most courses lose money, while a couple make some. But those are direct costs/revenues and don't include any wider community consideration such as impact on hotels or other tourism-related businesses.
We are in the very early stages of talking through options for the courses. Staff is offering workshops which bring in the public, walk through some of the financials and some of the options under consideration, and get your input.
We have three workshops scheduled: one out east, one midtown and one out west. Here they are:
Thursday, 8/24 at PCC east (8181 E. Irvington, Room L 101). You enter through the main entrance and go to the first room on your right.
Thursday, 8/31 at the Randolph Golf Complex (600 S. Alvernon). We'll be using the Copper Room.
Thursday, 9/7 at the TCC (260 S. Church). We have the Apache-Cochise Room booked. You'll be given free parking in Lot A off Church St.
Each meeting will be held from 6 p.m. until 8 p.m.
Helicopter Parenting
Doesn't that young mom look just thrilled to have her litter clamoring for a "seat at the table?" Note to daughter: be happy you're not a dog…
(Photo courtesy of The Seeing Eye)
It wouldn't be a complete newsletter without some mention of dogs and puppies. Emily Bray from the UA School of Anthropology shared research that shows the impact of "overly attentive mothers" (dogs in this case) on the ability of their pups to be self-reliant and able to make independent decisions later on.
The point of the picture is that the researchers found one indicator of how well the pups would later do in independence and decision-making is whether they had to work for their food versus just belly-up and go for it. I'll get back to that.
The researchers used the phrase "helicopter parent" to describe one who insulates their kids from any adversity. That discourages independence. They used dogs in their studies and found that the doting mothers seemed to handicap their puppies from later successfully completing a training program to become guide dogs.
The study, published this week in Proceedings of the National Academy of Sciences, was conducted at The Seeing Eye, an organization in Morristown, New Jersey, that breeds, raises and trains dogs to guide visually impaired people. Emily's goal was to see how being challenged at an early age translated later into the ability of a dog to take on the service dog training. She says in her report, "You need your mom, but moms that are too attentive don't give their puppies a chance to respond to small challenges on their own." That hurt them in the training.
Being a guide dog is tough. They need to be willing and able to navigate an unpredictable environment, while remaining obedient and responsive to the owner. They tested a lot more than just the nursing position of the mother, but there they found dogs whose mothers nursed lying down, as opposed to sitting or standing up, were less likely to succeed in the training. When they have to work for their food and figure out how to get "access," they tend to develop more problem-solving skills later on.
They also tested temperament, cognition and problem-solving skills. The general message coming from the research: if you're a dog, and you want your kid to grow up to be a service dog, don't be a helicopter parent. Beyond that, it's your call on whether or not to extend the application.
Blood Drive / Shred-It
We've decided to double-dip on the Red Cross Blood Drive event. The flyer for that has all the information you'll need. Most important is to register ahead with Alison so we know about staffing needs.
On that same day, from 9:30 a.m. until 11:30 a.m., we're hosting a shred-it opportunity. Look out for more details in an upcoming newsletter, but take note of the date and times if you have documents lying around your house that need to be shredded.
Sincerely,
Steve Kozachik
Council Member, Ward 6
ward6@tucsonaz.gov
Events and Entertainment
Celebrate Tucson's 4000+ Birthday at Mission Garden. Spend an evening in the Garden with traditional foods, drinks and birthday cake.  On August 20, 1775 Hugo O'Connor, Commandante Inspector of the Spanish presidios along the northern frontier of New Spain, selected and marked the site for a new presidio at San Agustín de Tucsón, even though Chuk-shon had been a farming settlement of O'odham and their ancestors for millennia.
Join TEP in celebrating its 125 years of service in Tucson with Solar Saturday! Kids and adults can engage in the interactive, hands-on exhibits that bring science to life! Visit TEP's solar-powered trailer to learn about solar energy systems, and learn all about the upcoming total solar eclipse on Aug. 21!
Ongoing…