Topics in this issue...
Tucson Be Kind
So begins the new opening of my newsletters. It qualifies for this week's Local Tucson item too.
As I mentioned last week, it's my hope to bring a weekly example of some simple act of kindness I see or am made aware of around the community – or nationwide if something particularly strikes me as noteworthy. For this first week, it's the event we held at city hall last Thursday when we unveiled the new Tucson Be Kind mosaic you see in the image. It's now hanging in the entryway to council chambers.
I
'm very grateful to the many people who took part in the event. We had State Representative Randy Friese, Pastor Grady Scott, Director of the Jewish History Museum Bryan Davis, Adam Ragan from Southern Arizona AIDS Foundation, Sacred Space founder Reverend Teresa Cowan Jones, Bishop Gerald Kicanas, Pima County Supervisor Richard Elias, Sat Bir Khalsa representing the Sikh community and the Culture of Peace Alliance, Mahmoud Abagi from the Islamic Center of Tucson, Mary DeCamp who was an inspiration to the project from the outset, TPD Chief Chris Magnus, Kimas Foundation director Jan Vasilius, and Ben's Bells founder Jeanette Mare.
Nearly 100 of you were there to hear the speakers share what Tucson and kindness mean to them. It was a very Tucson event, one I was proud to be involved in. It made me proud to represent this city in a leadership role.
In the immediate aftermath of some rather ugly displays of hatred around the country, this was our opportunity to show that those are not Tucson values. As I said in my opening remarks, we are greater together as the sum of our diverse parts.
Now, when you enter council chambers you'll be reminded that kindness is a Tucson value. Thanks to Colleen Conlin, all of the volunteers who shepherded this project through to completion, and to all of you who came out to participate in the unveiling event. Thanks to our own Caroline who baked up four dozen Be Kind cupcakes for the crowd. We're grateful to city staff for working with me throughout the planning of this event. It was admittedly a bit out of the norm, but hey, if we can do something that helps make kindness the norm, it was worth the effort.
Gallery Chats
Along that same theme, I've shared announcements for Gallery Chats before. This one is timely with the issues we've read about in the news recently and our kindness event.
On Friday, September 1st over at the Jewish History Museum, our own Tucson Poet Laureate TC Tolbert will be featured in their new exhibit. The title of the presentation is "Invisibility & Resistance: Violence against LGBTQIA+ People." It's in keeping with the museum's focus on human rights.
This is the first Gallery Chat for the 2017-18 season at the museum. They begin shortly after 11:30 a.m. and generally last about an hour. Of course they're free and everybody is welcome. It'd be great to see you there on Friday.
 

Half-Staff
…But the week didn't slip by without any gun deaths involving regular folks who would not otherwise receive the half-staff recognition of respect.
Two men are dead from a shooting that took place in Greensboro, North Carolina last week. The shooter was arrested the day after the incident. Dead are his father and a family friend. The investigation as to motive is still ongoing.
The police report from a tragic Bloomington, California incident last week lists the following characteristics:
Shot - Dead (murder)
Suicide
Murder/Suicide
Child Involved Incident
Child killed (not child shooter)
Domestic Violence
A six-year-old kid, an eight-year-old kid, their 35-year-old mother, and 43-year-old father were shot dead in the incident. The guy evidently shot his family, set their house on fire, and took his own life. Firefighters found the four bodies inside as they extinguished the flames.
Just outside of LA, a guy shot his wife, abducted his nine-year-old son and fled. He deposited the kid at a friend's house and was ultimately shot and killed by police.
Each of these incidents involved family members. Two were domestic violence. All are tragedies.
Last week I gave a rundown on the Arizona State Supreme Court ruling on our policy of destroying guns. One piece of the state's argument was that by breaking guns, too few were in circulation, which drives up cost counter to the Second Amendment. I didn't say I agree –that's just what the state argued.
To make sure we end up with plenty of guns on the street, the NRA posted this announcement last Thursday:
Terribly sorry if you missed out, but I suspect they'll repeat this swell giveaway next year, if not sooner. This is one more piece of evidence that the state's concern that we're under-armed out in the street is foolish.
Star Guest Piece
On that issue, the Star ran a guest piece last Wednesday that I wrote in response to the court decision. I'll just let it speak for itself in case you missed it:
The Arizona Supreme Court ruled last week that the city of Tucson ordinance allowing for the destruction of guns that are either turned in by the public or come into the city's hands through the court system is pre-empted by state law.

The decision was hailed by Arizona Attorney General Mark Brnovich as a "huge victory for the rule of law." In fact, it represents a real and imminent threat to the ability of jurisdictions to make and enforce laws that reflect their own local values.

The court decision shows what results when all three branches of government at the state level are controlled and driven by a common ideology. Arizona is not alone. Republicans control both state houses in 32 states, and the governorship in 25 of those. Add to that in our case an attorney general who swings far right, and the fact that Gov. Doug Ducey recently packed the Supreme Court with two new judges that fit his ideological bias, and the table was set for this attack on home rule.

The actions we've witnessed in this case, as well as with similar examples across the country, highlight the empty rhetoric behind claims from Republicans who champion the notion of local, decentralized control. House Speaker Paul Ryan is quoted as having said, "Government closest to the people governs best." And yet in Missouri, we see an effort to restrict St. Louis from enacting an ordinance banning employer and housing discrimination against women who use contraception or have abortions. The governor calls St. Louis an "abortion sanctuary city."

In Alabama, Birmingham is fighting against a state effort to ban cities from setting their own minimum wages. And in North Carolina, their so-called "bathroom bill" was an effort to end a local Charlotte ordinance that added gender identity to the city's non-discrimination policy.

The Ducey/Legislature/court trifecta is acting in concert with efforts to eviscerate local decision-making that reflects the values of local areas.

The Arizona case was grounded on a law (SB1487) that places a city's state-shared revenues at risk. It gives any state legislator the ability to petition the attorney general, allege a local ordinance may violate state statute, and if the AG feels it might, he can authorize the state treasurer to begin withholding state-shared revenues until the jurisdiction repeals its ordinance.

The ruse that the law in question must be of statewide concern was exposed for what it is in the court briefs. Justice Clint Bolick — fresh from the Goldwater Institute — made it clear his guiding philosophy is that Charter cities are authorized to decide how to hold their own elections, but beyond that, what the state says is controlling. The court concedes the "obvious takeaway from Justice Bolick's concurrence is this; assuming it is constitutional, a state statute on any particular topic will always trump and invalidate a political subdivision's."

The court admitted one piece of SB1487 might be unconstitutional. That is the requirement that a jurisdiction post a bond in order to come before the court. In another context, those filing fees were called "poll taxes."

Dating back to the days when hooded and robed masters tried to keep their slaves from voting, they were found to be unconstitutional.

The Arizona Supreme Court's robed masters simply told the Legislature to go back and fix this flaw in its law.

The result of the court decision is that the city of Tucson is compelled by the state to become its arms dealer, regardless of the desires of individuals who would have us dispose of their unwanted weapons.

So much for civil liberties, another alleged hallmark of the Republican right.

No, Mr. Brnovich, this was not a great victory for the rule of law.

It was an affront to the rights of the people to self-govern. And it exposes the ideological hypocrisy that exists within each branch of the state government, not only in Arizona, but across the nation where we see this encroachment on home rule becoming the norm.
Stolen Travel Trailer
Last Saturday night this travel trailer was stolen from in front of a home in midtown. If you see it, or have any information related to the theft, please call 911, 88-Crime, or the ward office (791.4601) and share what you know. Thanks – neighbors looking out for neighbors.
Downtown Revitalization
At each of the candidate forums I participate in, I reiterate that we have a good story to tell about the turnaround we've in our local economy over the past eight years. When I first took office we faced a $40+ million deficit and the recession was a drag on our ability to advance. Through the hard work of the M&C, city staff, and our partners in the private sector, that's no longer the case.
We have what's called an enhanced services agreement with the Downtown Tucson Partnership (DTP). It is our contract with them through which they take on the responsibility of certain security and cleaning tasks around downtown. In addition, they are our direct marketing arm to downtown businesses.
Last week the DTP issued their current strategic plan. The plan gives a snapshot of where we are in terms of development. This is just for the downtown area – things are also advancing well citywide.

That graphic comes directly from the DTP plan. It shows without question the progress we're making. Those are private sector projects, each of which will generate tax income we need in order to provide core services. Some of the projects cited are Caterpillar, City Park, the Cathedral Block project, Holualoa housing, La Placita renovations, 7th Avenue Commons, work on the Westerner, and obviously plenty more.
I opened with the Be Kind message. It's somewhat in response to the negativity we hear too much of these days. There are still a few who continue to ignore the good things that are taking place throughout Tucson and the region. That tired mantra of negativity does not reflect the work many of us have invested in turning our local economy around.
There's more to do – there always will be – but I wanted to share these facts and figures with you as a way of advancing the positive message we can and need to continue telling. We're making great progress coming out from the recession. As that continues and as our tax revenues continue to improve, our ability to fund services on a wider scale throughout the city will likewise improve.
We have a good story to tell. I'm happy to share some of it through the newsletter.
Hotels
Next month you'll see the grand opening of the AC Marriott hotel downtown. They could have taken that brand anywhere in the world. They chose us.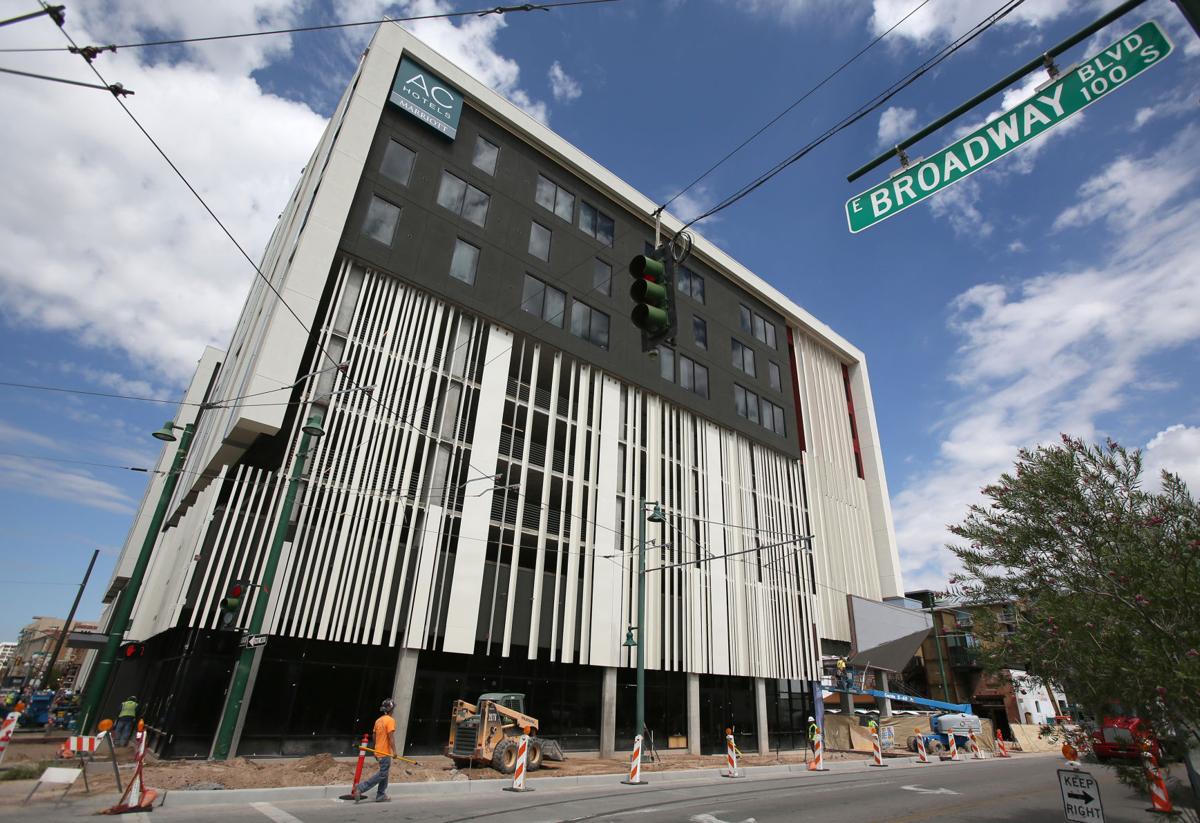 (photo credit Rick Wiley / ADS)
When I was first elected in 2009, you may recall there was talk of the city back-stopping $200M in bond debt in order for us to build a 300-plus room hotel with price points far exceeding what the Tucson market will bear. At the same time Phoenix was entering a similar agreement. They're now trying to sell theirs at a huge, multi-million dollar loss. We dodged that bullet by saying no to the developers who were on a nationwide traveling fleece show.
There will be about 130 rooms in this limited service hotel, at price points much closer to what the Tucson market will bear. There'll be new commercial amenities that all downtown visitors will be able to take advantage of. The guests will support our downtown businesses. It all works together when you develop incrementally, instead of taking on unjustified debt and hoping "they will come."
As the AC is being finished, we're involved with talk for another 100-plus room hotel up the street. It's also tied to the Marriott brand, called Moxy. When we carve out the deal with all parties, the new hotel will be located on top of the Depot Plaza garage. We hope to have this one under construction next year.
Add to that the ongoing exchange we're having for a new hotel that will be located at the southeast corner of the Tucson Convention Center. This one, proposed by Caliber Hospitality, will have another 120 rooms. Again, they'll hit Tucson price points. Since Rio Nuevo owns the TCC (we lease it from them), they're doing outreach to neighborhoods to show some very early renderings and talk about issues like traffic, massing, and parking that we'll hammer out later in the process.
One of the interesting pieces of this project is its location. Back in 2009 when I was first running for office, I remember holding a press conference across the street from where they were breaking ground on a new "east entry" to the TCC. The new entry was touted as being in support of the proposed hotel, despite the fact that the hotel had not been approved yet, and that the hotel they were talking about was to go on the opposite side of the TCC. Now we finally have a proposal for a hotel that might actually make good use of an east side entry and will be paid for with private dollars.
Rio will host a neighborhood presentation on the Caliber project this Wednesday, August 30th at 6 p.m. The meeting will be held at the TCC in the Apache Meeting Room. There'll be free parking in lot "A." The originally proposed location of the hotel is changing, so new outreach is required.
I'm also told the Hotel Arizona – owned by HSL Properties – may be getting close to ratcheting down their ask in terms of incentives so the package might make more sense for us to consider. They've made an early proposal to Rio, and will likely follow up with us soon.
If all of those rooms are built, we'll be bumping 650 new hotel rooms in the downtown core since my 2009 election, and since my 2010 work to stop the city from getting in bed with the Garfield-Traub development team that was pushing us towards their hotel. We made the right decision to step away from that – we're making these new deals in ways that catalyze private sector investment, to the greater good of the entire community.
Tourism is enhanced as we build new hotels in our central core. Tourism is a key economic element to our local economy. As I mentioned above, we have a good story to tell. These projects, along with our healthy partnership with the DTP and Rio Nuevo are all chapters in that story.
Breast Cancer Fundraiser
I hope he won't have issues with me calling him this, but my friend Dave Fitzsimmons is hosting a very important event over at the YWCA. It's a fundraiser and informational event related to breast cancer research and will be held on Friday, September 22nd at 7 p.m.
Dave lost both his mother and sister to breast cancer. This is a very personal issue for him, thus the passion he'll bring to emceeing the event.
In addition to Dave telling his own story, there will be five other speakers who will each share perspectives on this widespread and horrible cancer. They'll also offer some amazing local pastries.
This event will sell out at $15 per ticket. You can take your chances at the door or email Dave at dwfitz@tucson.com and he can get you hooked up with tickets ahead of time.
Sacred Space
You've seen that logo in the newsletter several times in the past. While I'm promoting upcoming events, I'll do a plug for next week's Sacred Space meeting, Sunday at 4 p.m. here at the Ward 6 office.
The speaker will be Pam Hale Trachta. She'll address the theme, "Aging as a Spiritual Art." Pam has been through breast cancer treatment and will be speaking from the perspective of her own healing experience. That disease touches so many families, doesn't it?
They've given me the opportunity to share some music again. So please come and enjoy some down-time with quiet acoustic guitar and then Pam's teaching. This week will be their monthly potluck, so if you hang around after the meeting, dinner's included in the mix.
Miramonte Bike Route
Several weeks ago, TDOT staff installed some traffic diversion elements at Richey and 3rd Street. Third is one of our major bike boulevards and the goal was to slow traffic and make the street even safer for bike riders and pedestrians. All great intentions. The traffic diversion elements were installed on a pilot basis.
The purpose of the trial period was to gather citizen input before deciding whether or not to make the change permanent. Staff received considerable feedback – largely in favor, but some significant push-back as well. Some people reported increased stop sign running, and others reported drivers were going the wrong way around the new barriers to avoid them, putting themselves into a head-on position with oncoming bikers and cars.
It's not uncommon for people to assume a pilot project is automatically going to become a permanent installation. That's not the case with this project. Staff has now removed the barriers and will be circling back with the residents from the area to talk about possible alterations to what was tried.
There will be a meeting here at the Ward 6 office on September 13th at 7 p.m. to review the project. Staff will present their findings and then we'll just take input. If you travel that bike route or live in the area please come and participate in the discussion. Your input is important as we work towards solutions to make the bike boulevard system safer for all who use it, while minimizing the burdensome impact to drivers and homeowners in the area.
More TDOT
In the past several months I've been working with TDOT staff on several safety-versus-engineering items. Last week we had what I considered a very productive discussion in which we came to agreement on some of the items.
As we see with the evolution of the Broadway widening, there's often a disconnect between advocates of certain roadway amenities and traffic engineers. That's only a reflection on the fact that the groups are often reading different manuals, each written from differing perspectives. Both contain important viewpoints.
I'm including this item here because I know many people who read this newsletter are the same ones I've exchanged emails and phone conversations with on some of this stuff. So this is a general informational update to that group and a way of sharing more widely what's being kicked around. Traffic and pedestrian/bike safety is something that impacts us all.
This won't be full of details because the conversation is still evolving. But there's enough agreement to share these updates:
Protected Left Hand Turns – The equipment needed for the pilot program at Speedway and Campbell is being purchased. Traffic counts are about to be made to form a baseline set of data. Expect the change to be made around the end of the year. It will mean you may only make the left hand turn on the green arrow.
 
Crosswalks – The trend at TDOT is to avoid replacing a painted crosswalk at non-signalized areas once they're taken out due to repaving, or they simply wear away. The phrase used is that they're concerned a painted crosswalk gives pedestrians a "false sense of security" and the hope is they'll instead go to a major intersection to cross. I know we've had this conversation with many of you. If you're used to crossing in a particular location and then see the crosswalk eliminated, it's troubling and the reasoning isn't well-received. I was able to work towards a possible compromise at a couple of these locations whereby we'll repaint the lines, but also install pedestrian signage warning peds to be cautious of all lanes of traffic and not assume a stopped car in one implies the outer lane is safe to enter. The manuals do not say, "Don't repaint the lines." What they say is to add elements to the crosswalk to make it safer. That's the goal.

One element proposed by a group from a midtown neighborhood is called a "rectangular rapid flash beacon." It goes on the ped crossing sign to further alert drivers of the crosswalk. What's good about them is that the flashing lights are activated by the pedestrian so they're immediately engaged in what's going on. They still need to wait for a safe crossing opportunity, but aren't inclined to just enter the crosswalk as soon as they see a light flash, which we've sometimes seen with our HAWK lights.

The issues we'll continue to work through are TDOT's concern over "sign clutter" and the cost of these beacons.
 

Speed limits – There's a rule called the 85 percent rule. What it says is that if 85 percent of the drivers are obeying or are close to obeying a speed limit, it's likely the right speed for that location. Dropping it will induce violations. In cases where I've been working with some of you to reduce speed limits, staff has used that rule to push back. I shared with them a very current study in which the 85% rule was called into question. Staff is concerned that if we eliminate that as a standard, they'd have nothing with which to replace it. So this one's still in the negotiating stage. But in the case of certain stretches of Columbus – a road that has generated quite a lot of input over the past couple of years – I believe staff has now agreed to drop the speed to 30 mph consistently, eliminating the varying speeds that are now in place. This is a compromise. Some of you wanted the speed dropped down to 25 and others want it to be 35. Having found a good middle ground is some level of progress, for which I'm grateful to staff
We are under federal scrutiny for the number of pedestrian/bike fatalities we suffer each year. In total fairness to drivers, many of the fatalities are not the fault of the person driving the car. When we make changes to rules of the road such as I'm sharing here, it's important to remember, and to remind us all that whether you're behind the wheel of a car, on a bicycle or walking, the rules of the road apply to you equally. Be safe and considerate.
22nd Street & Houghton Public Hearing
I know that many of you are investing time on the proposed rezoning of 16 acres out on the east side for a Fry's commercial center. The public hearing on the rezoning was scheduled to be held during our next council meeting.
It has been postponed.
There was an issue with how the notice was provided for the Zoning Examiner public hearing that was held back in April. That means they'll have to redo that hearing and then reschedule the Mayor & Council public hearing (assuming it's appealed to M&C). The new Zoning Examiner hearing will be held on October 19th in council chambers. As of now, assuming normal timing on how the ZE recommendation is given and an appeal is filed, the new date for the M&C public hearing will be November 21st. I just wanted you to know so you don't make an unnecessary trip down to City Hall next week for this.
Medical Stuff
First, here is reminder that we're bumping up against the Ward 6 Red Cross Blood Drive. Alison is compiling the RSVPs and putting together the general schedule for the day. Please give this some thought. With the hurricane that's hitting Texas and the Gulf Coast, the needs will certainly increase exponentially in the immediate term. As an added incentive, everyone who takes part will be given a $5 Target eGiftCard.
I know $5 isn't a game changer, but if you needed that one last nudge, we're tossing it into the mix.
Second, I received word last week that in the first week of class on the UA campus, they've already seen multiple cases of the flu. Like I tell my staff all the time, if you even think you have the sniffles, do not come to work and spread your germs around. Now with the flu hitting the city, it's even more of an urgent message.
By way of reminder, flu symptoms may include:
Severe body aches
Fever
Fatigue & Weakness
Headache
Dry Cough
Sore Throat
Running nose
I'd add that if you have appointments here at the Ward 6 office and you've got any of these symptoms, please call and reschedule. Stay in bed, get well, take care of yourself, and take care of those around you.
Luminous Creatures
This guy lives way below the surface of the water off Monterey Bay. That's just 60 miles south of San Francisco.
In research that began as far back as 1932 and continues today, these sorts of luminous sea creatures are found to be the norm, not the exception way below the surface. In fact, in work published this year in Scientific Reports, marine biologist Severine Martini found that 76 percent of the creatures living half a mile down have their own built-in lighting systems. The colors include pale greens, blues, reds and blue-greens. Here are some images I pulled from the report:
They conducted 240 research dives, often using robots lowered on long tethers, and recorded every occurrence and kind of glowing fish they found. They had over 350,000 sightings. While they appear exotic to us, the sight is common down there.
Ward 6 does not extend half a mile below the surface of the Pacific Ocean off the coast of San Francisco. So what's the connection?
Ryan Zinke is the Trump administration's Secretary of the Interior. Acting under the direction of the president, he has now made a series of recommendations related to redrawing boundaries of previously designated national monuments, some of which are off-shore in the Pacific. They're also moving forward with the approval of more off-shore oil drilling. The attitude behind the changes was captured in this comment from Utah Republican State Representative Mike Noel:
"When you turn the management over to the tree-huggers, the bird and bunny lovers and the rock lickers, you turn your heritage over."
He was addressing the national monument designation now under review for Bears Ears in Utah. Clearly his goal is to reduce the boundaries.
You and I very likely won't ever get to see the sea-life Dr. Martini has discovered. It'd be nice though if it didn't end up as collateral damage to a drill rig. That doesn't even address the issue of pollution and the impact it would have on their viability.
Parts of our Sonoran Desert are also under review for being delisted as national monuments.
Bringing that water message home to a directly Ward 6-related issue, I told Max Darrow from KGUN9 during a candidate interview that the two most important issues we deal with at the council are budget and water security.
Remember the bathtub ring on Lake Mead. Through our conservation efforts and work to keep some of our allocation on the lake, we won't face a shortage declaration this coming year and likely not next year either if we keep at what we're doing. But the fact that we are facing real and incontrovertible environmental challenges such as this makes the comment by Noel beyond astonishing.
For the record: Yes, I enjoy seeing the bunnies hopping around in the morning while out running. I hope Mr. Noel doesn't find that as offensive as I find his statement to be.
City Council Primary Elections
Final reminder: If you haven't mailed in your ballot yet, you can still carry it to one of four polling locations.
The Tucson City Clerk Elections Center, 800 E. 12th St
The Donna Liggins Rec. Center, 2160 N. 6th Ave
The Randolph Park Admin. Building, 900 S. Randolph Way
The El Pueblo Senior Center, 101 W. Irvington
Each of those locations is open until 7 p.m. on Tuesday. Please don't sit this one out.
Sincerely,
Steve Kozachik
Council Member, Ward 6
ward6@tucsonaz.gov
Events and Entertainment
Antique, vintage, and collectible book fair benefitting Tell Me A Good Story educational nonprofit. Foothills Mall north of movie theaters. 10am-9pm, Sunday & Monday  11am-6pm.
Light The Sky is a lantern festival that celebrates the good within all of us. It's a reminder that together we're part of something greater than ourselves. Some come to commemorate loved ones who have passed.  Others come to celebrate a positive change or to commit themselves to achieving a goal. Whatever your reason for joining us, you will gain an incredible life experience!
Ongoing…