Topics in this Issue...
In Tucson last weekend, a bar fight turned fatal. Out at the Lazy V bar, one guy is dead and another wounded from a gunfight that occurred out in the parking lot. The Pima County Sherriff's Department is investigating.
In Oregon House, California last week a guy who was stealing pot plants from a Rastafarian Church farm got into a shootout with police who were investigating the incident. Two of the officers were injured. The guy who was ripping off the dope was killed. However, as I'm writing this, authorities haven't determined whether it was self-inflicted or if one of the officers killed him during the exchange of fire.
In South Bend, Indiana, a guy who is a suspect in seven robberies in two states was arrested for killing two people and wounding two others. The shooting took place during the bust of a meth lab. The dead guys were 25 and 29 years old. Tragic.
This one is especially sad for me. In Carmel, California, police found a 90-year-old guy and his 88-year-old wife shot in what was an apparent murder/suicide. Records show that she was in failing health. He evidently took her life (spared her ongoing agony?) and then ended his own too. 
I'll take this moment to remind you of the forum I hosted along with Compassion and Choices last year. It has to do with end of life medical interventions. Other states have enacted laws to allow for that. Arizona still has not. If you'd like more information about their work, go to www.compassionandchoices.org. 
Police De-escalation Training / Mental Health Interventions
Please remember to mark your calendar and join us here at the Ward 6 office for the presentation by TPD experts in both de-escalation tactics and mental health interventions. 
TPD is now hosting the public out at the police academy for a series of scenarios in which police show their training in de-escalation, using real-time, real-life examples of incidents. The people I know who have taken part are impressed with the challenges our cops face every day. The de-escalation portion of the presentation here at the office will bring some of what they're sharing at the academy and offer it to you. 
Our Mental Health Support Team (MHST) is trained in working with suspects who are experiencing mental health issues. The goal is to get them to treatment and to avoid incarceration if possible. The MHST team will be here to talk to you about the role you can play and what you should be looking for when you sense a situation may need this sort of intervention.
The event will be held here on Thursday, August 10th at 6 p.m. It'll be both interesting and instructive. I hope you can join us. If you're a member of the media, send a crew or reporter. This is information you should help to disseminate into the wider community.
Genna's Law
Last week I included a short remembrance of Genna Ayup. She was killed in what was called an accident. There was drinking involved. At the time, the state considered adopting what was dubbed Genna's Law to make it a criminal violation to be drinking while operating a weapon – same as while operating a motor vehicle. By way of reminder, this was what was proposed:
The penalty being proposed was this:
The state failed to adopt that standard of gun safety. Perhaps this term they'll see the wisdom in separating alcohol from handling a loaded weapon. In the meantime, we'll keep hoping the system hasn't given up on Genna.
Santa Cruz County Jail Board
When we send a prisoner to the Pima County jail, it costs us $299 for the first day and $89 per day thereafter. The first day is higher because it accounts for booking costs. Last year, as a cost saving measure we began an arrangement with the Santa Cruz County jail. On Tuesday, we'll be voting on whether or not to extend that agreement.
At Santa Cruz our agreement is to send them prisoners who will be staying a minimum of 10 days. For the first day we'll be charged $65. For every day thereafter, we'll also pay $65. With our agreement in place last year we saved just under $150K versus what we would have paid for the same 6,000 inmate days if they had stayed in the Pima County jail. We anticipate a similar savings this year, assuming the M&C vote to extend the deal. I'll be in favor. The jail conditions are acceptable in Santa Cruz County and the savings can go to good use in our challenged budget condition. Yes, we're structurally balanced. Looking for efficient options like this is one reason we got to this point.
When we began this arrangement last year, some of us were concerned it would hamper our ability to forge positive relationships with Pima County. But the reality is they don't look at jail board management as a business the way a private prison company does. We're essentially paying them their costs. By moving some of that burden down to Santa Cruz County, it's not "stealing their business" as would be the perception with say a Corrections Corporation of America. We're in fact taking some of the strain off their resources. The deal is a good one for everyone involved. I look forward to M&C unanimously approving its extension. 
Gas Pump Rip-offs
On a final public safety note, please be careful when you're filling up your car or truck at local gas stations. People have had their checking accounts drained by thieves who capture private credit card information at the pump.
The gadget is called a "skimmer." Phoenix Shell stations have been hit particularly hard. There have been issues here in Tucson too. 
Last week a TPD contact shared that four local vendors are taking particularly effective steps to guard against skimming. Those include Costco, Fry's, QT and Sam's Club. Other places, be cautious. The recommendation is to never enter a PIN number into the gas pump. Run the purchase as credit, not as debit. The people compromising the pumps grab your account information, empty it and leave town. The withdrawals are largely taking place at ATMs and in cashier lines at grocery stores. Make sure you check your statements regularly and report any oddball entries to TPD. Sad, but true – it's the times we live in. 
Boy Scouts of America
Last week there was a flurry of media activity surrounding Trump making what many thought were inappropriate remarks at a Boy Scout rally. He certainly had the right. The question is was it the right place and time?
This is the "Scout Law:"
I understand that's for the kids involved and the president isn't subject to their rules. I get it. Locally, this license plate is being driven around town:
Note the Scout emblem on the left hand side of the plate. I wonder if the Scout leadership would feel about this somewhat the same way they feel about Trump politicizing their rally – time/place/manner/propriety? Some would just say the plate isn't cute. I'd join them in that.
Protected Left-Hand Turns
I'm grateful to TDOT staff for their work in putting together the pilot study on use of Protected Left-Hand Turns for Tucson. While I would have preferred to get more than a single major intersection included in the study, getting the process started is, well, a start.
To refresh you, a "protected left" is where left hand turns occur only on a green arrow. Most of our major intersections now have a green ball that allows you to creep out into the intersection and turn if a gap exists in oncoming traffic. There's not a single study I've seen that says that's safer than the protected left. The objections are to shortening the through-cycle and the fear that shorter cycles will result in congestion. Maybe in Ankara, Turkey, where they have these conditions: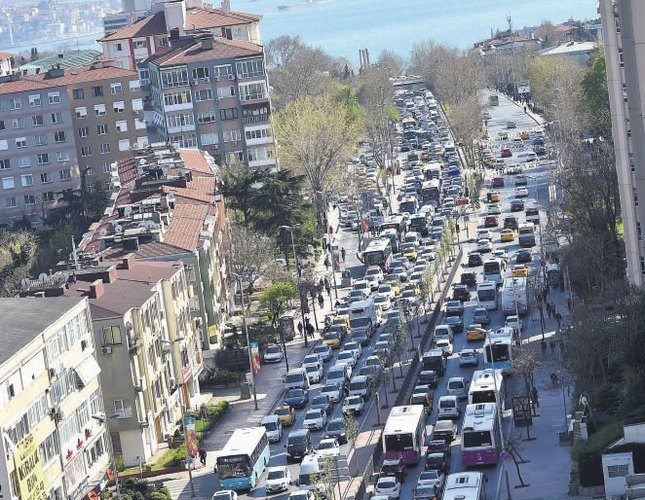 Here, well this may be more to the point for the vast majority of the time on our roadways.
After our initial meeting on this item, staff committed to going back and researching our major intersections, looking for candidates to implement a pilot study. The criteria they used included intersections with lots of traffic, double left-hand turns (they create a blind turn for the outbound car), and possibly intersections where we used to have the red light cameras. I asked them to give thought to those because they must have had a history of crashes or I assumed they wouldn't have had the video cameras installed. 
Staff looked at three candidate intersections and landed on Campbell & Speedway. It's certainly a good choice, given the traffic counts and the double left-hand turn movements. 
The next step will be for us to conduct traffic counts to establish a baseline. This is something we normally do in the fall. That'll take place at this intersection before the holidays. At the same time, we'll order the hardware needed to make the change. The goal is to get it in place right after the holidays and then continue studying driver behavior at the intersection during three-month intervals throughout the year. 
The cost for the new equipment is in the $40K range. TDOT is committed to their FY'18 budget, so we won't extend this to a second intersection unless there's money in their operations account that will allow for it. I totally get it. Do what we can with the resources we have, but let's acknowledge this is a public safety measure and is worth testing to get local reaction.
I'll be presenting this to both the Bicycle Advisory Committee and the Pedestrian Advisory Committee in the coming weeks. I've heard from one guy who thinks it'll turn us into a mass of congestion. I've told him that I disagree that the result will be as catastrophic as he suggests, and if it saves lives due to the added safety, a few seconds on the travel across town is going to be worth it.
I understand change is sometimes tough for us to embrace. For that reason, I'm grateful to staff for stepping up and giving this a whirl. It is justified already based on studies and data. I'm confident our local test will validate what everyone else who has tried this has seen – Protected Left-Hand Turn intersection management is safer than any other model.
More TDOT
By a 62 percent to 38 percent margin, the voters approved Prop 101. That's our roads and public safety sales tax package you just voted on in May. The arterials that will be repaired with these dollars were identified in the voter information that went out prior to the election. Residential streets will be handled the same way we've been managing the Prop 409 local streets: through our Bond Oversight Committee (BOC).
TDOT will be presenting a series of open houses for you to come and hear how the BOC will be working with staff and deciding where our residential money will be allocated. The first of these will be held at the Sabbar Shrine Center at 450 S. Tucson Blvd. on Thursday, August 24th. It'll run from 6 until 7:30 p.m.
Beginning at 6:15, TDOT will make a short presentation about how we handled Prop 409 and how that will feed into the Prop 101 work we're about to begin. It's actually a continuation of the 409 work, but with the new funding source. They'll have large maps showing the areas that will be impacted and people will be invited to submit comment cards advocating for certain locations. 
Just to be clear, the streets that jump to the top of the priority list will not be selected solely on the basis of the comment cards. That information will be a valuable tool for the BOC and staff to collate together with the inventory they've got from engineering studies showing the relative condition of the roads around town. That full package of information will be used to determine where the first pieces of work will begin.
Prop 101 allocates $20M annually to roads for the next five years. Of that, about $8M will go towards the residential streets. Come and take part in this. Advocate for your street segments so your input will be a part of the conversation as the BOC and staff resume their meetings. 
New Zoning Laws
Also to add to your calendar is the meeting we're hosting with our planning folks and city attorney to review the changes in state law as they relate to zoning. This one will be held here at the Ward 6 office on Wednesday, August 30th at 6 p.m. Tucson Residents for Responsive Government (TRRG) is co-hosting and will have some materials here about their group in case you're not familiar with their work.
In a very brief summary of the new law, the legislature has changed how protests to rezonings are calculated from the standpoint of requiring a super-majority of the M&C to overturn the rezoning. They've also changed how that super-majority itself is calculated (used to be six out of seven, now five votes out of the seven of us will sustain the zoning decision). 
Last week I met with residents over at Catalina High School to talk with school staff about working cooperatively as the new school year begins. Afterwards I met with city staff and several neighbors to talk about flooding issues associated with a new sub-division in midtown. There's a lot going on this month from the standpoint of neighborhood preservation and quality of life. It's important stuff, and it reflects issues we're constantly engaged in. As I've said before, these jobs aren't meant to be hobbies. 
Swimming Pools and Water Security
In the past couple of weeks I've had people ask how they are supposed to properly dispose of swimming pool water they're cleaning out after monsoon debris has ended up making a mess of things. The same rules apply to that as when people are backwashing their home pools.
There are strict guidelines on how you can dump chlorinated pool water into the ground or out onto the street. One way is to divert the water you're draining onto some of the plants in your yard. Some of them can take the chemicals and others cannot. This table shows several examples:
| Plants sensitive to salt | Moderately sensitive plants | Salt-tolerant plants |
| --- | --- | --- |
| Do not use backwash water | Limited use of backwash water | Can use backwash water |
| Fruit Trees | Glossy Privet | Oleander |
| Star Jasmine | Pyracantha | Evergreen Euonymas |
| Roses | Lantana | Rosemary |
| Algerian Ivy | Xylosma | Bougainvillea |
| Fraser's Photinia | Juniper | Natal Plum |
| Chinese Hibiscus | Bottlebrush | Texas Ranger |
| Willow | Most Acacia Species | Olive |
| Hopbush | Palo Verde | Native Mesquite |
| Jojoba | Yucca | Desert Broom |
| Others... | Others... | Saltbush |
|   |   | Aloe |
|   |   | Deer Grass |
|   |   | Bear Grass |
|   |   | Ice Plant |
|   |   | Japanese Honeysuckle |
|   |   | Others... |
The Pima County Regional Wastewater Reclamation Department oversees the guidelines that govern all of what I'm describing. For the irrigation use, they want you to release only small amounts (75 gallons max) and to remember to move the hose frequently so you don't end up with stagnant water areas that'll breed pests such as mosquitoes. 
The PCRWRD folks will also work with you on discharging directly into the public sewer system. They have very specific rules though.
Plan the discharge for low-use times of sewer flow such as afternoon or late night hours.
Use a small volume pump and control the discharge so it doesn't spill out.
Discharge with a hose into the access "cap" of the private property sewer cleanout. DO NOT use public manholes or cleanouts.
Because Pima County treats what is collected in the sewer system, this is their preferred method of taking on pool water discharge. But don't just stick a hose down a manhole cover. 
With that said, if no other alternative exists, and only if you meet ALL of the conditions I'm showing below, you can get approval to drain to surface flow (I'm taking this language directly from their instructions):
You do not have access to a private sewer cleanout.
Owner shall allow the pool or spa to remain untreated for at least 72 hours (3 days) after the last chlorine addition. This waiting period meets the requirement to de-chlorinate prior to the discharge.
The pH level of the water must be monitored by the owner and must fall in the range of 7-8. The owner or service company shall measure pH prior to discharge and adjust it to the acceptable range with standard pool chemicals. Monitor pH throughout the discharge and adjust it, as necessary. Easy to use pH kits are available at stores that sell pool chemicals.
If a pool or spa has been acid washed, this highly acidic water cannot be discharged off-site.
Discharged water shall be clear (not cloudy or discolored) and free of algae and any contaminants.
Discharge should be directed by means of a temporary flexible hose, to a stormdrain, drainage channel, or along the curbline gutter of a paved street. Pool or spa discharge may not drain into unpaved/strip-paved alleys or streets where it can cause erosion or contribute to ruts as vehicles drive on wet muddy surfaces.
Discharge shall be monitored and controlled to ensure that it does not transport sediment or cause erosion of the banks or bottoms of the affected drainage channels or washes.
Discharge shall not run onto other private property, across a sidewalk, or impair street access!!
I'd like to highlight a couple of those: don't drain acid washed water, don't drain into the alley behind your house, don't let it drain onto someone else's property, and monitor the pH levels. I titled this section "water security." Part of that is making sure our water table is not contaminated by people backwashing their pools in ways that are not approved by law.
There's a flyer that was developed to help you with getting approval for the proper ways of cleaning out your pool. Here it is, in both English and in Spanish.
If you have any questions our City Stormwater people can help you sort through what's ok and what's not ok. Call them at 791.4251, or email stormwater@tucsonaz.gov.  
Candidate Forum – Sustainable Tucson
On that note, this is a good place to remind you of the upcoming candidate forum being sponsored by Sustainable Tucson. It'll be held this Wednesday, August 9th at 6 p.m. over at Changemaker School – 1300 S. Belvedere.
And because they're co-sponsoring this event with 
 it deserves this week's notice as the Local Tucson item.
I'm told that so far six candidates have confirmed – including me. The topics we'll be asked to address include water security, transportation, localization of the economy and sustainability as a way of life. I try to include issues related to many of those items in each weekly newsletter. It'll be fun to share some of it with the crowd this week. 
Air Travel and Climate
On the climate topic (Annie B. this one's for you), the airline you fly with has an impact on the amount of pollution your trip is leaving in its wake.
A New York Times article recently reported that airlines aren't all made the same when it comes to greenhouse gases. One round trip flight between New York and Tucson can generate about 20% of the greenhouse gases that your family car emits over an entire year. That's of course a function of what and how much you drive, but it's a general comparison. (To test your own car and driving habits, click this link.)
The aviation industry accounts for 11 percent of all transportation-related emissions in the U.S. We'll be including transportation in tonight's climate forum at Temple Emanu-El (starts at 6 p.m., 225 N. Country Club). The article said the number of planes in use around the world right now is about 20,000. By 2040, they estimate that will jump to more than 50,000. So this isn't an irrelevant item.
Some airlines allow you to buy "carbon offsets" when you fly. For example, you can put money towards replanting trees or invest in a forest conservation program. Delta, United and JetBlue offer those offsets. You need to be persistent during the booking process though. The money doesn't just automatically end up where you'd like it to go. The article gave the example of Sustainable Travel International, the group that runs United's offset program. They offer you two choices: donate $8.95 to a wind farm in Texas or donate $10.75 to a forest conservation program in Peru. As you can see, the options are limited, but at least there's something if you insist.
You've heard flight attendants request you lower your window shade when landing in a warm destination or even when just sitting at the gate. That's not just to keep the sun out of your eyes. It reduces the amount of fuel used to cool the plane. That won't necessarily counteract the emissions created during the flight, but saving the fuel helps both their bottom line and the environment. Burn less, save more.
Also, some passenger flights use biofuels made with substances like natural oils, seaweed or ag waste to help reduce planet-warming emissions. United started doing this in all their flights leaving out of LA last year. If you'd like to check the fuel efficiency of your carrier just generally, the International Council on Clean Transportation issued this report in 2010 (most recent one I can find). Note that it has American and Allegiant Air at the bottom, and Alaska and Sprint at the top of the largest 15 airlines they studied. 
Just one more way we can make a difference in our own climate impacts by choosing who we travel with. 
Federal Budget Update
Last week we received an update from our DC team on the federal budget process and what's on the table at this point. Of course they haven't taken any final votes, but we now know the deal points under debate.
One program that's on the chopping block is the WaterSense Program. It was established back in 2006 through the Bush EPA. With the gradual evisceration of the EPA by the current administration, this program is targeted to lose its $3M budget.
The WaterSense program was established to provide education and guidance for labeling water efficient products. In the past couple of weeks I've been sharing our Tucson Water rebates for water smart appliances, and have shared Low Impact Development and Green Infrastructure design guidelines. Losing the WaterSense program funding affects us locally as it will take the feds out of the regulatory equation with respect to water saving devices.
Last week the EPA Inspector General released a report that demonstrated in the first nine years of the program, WaterSense has resulted in saving 1.5 trillion gallons of water versus had we not made the investment in water efficient appliances. In addition, the energy savings by reducing the amount needed to treat and heat water is in excess of 200 billion kwh. They estimate that equates to over $32B saved by consumers. Given that, I find it a bit odd Trump and his EPA administrator would recommend ending it. 
There was a bill promoted on a bipartisan basis intended to formally establish and fund the WaterSense program. Senator Tom Udall from New Mexico introduced S1700, but it was never formally adopted by Congress. So it's up to the EPA to determine the program's fate. A timely note to your congress person might be worthwhile if you believe the program is worth saving.
Looking more deeply into the budget proposed by the Trump administration we see several programs that may be eliminated or severely reduced, each of which will impact us locally. Those include:
Economic Development Assistance – going from $237M to zero
Community Development Block Grants – going from $714M to zero
Low Income Home Energy Assistance – going from $3.3B to zero
Choice Neighborhoods – going from $137M to zero
Home Investment Partnership (HOME) – going from $950M to zero
TIGER Grants (funded the streetcar) – going from $500M to zero
Land & Water Conservation Fund – going from $400M to $64M
Historic Preservation – going from $80M to $51M
There are others taking significant haircuts: Housing Opportunities for People with AIDS, Adult Training Activities, Youth Training Activities, Job Corps, New Starts Capital Investments, and more. 
The House and Senate both have their own proposals. If you have input, the people who need to hear it are our federal legislators. You can find their contact information online by Googling Arizona Congressional Delegation, or at https://www.govtrack.us/congress/members/AZ. 
Ward 6 Spring Cleaning
Three "heads up" – we'll be doing some cleaning from our storage areas this coming week. With that, we'll have a roll-off dropped at the Ward office from Tuesday through Monday the 14th. I've alerted the Miramonte neighborhood leadership to pass the word that if you've got some junk you want to bring over, feel free to toss it in the dumpster while it's here. 
The "heads up?" First, that it'll be here. Second, please make sure to load from the back forward so people coming behind you don't have to crawl over your stuff to get their own loaded. And third, don't dump your things beside the dumpster as some have done in the photo shown above. If you get this close to the finish line, please cross it on your own and don't rely on others to finish the job. 
Ward 6 Blood Drive
Here's a reminder to contact Alison here at the ward office and sign up for the blood drive we're hosting on September 9th. As I mentioned in last week's newsletter, we need to commit a certain number of donors ahead of time so the Red Cross folks know how to staff the event – and that the event is in fact happening. 
Health Care Study
The UA and Banner University Medical Center are teaming up in a National Institutes of Health study called the All of Us Project. They're looking for people to sign up to become participants. 
The project is going to be a longitudinal look at people's health with the goal of improving prevention, treatment and the understanding of diseases through research. The UA and Banner are enrolling 150,000 people. The goal of the entire nationwide program is to get a million people included. The wider the range of people involved, the more valuable the research data will be.
None of your personal medical information will be shared through the study. They combine the data based on a variety of factors, but none of it is personalized. They have some pretty extensive goals. If successful, what they learn may have important medical outcomes. With all the changes going on in the health care industry, we all benefit if we can make the practice more efficient and effective.
The project is offering a $25 cash inducement to get you involved. If you'd like to learn more about it, just click on this link. It has all the information on the broad goals of the program. You can sign up online through the link too. When you do, somebody will contact you. They tell me it takes about 90 minutes to complete the program. 
If you're so inclined, please feel free to share this with your neighbors, family and friends. 
Sincerely,
Steve Kozachik
Council Member, Ward 6
ward6@tucsonaz.gov
Events and Entertainment
The Return of the Mermaids
August 12, 2017 to August 13, 2017
4th Avenue and Downtown
In Tucson, during summer's monsoon rainy season, mermaids and mermen gather downtown to sing, to dance, and, maybe, to cause a tiny bit of mischief. The celebration of this watery occurrence happens along 4th Avenue and into Downtown Tucson as landlocked streets is transformed into an undersea fantasy wonderland with all-ages events, including free live music, a parade, facepainting, dancing, and endless photo opportunities.
Southeast Arizona Birding Festival
August 10–13, 2017
Arizona Riverpark Inn, 350 South Fwy
Nature Expo is free, open to the public and fun for the family. Free talks on birding, live animal exhibits, and hand-on activities for kids and adults. Play the 'Big Minute' bird identification game to enter to win a pair of Leica binoculars, build a nest box, learn about birds & wildlife around the world from international tour operators. More info at
http://tucsonaudubon.org/news-events/southeast-arizona-birding-festival/
Ongoing…
"Frida Kahlo: Art, Garden, Life" Exhibit, October 10, 2016 – August 31, 2017
Southern Arizona Transportation Museum, 414 N Toole Ave | www.tucsonhistoricdepot.org
UA Mineral Museum, 1601 E University Blvd | www.uamineralmuseum.org
Jewish History Museum, 564 S Stone Ave | www.jewishhistorymuseum.org
Fox Theatre, 17 W Congress St | www.FoxTucsonTheatre.org
Hotel Congress, 311 E Congress St | hotelcongress.com
Loft Cinema, 3233 E Speedway Blvd | www.loftcinema.com
Rialto Theatre, 318 E Congress St | www.rialtotheatre.com
Woven Through Time: American Treasures of Native Basketry & Fiber Art July 17, 2017 - December 5, 2018
Arizona Theater Company, 330 S Scott Ave | www.arizonatheatre.org
The Rogue Theatre, The Historic Y, 300 E University Blvd | www.theroguetheatre.org
Tucson Museum of Art, 140 N Main Ave | www.TucsonMusuemofArt.org
Tucson Convention Center, 260 S Church St | tucsonconventioncenter.com
A social walk/run through the Downtown area. Every Monday, rain or shine, holidays too! Check-in begins at 5:15pm.
A living agricultural museum and ethnobotanical garden at the site of Tucson's Birthplace (the foot of "A-Mountain"). For guided tours call
520-777-9270
.
Children's Museum Tucson, 200 S 6th Ave | www.childernsmuseumtucson.org