Posted September 25, 2017

Topics in this issue...
Tucson Be Kind
I suspect if we were onsite in any of the disaster areas we've been reading about there'd be plenty of examples of people stepping up and taking care of someone in need. When it comes from out of the area, it's impressive in a more anonymous way. A lady here in Tucson who does internet marketing through a site called Savvy Copywriter is offering her services to a Houston client for free. It's that kind of gesture offered to people who are just trying to keep their businesses up and running that deserve the Be Kind mentions.
Every morning when I run the Loop I pass dozens of runners, walkers and bikers; and every morning the vast majority of them greet me and others with a smile and a "good morning." It's easy to get caught in our own world – simple recognition of another can help more than we know.
If you read this newsletter, you know I'm an animal lover. Good for local veterinarian Kayomee Daroowalla and her colleagues over at Benarda Vet Hospital for taking the time to fly over to Houston to lend a hand taking care of the injured and abandoned animals. They'll be gone this week, working onsite with Best Friends Society. The animals need all kinds of meds – quickly. We step up to help our brothers and sisters in need. The furry family members sometimes get forgotten. If you'd like to help you can by going to https://www.gofundme.com/tucson-animal-aid.  
Leo Durocher used to coach the Dodgers, Giants and Cubs. His nickname was the Lip (as in getting lippy with somebody). One of his sayings was "nice guys finish last." To the contrary –
Last week, Caroline from our office shared an article with me that drew a corrolation between simply being nice and professional progress.
Alison Davis, in an article for Inc., wrote that exhibiting warmth and enthusiasm, being generous and simply being kind results in building trust and eventually establishing positive business relationships. I would add that those traits build positive interpersonal relationships as well. It's certainly worth a try.
Half-Staff
In Lebanon, Pennsylvania there were two guys involved in an argument over a missed rent payment. One produced a gun, shot and killed the other. Then he committed suicide when police arrived on the scene.
In Hamilton, Ohio a 72-year-old guy shot his 75-year-old wife. He then committed suicide with the gun. No mention in the article about the health status of the wife before the shooting.
Last week I had a report on a little kid who accidentially killed himself with his dad's gun – the dad then shot himself out of grief. This week a dad shot and killed his five-year-old son, then turned the gun on himself and took his own life.
These three examples of murder/suicide are common. I use them this week as we close out National Suicide Prevention Month. Adding a gun to a situation where there are people needing psychological assistance is far too often fatal.
This graph was produced by the Pima County Medical Examiner's office. It clearly shows how suicide and guns are intertwined:
When a person attempts suicide with a firearm, they are "successful" 90 percent of the time. 90 percent of those who attempt suicide but survive do not attempt suicide a second time. When a youth commits suicide with a gun, more often than not the gun was owned by a parent and was not stored properly. Clearly when somebody is in distress, removing a gun from the home may save that person's life.
For more information on this piece of the gun violence issue, check out the Gun Violence Prevention Arizona website at www.gvparizona.org.
Concert Across America to End Gun Violence
I'm grateful to the Mom's Demand Action team who pulled together the Concert Across America last Sunday at Monterey Court. During my last song – Imagine – I brought up members of the audience who had come wearing Justice for Genna tshirts. It was a fitting way to end the set, and to acknowledge the loss of Genna Ayup as well as how many of us are still working for a proper closure to the incident that ended her life. It's my sincere hope that you have not heard the last of this case and that very soon the issue will be reconsidered.
Domestic Violence Awareness Month
Each year I work with Emerge! helping to get the word out about the threats that come with domestic violence. October is Domestic Violence Awareness Month, but I want to get a little jump sharing on the issue this week.
Last Friday, Ann and I toured the new Girl Scouts facility over at Columbus and Broadway. It's a great new building with lots of amenities for the girls and young women involved in that program. We briefly spoke with their staff about the vulnerability that comes with "innocent" surfing on internet sites. I've written about this in the past – the internet is not a safe place. Know the sites your kids are on and teach them that trafficking occurs from internet connections.
Surfing porn sites is also not innocent, victimless behavior. If you know people who are on those sites, let them know the women, girls, and kids who are displayed are often vicitms of physical, chemical and psychological exploitation. Just being on the sites enables that to continue. Direct those you may know to counseling. Educate them.
Finally, last week UA President Robbins issued a letter to the campus letting everyone know the UA takes sexual harrassment and sexual violence seriously. Instead of paraphrasing, I'll just share his letter:
To the UA Community:
Today the U.S. Department of Education announced changes in federal guidance, offering colleges and universities greater discretion in how they address sexual harassment and sexual violence under Title IX.
The federal guidance has changed. The University of Arizona's commitment to maintaining a safe and welcoming environment for all members of our community has stayed the same and is as strong as ever. Sexual misconduct and all other forms of discriminatory harassment violate our community values as articulated in the University's Nondiscrimination and Anti-harassment Policy and Student Code of Conduct.
 
The University has implemented policies, protocols, and education programs to prevent sexual violence and effectively respond when it occurs. Those efforts will continue.
 
I want all members of our community to know where to turn if they have a concern, need assistance or support, or would like to file a complaint. A comprehensive set of Title IX resources, including information about reporting options, is available at titleix.arizona.edu.
 
Robert C. Robbins
President
The University of Arizona
These issues – internet surfing, porn sites, sexual violence and harassment, and domestic violence – have a nexus. I'll share more about the work Emerge! is doing throughout October. Being aware of the threats and of available resources doesn't have to wait until then.
AC Marriott
I began working with the development team on the AC Marriott probably five years ago. I'm sure they had a couple of years invested in the project before we ever met. Last week they finally opened and began booking guests.
The AC is an international brand that could have chosen anyplace in the world to locate. They saw the great things happening in our downtown area and chose Tucson.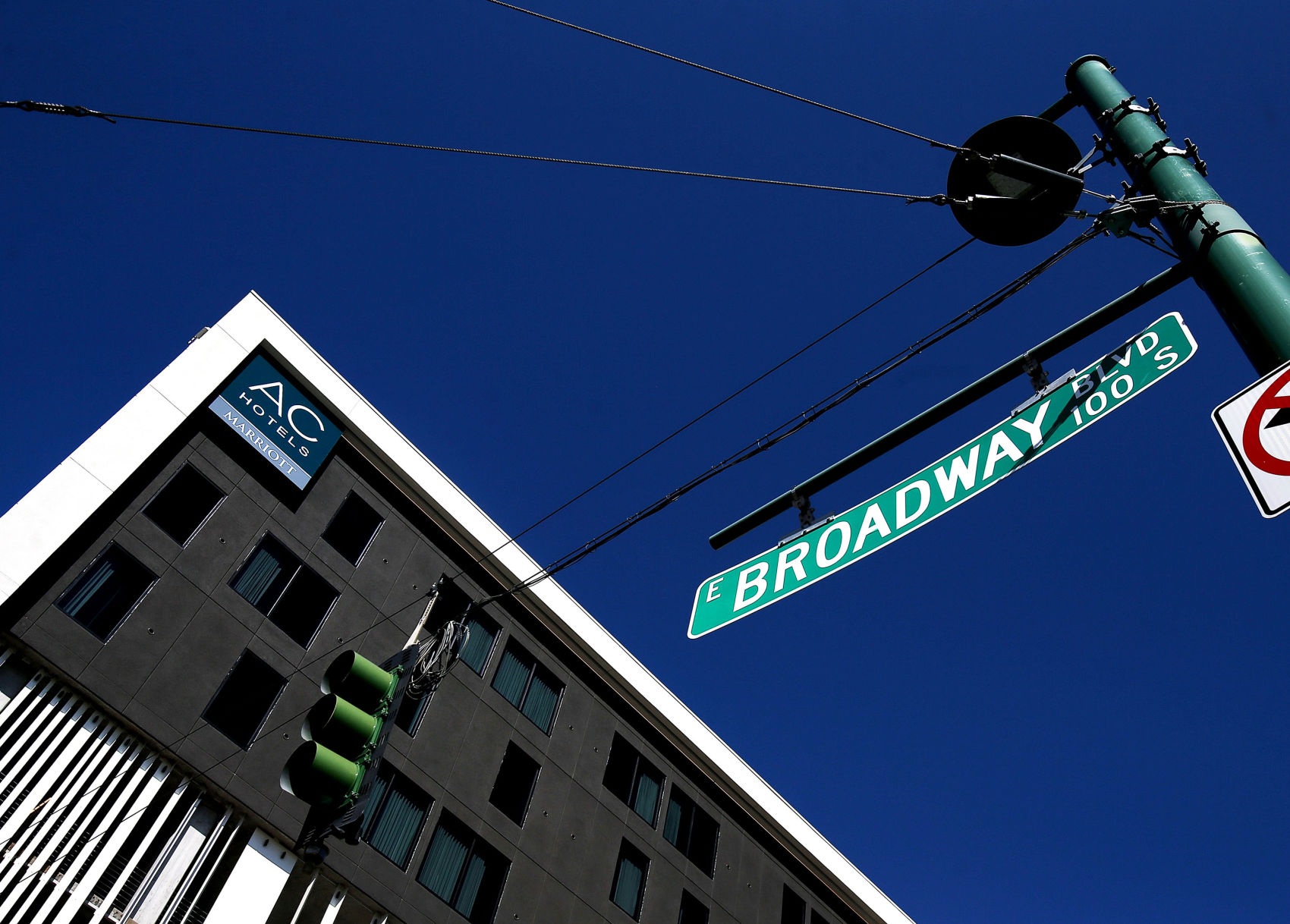 Photo credit Mike Christy
Located at 151 E. Broadway, the new eight story building houses 136 rooms, a bar, fitness center, meeting space and even a spa in their lobby. They broke ground in 2015 and built the place in an extremely tight construction area. Kudos to Lloyd Construction, FORS Architecture and Swaim & Associates for perservering and getting the work done.
This is the first new ground-up hotel built in Tucson in nearly 40 years. While we have one shuttered down the street, this team not only brought in a top drawer international brand, but secured over $30M in private financing to get the place up and running.
Congratulations to ownership team Stiteler and Dabdoub. Thanks to all city staff who poured themselves into navigating the work in some pretty tough circumstances. Hopefully this'll send a message to others thinking of adding to the hotel mix downtown that the private sector, working with us in the public sector can do these types of projects together, not relying on or expecting the taxpayers to backstop and carry their risk.
To book you can either walk-in, or call them at 385.7111. It's also listed now on the Marriott website.
Tucson Meet Yourself / Shrek
Two more downtown items. At each candidate forum and house party I mention all the great things happening in the downtown core.
Coming on October 13th, 14th and 15th is this year's Tucson Meet Yourself festival. It's our annual celebration of who we are – our diversity bringing us all together for a weekend of family friendly partying. Right now they're recruiting volunteers to help pull the event off.
Volunteers will help during set-up, assist people during the event and help with take down. Getting involved is a matter of your time and interest, not bringing some special skill set to the table. They have blocks of time you can sign up for each day of the festival. To offer up your help you can go to https://www.tucsonmeetyourself.org. There's a volunteer link on the right hand side of the screen.
While downtown events is the theme, another family-friendly event is coming during the next 2nd Saturday's Downtown over at the Historic Train Museum – an outdoor screening of Shrek. They're actually on a roll with Shrek. In November, December and January they'll follow up with the sequels. Each is free.
The guys who volunteer to keep the depot up and running do it as a labor of love not only for the trains, but also for the community.
Two great opportunities for you to take part in celebrating Tucson and our cultural uniqueness. These events don't just happen – you can be part of creating the good times for visitors.
Nuestras Recetas (Our Recipes)
One final local event – this week's local Tucson item – kicked off last week over at our own Tucson Botanical Gardens. I was very pleased to join Michelle, Juliet and the crew for the start of what will result in a book highligting family favorite Mexican-American recipes from local seniors.
As I said during my remarks, this event is a great example of partnerships – the sum being greater than the individual parts. Tucson Botanical Gardens is working in cooperation with Catholic Community Services, with a grant from the National Endowment for the Humanities. The project will preserve special family recipes, but will also tell the stories behind the people submitting them. It'll all be bound in a book that will be for sale next year.
If you've got some Mexican-American family recipes you'd like to share, I encourage you to contact Director of Horticultural Therapy Juliet Niehaus over at the gardens. In this case she's climbing on the back of our City of Gastronomy label to put this project together. You can reach her at 326.9686 x26 or email at horttherapy@tucsonbotanical.org.
Curb Cuts
Last Tuesday, we confirmed for sure and hopefully finally that those little cuts in the curb are not illegal, even when the water being diverted is serving private property. We just need to be involved in the design of the site to ensure nobody downstream is being affected by the added sheetflow.
First let me say that one of our problems with this issue is that we have the wrong department overseeing the issue. To transportation folks, water running down the street is a nuisance. To our water department, it's an asset. I suggested a shift from TDOT to Tucson Water to manage this issue. That's not a slam on TDOT, but simply recognizing there's a difference in perspective.
Here's what we were able to finalize. First, we are not prohibited from allowing a private use to divert street water flow – such as for landscaping around an apartment complex – by any notion of a downstream "user." There has been confusion as to whether we needed to treat our streets as waterways on which someone had prior rights to the water. That confusion was eliminated by our discussion Tuesday.
I raised the question of liablity. That is, if we allow a private user to take water from our streets and that person floods an adjacent property owner, are we liable? The answer is already in place. We just need to use it. The answer is appropriate landscape design. We already require soils tests for structural analyses. If someone is going to use stormwater on their property, do a soils test and require design of the site in a way that uses the infiltration data to ensure the new water will stay on site. That's already our "do no harm" requirement. I'd even go a step further and require new development to be a net-positive in terms of water retention, but that's a conversation for another day. So by proper site design, the question of liability is solved.
A final problem that was previously cited is a concern over the state Gift Clause. That involved us "giving" a public asset without monetizing the value back to the public. But we can measure how much water is being diverted by the size of the curb cuts. We already place a value on water – we send you a bill every month. Based on soils testing we can estimate the amount of the water that will infiltrate and benefit the aquifer. There is no Gift Clause problem to be solved. We have all the data we need to analyze in order to test public versus private benefits.
The Star ran an article about a private developer who had to fight to be allowed to use stormwater to turn his site into a net-zero water use development. He shouldn't have had to fight. In fact, as I stated on Tuesday, we should be encouraging development that redirects stormwater off our streets and into the aquifer. We ought to be bumping those developers to the front of the line.
Won't it be great when we see Sabino Creek running like this all the time? Encouraging net-positive development out in that area can help achieve that goal.
The city appropriately has a requirement that when a private development is going in, the "after" condition cannot make water sheetflow from the site worse than it was in the "before" construction condition. We will now allow directing water to the site from an adjacent street with the same requirement to "do no harm" afterwards. Not every site will be able to do this – water doesn't run uphill and it doesn't penetrate caliche. Staff will analyze each project as it comes up. But for those sites that do make sense, the result will be added tree canopy around town, mitigation of heat island temps, and the aesthetics that go along with new plant growth. We all win.
TDOT Customer Service
While I believe Tucson Water would be a better place than the Department of Transportation (TDOT) to manage stormwater runoff, our transportation department folks are involved in plenty of important constituent work that they do well. They've implemented some internal changes to help with communication so your contacts with them are even more successful.
If you have work you'd like addressed that is roads-related, there are three ways you can directly contact TDOT. One is their website: https://www.tucsonaz.gov/transportation. On that site there's a "Report a Problem" link. That's one option for you.
Lots of people prefer to talk to another person. The phone is of course also a way to contact TDOT. Their customer service number is 791.3154. There's also email: TDOTconcerns@tucsonaz.gov.
Last week my staff and I worked directly with several of you on streets and medians questions. We're going to continue doing that. Constituent service is how we run this office. But the options I've listed above are ways you can make your own direct touch to TDOT when that's your preference. We have a lot of very committed workers over there. You'll be treated with respect and with a serious concern for the issue you're calling about.
Himmel Park Trees
Here's a reminder that at 3:30 p.m. on October 17th, we'll gather on the west side of Himmel to kick off the planting of 60 new trees in that park. Parks staff has already blue-staked the site, the locations for the trees have been identified, irrigation is being prepped, the trees are ready, funding is in place and workers are being recruited.
There are several groups who deserve to be mentioned in pulling this together. Of course city Parks & Recreation staff. They're onsite doing the heavy lifting to prep the area. Add to them the Friends of Himmel Park. This group of citizens has worked not only on the landscaping, but several other elements in and around the park, offering input to continue upgrading this community asset. Tucson Clean & Beautiful has been a partner throughout the planning and will be there with us on the 17th. In this case the funding is being provided by Mesch, Clark, Rothschild Law Firm. Without that, we'd be jointly out pounding the pavement to find cash to pay for the trees.
Come and be a part of the event. This is a regional park – thousands of you already enjoy it. This will add to the great landscaping work done at the library on the northeast quadrant of the park. It's another segment I can end by saying "we all win."
Honors Village
Last week we took some action on the proposed Honors Village being built in a public/private partnership between the UA and American Campus Communities. Check previous newsletters or the current Arizona Daily Wildcat for coverage and background.
What we did last week was to approve vacating a portion of Fremont Avenue in a way that if the project moves forward will make it a better, safer development. All of the members of the Campus Community Relations Committee support vacating the street if the Honors Village is inevitable.
We made the vacating contingent on certain other conditions. Those haven't been given the coverage they deserve. Most basically is that we did not fold and concede the project does not require city rezoning. That decision won't be made until we see the terms of the final land use agreement. But the project is on a fast track and if it is to make its design dates, knowing whether or not Fremont would be used as a bike/ped area was a necessary component.
Other conditions we have now built into the Honors Village deal if it moves ahead involve the building design, landscaping, treatment of streets and traffic – generally the same sorts of conditions that would be at play if this had gone through the regular rezoning process ACC should have engaged in. Some of the conditions we will include in any final agreement are:
No balconies or rooftop amenities or swimming pools
Locate the lobby away from adjacent residential neighbors
Stub-out all the buildings for eventual solar
Build with our outdoor lighting code in mind – protect the dark skies
Certain landscaping design elements that guarantee setbacks from streets and neighbors
Limiting access to surface parking in ways that protect peds/bikers and surrounding neighbors.
Enhanced ped crossings with safety features such as flashing LED beacons in the pavement
New sidewalks and repaving Park from Adams to Speedway. On a side note, I've also asked to have the east side of park, where the UA owns the land, committed to eventual widening in order to preserve historic structures that exist on the west side.
Plenty of detention basins to prevent flooding of adjacent neighbors
Go through State Historic Preservation Office to document the historic Comstock Hospital before demolishing it to make a parking lot.
Those are the general areas. We have left the door open to discuss more of them as we await seeing the final land use agreement. At that point we will have to decide what, if any legal options we have to force these discussions about conditions to a zoning examiner, instead of relying on these informal conversations.
Talk to a Mediator
The zoning examiner is a formal legal venue for deciding questions related to development in the city. What we've already advised the UA is that we feel we have grounds to take the Honor's Village development into court and force it to be decided by the city zoning rules. That's a lot of formal legal stuff.
Oftentimes you're faced with simply disagreeagble situations in which "lawyering up" is not the best or most efficient way to handle dispute resolution. A presentation we're hosting on Monday, October 23rd will explain mediation as an alternative option.
The Center for Community Dialogue and Training, a program of Our Family Services, is leading this presentation. It'll begin at 5:30 p.m. with a 30-minute powerpoint presentation on the mediation services they offer. Then we'll have trained mediators on hand to meet one-on-one with you to talk about your own individual situation, see if it's a good candidate, and perhaps offer you some suggestions.
We'll repeat the powerpoint at both 6:30 and 7:30 p.m., each time followed by the individual break-out sessions.
The topics you can bring are limitless. They could be elder care concerns and family issues, neighbor-to-neighbor issues, how to deal with that tough in-law you seem to conflict with at every Thanksgiving meal, marital issues, etc. Any time you encounter challenging or difficult people, there's an option other than litigation. At least there's one worth considering.
October 19th is National Conflict Resolution Day. We'll be a few days behind that with this event, but it'll be one worth attending if you'd like to hear about and take part in options for non-litigious disagreement resolution.
Spay & Neuter Event
I gave some general guidelines last week related to the spay/neuter event we're facilitating with ASAVET and Best Friends. It's coming on Saturday, September 30th. If you're interested in taking part, there are some specific instructions you need to follow.
First, please don't bring a sick cat to the event. The vets will do an examination of your pet and if they find it's ill, they won't do the surgery. Also, the cat needs weigh at least two pounds.
Don't give the cat anything to eat after midnight the night before. Fluids are ok. You'll need to arrive before 9 a.m. We'll open at 8 a.m. and the surgeries will be offered on a first-come-first-served basis. They'll have the time and staffing to do about 40, depending on the mix of spays/neuters. If we get too many people wanting to take part, ASAVET will take your name and arrange for the free service at a later date. Nobody will be turned away.
Please bring Fluffy in a carrier. I'd prefer to avoid having 50 cats running loose in the community room. We've all heard the metaphor of herding cats and I'm not interested in being that guy. The vets will also offer free upper respiratory and rabies vaccinations to anyone who is also coming for the spay/neuter surgery. You'll arrive, fill out some paperwork, your cat will be examined, you'll leave them behind for the surgery and you'll come back later in the day to retrieve your buddy.
If you'd like more information on the work ASAVET is doing, go to their website at www.asavetcharities.org. Earlier, in the Be Kind section I mentioned work Best Friends is doing for injured animals over in Houston. This event is also a part of their work on behalf of animal welfare as well as community welfare in this case.
2017 Festival & Event City Awards
A few weeks ago I had a section in the newsletter giving credit to Donovan Durband for his good work on our application to be named an international festival and events city. Last week Diana had an opportunity to attend the awards ceremony. And yes, Tucson is one of the top cities who were internationally recognized. Scan the list and I'm sure you'll agree that we're in good company:
2017 IFEA World Festival & Event City Awards
Congratulations to Donovan, to Visit Tucson, the FEATSAz partners, Greg Jackson who manages our civic events, and to all of you who are involved with staging civic events throughout our area. Actually, congratulations to all of us. We who attend and support these events are the reason they're successful, too. Good job, Tucson.
UA Hockey
I've shared how pleased we are to see the successful first season the Tucson Roadrunners had at the TCC. Their stable-mate on the rink is the UA hockey team. Formerly the Icecats, they're still skating at the TCC and sharing ice time with the Roadrunners.
Media day for the Cats is coming this Thursday. It's not just for media, but for fans as well. They'll begin at 4 p.m. at ice level where you're used to seeing the Zamboni enter the rink. There'll be face time for the kids with the players and the team will reveal their newly designed uniforms.
The season begins this weekend with a game Friday versus Grand Canyon and one Saturday against ASU. They have special promos each night. You can get tickets at the box office on game night, or call them at 791.4101, x1 for pre-ordering.
Sincerely,
Steve Kozachik
Council Member, Ward 6
ward6@tucsonaz.gov
Events & Entertainment
Ward 5 Council Member Richard Fimbres, together with the City of Tucson Department of Transportation (TDOT) invite you to a project Open House with TDOT staff and the design consultant. The proposed improvements include:
Sidewalk on Bristol Avenue, along the alleyway between 18th and 19th Streets, and on 22nd Street between Bristol and Treat

ADA curb ramps on Treat and Bristol Avenues

Traffic calming devices on Treat Avenue

New pedestrian hybrid beacon (HAWK Crossing) at Country Club Road and Eastland Street
Join the two-day celebration of Tucson Pride's 40th Anniversary year. Arizona's oldest LGBT organization, founded 1977, hosts two of the USA's oldest Pride events (right behind New York City and San Francisco)--Pride on Parade starts at 7 p.m. on Friday on 4th Avenue; Pride in the Park is Saturday at DeMeester Performance Center in Reid Park, from noon to 9 p.m. Tucson Pride has planned an unforgettable festival to mark this amazing milestone. 
Ongoing…